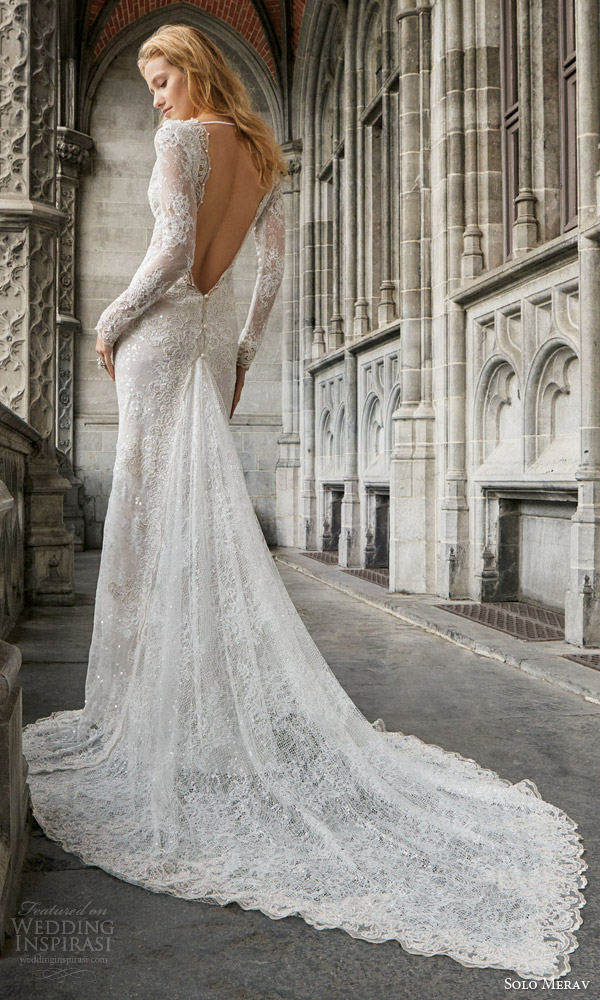 Today we have an inspirational interview with Merav Solo, designer behind the label Solo Merav. When we first met the Israeli designer in New York, we were struck by her verve and passion for her work. We later learned that there's also heart along with the fire. At the cusp of her international expansion, the "Designer of Peace" — her clientele includes Christian, Muslim, Jewish and Druze brides — champions love, respect and understanding, threads that will bind us all, regardless of our faiths.
Enjoy these beautiful images of the gorgeous 2016 Solo Merav bridal collection as the designer behind the Haifa-based label walks us through her new collection, design and life mottos, and experience in New York: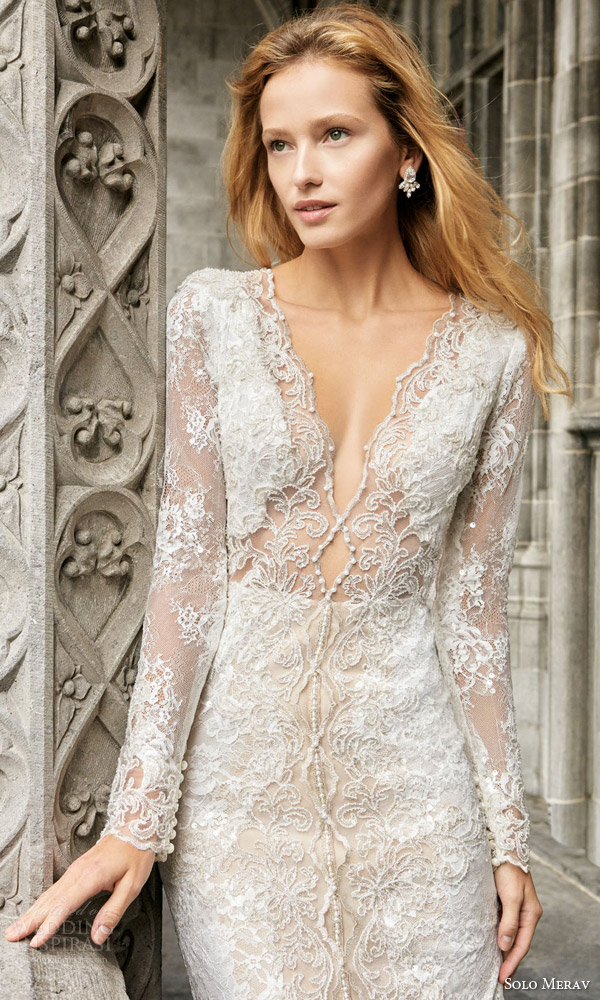 Wedding Inspirasi: You showed your designs for the first time in New York recently, but you've actually been in the business for over 20 years! How has the whole experience been for you?
Merav Solo: While I have been in the business for over 20 years, participating in the New York International Bridal Week was equivalent to being reborn. The encounter with cultures and countries around the world, different people linked to the same industry and use the same "language"… it feels like everything is magnified in NY; it is like swimming in a huge ocean but the waters are nice and warm. On one hand it felt like a rebirth but on the other I'm no longer as naive as I was at my beginning. I'm attentive, I hear and feel a lot more, I developed a sixth sense and I control it.
In Israel I design dresses for brides of all faiths. In my studio they can all find themselves in one of my dresses, and it was the same at the New York show! Buyers from around the world entered my booth and all could find their brides in my collection. The Australian buyers were looking for more boho chic wedding dresses like 'Marian' and 'Mary', the Japanese buyers were looking for hand-embellished couture doll-like gowns, 'Kristin' and 'Audrey', and the Americans and East Europeans liked body-con and sexy looks like 'Adriana' and 'Celestia'. I'm happy I was able to take part in this empowering experience !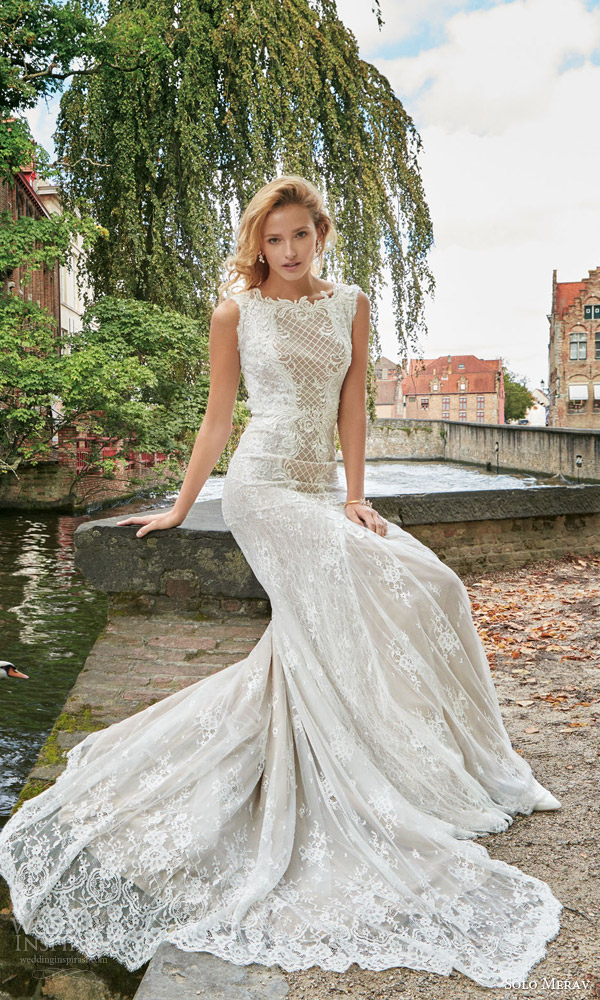 You pride yourself as being a "Designer of Peace". Your clientele includes brides of all faith: Jewish, Muslim and Christian, among others. In the current climate, it gives us hope to think that people can look beyond religious beliefs and cultures to appreciate what is essentially a symbol of love (the wedding/the wedding dress). Was this something that developed naturally during the course of your work?
Designing a wedding dress for a bride is being with her at the most intimate and special moment of her life. I learned how to listen, how to feel and understand human beings. My sixth sense developed and got stronger, and the balance between my love of people and love of design was established.
One day a bride walked into my studio. She was Christian Arab, and she heard about me from a Jewish colleague. The word about my work spread by word of mouth, and Muslim, Christian, Druze and Jewish brides came to my studio. I welcomed them all with open arms, being attentive and giving, the goal is ONE — to design and sew the bride her dream dress, and have her feel the most beautiful and perfect beyond her dreams.
By working with brides of all faiths I learned so much, and discovered over and over again a whole world I had never known or imagined. There are so many customs and symbolism do's and dont's in each culture. It is diverse and fascinating; from one fitting to another I discover more and more. For example, Muslim and Druze brides will visit the studio with their future husband — he is an inseparable part of the whole process. The Muslim bride waits at her parent's house for her husband to take her away. In a way it is a heart breaking experience, it is the separation of the parents from their little girl. The sorrow dissipates further during the day when the whole family and friends gather for the party and celebrate the union. I also discovered that Druze brides cannot pierce themselves so they don't wear earrings, and at the wedding ceremony they don't include a blessing on a ring.
To sum up, we are all human beings. My studio goes beyond designing and creating a dress, it is a warm house for all people. Each bride that visited my studio was a lesson I learned from. I discovered wonderful people!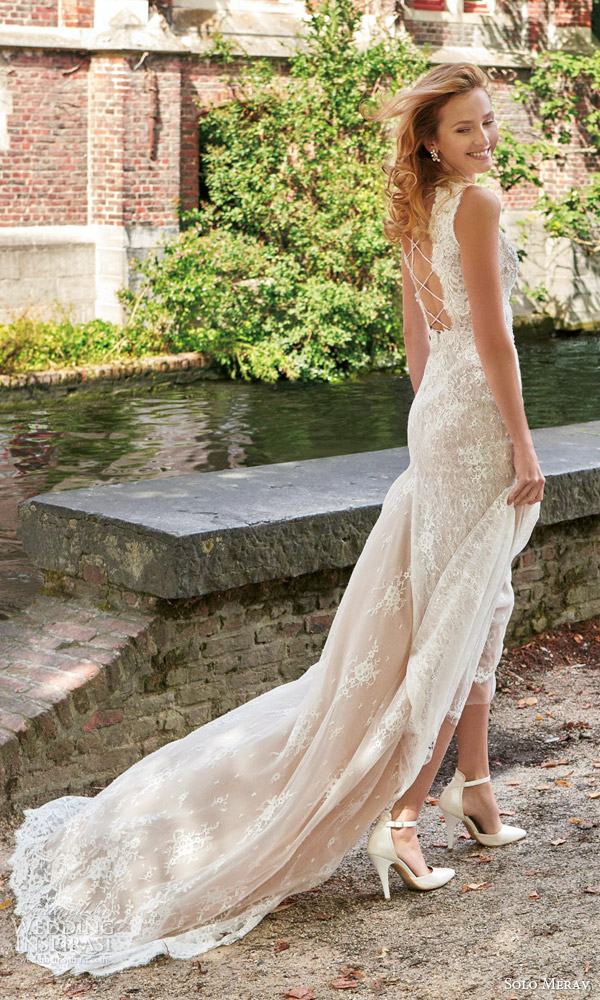 When people talk about wedding dresses, there seems to be a strong "Israeli aesthetic" associated with designs coming from Israel. How deeply influenced were you by your culture when it comes to designing a collection, and how would you define your own style?
The primary source of my inspiration are my brides. During fittings I'm exposed to a bride's wishes, so I get to invent creative solutions for each bride. My imagination never rests, ideas hit me while I'm sleeping, and I find myself sketching in the middle of the night.
I was always drawn to Italy; I studied fashion in Rome and Milan, I studied the language, fell in love with the aesthetics, elegance and the simplicity of prestige and a flawless finish. With those two in mind, every year I find a theme that excites me. My love for this business is what keeps me inspired.
Prestige is very important to me, and I will always avoid kitsch. I always try to invent creative solutions in my designs. 'Emily', for example, is a modular gown (you can create 4 different looks from this gown) and it is one of my best sellers. The Jewish bride often wears 2-3 different dresses, so by designing a modular dress I present them with a solution that is more cost effective.
The balance between femininity and sexiness is the foundation I start with and it is what harmonizes my designs.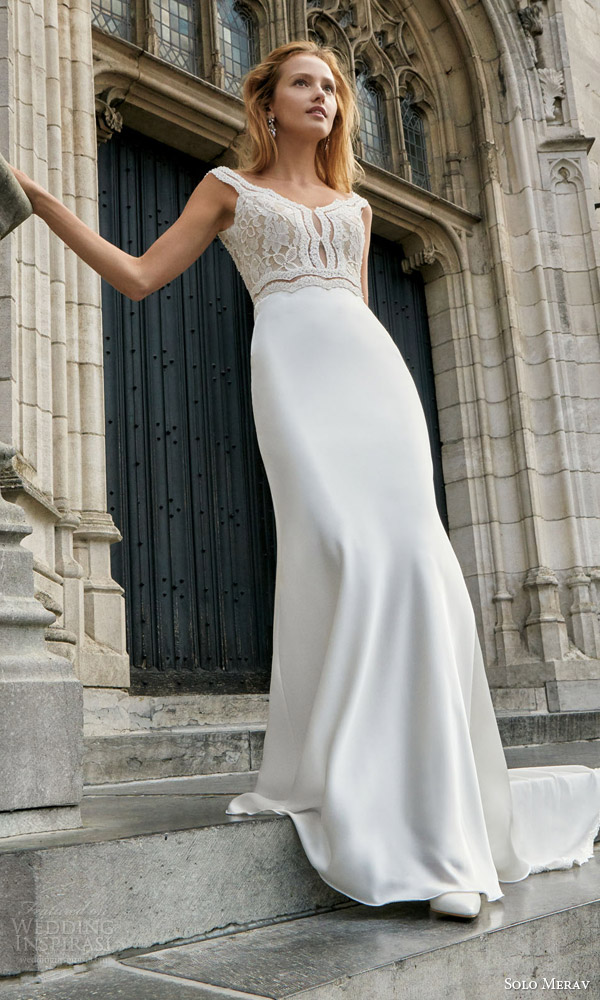 We've seen the 2016 Solo Merav collection, and we think it's going to be huge hit internationally! What's the story behind the new collection?
The new 2016 collection, inspired by my travels to Bruges in northwest Belgium, alludes to a dark-age fantasy of quaint cobblestone streets, horse-drawn carriages and sun-dappled canals dotted with swans. A place where time stops and a fairy tale begins, just as one's wedding day. Keeping this wondrous place in mind, gowns are created with ethereal silks and satins, finely-embroidered fabrics, delicate organza, gossamer lace, brilliant crystals, and exquisite beads. The end result is a collection of enchanting textures and intricate beading, made for the bride who has been dreaming of the special day, her fairy tale, coming to life.
My work features soft lines that emphasize the female curves, but still retains a sense of mystery. I begin by building on past inspirations and sketching silhouettes – while intuitively interpreting traditional designs. Each individual idea is then fully explored, developed and refined, and the completed drawings are transformed into unforgettable garments.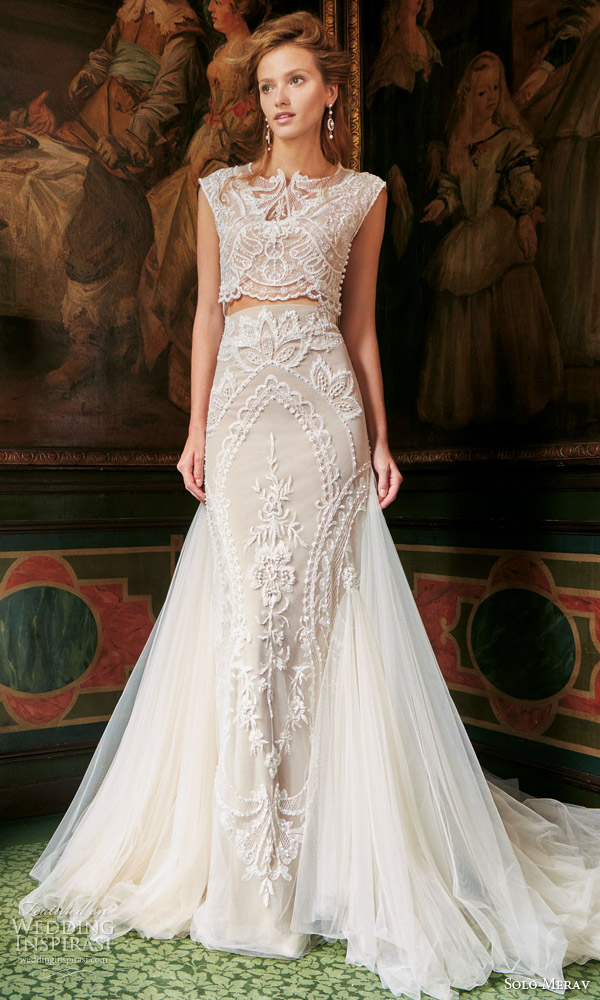 Your fabric selections and embellishments are so exquisite! One of our favorite looks from the 2016 collection, Adriana (pictured above and below), features hand-beaded detailing that's beyond beautiful. It must have taken an incredible amount of time for each design to be realized. How involved were you in each step of the design process?
I'm 100% involved in the design of each dress. What's more, during the design process of one dress, the design for the next one evolves. My inspiration begins with the bride; each bride with her personality becomes a muse, they lead me into the process, I design for them. Combined with my research, new inspirational theme, materials and emerging trends, a triangle is naturally created and each point feeds the other.
It is funny you mentioned 'Adriana' as this dress received special attention from me. The decision on participating at the New York Bridal Week was taken only three months prior to the show. The schedule was hectic. There was a lot of work into the late hours at night, and it seemed like there weren't enough hours in a day. I took 'Adriana' and a mannequin, placed them in the middle of my living room and started working, just myself and me, without my team and my seamstresses. One on one with a needle and thread, beads, lace and crystals I've created what stands in front of you now.
This is why I love my job so much even though I have a great talented team of seamstresses and embroiders, my heart and hands are felt in each design.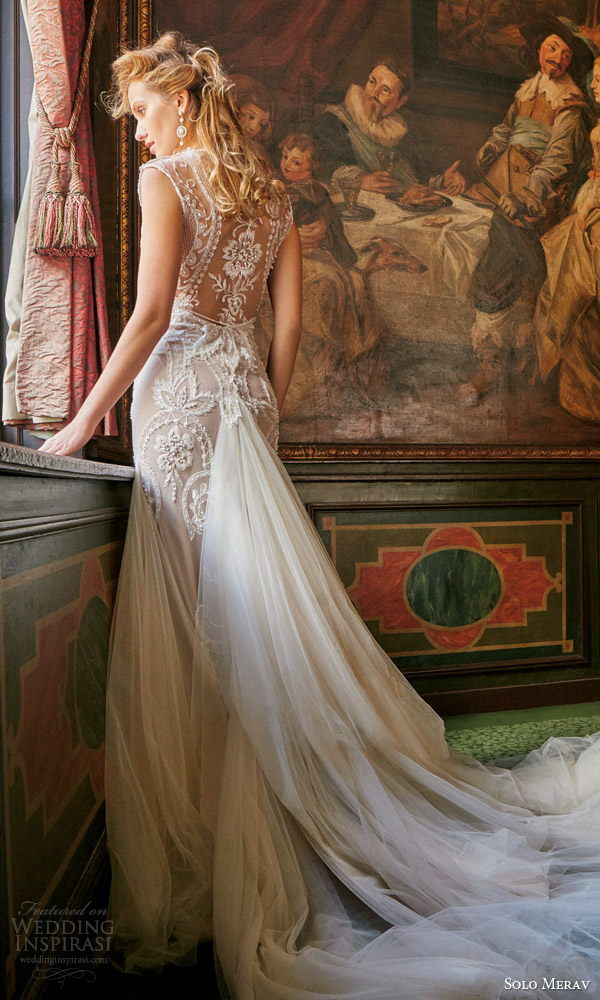 The Solo Merav bride is...
...satisfied and most beautiful in the whole world.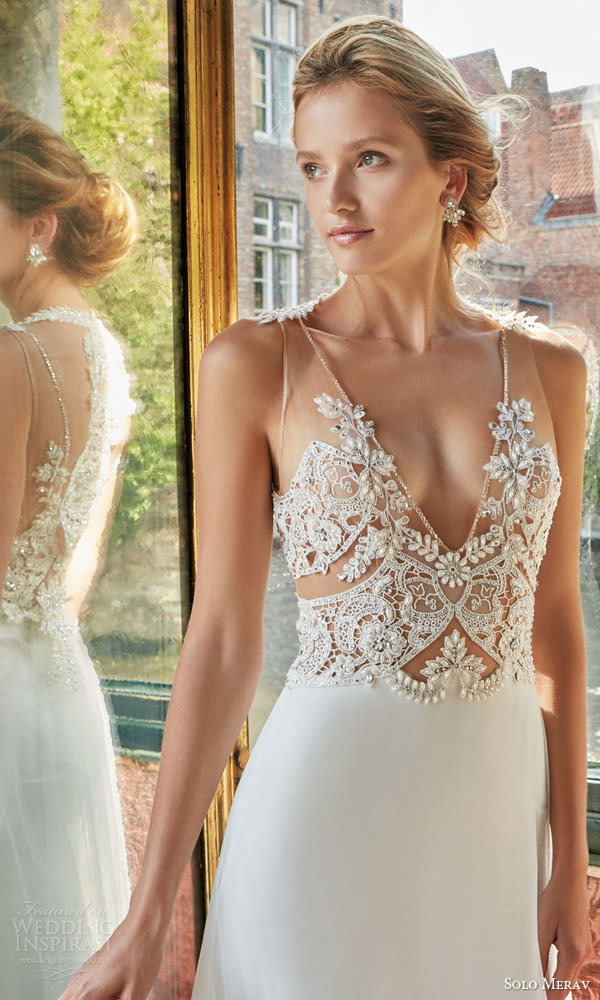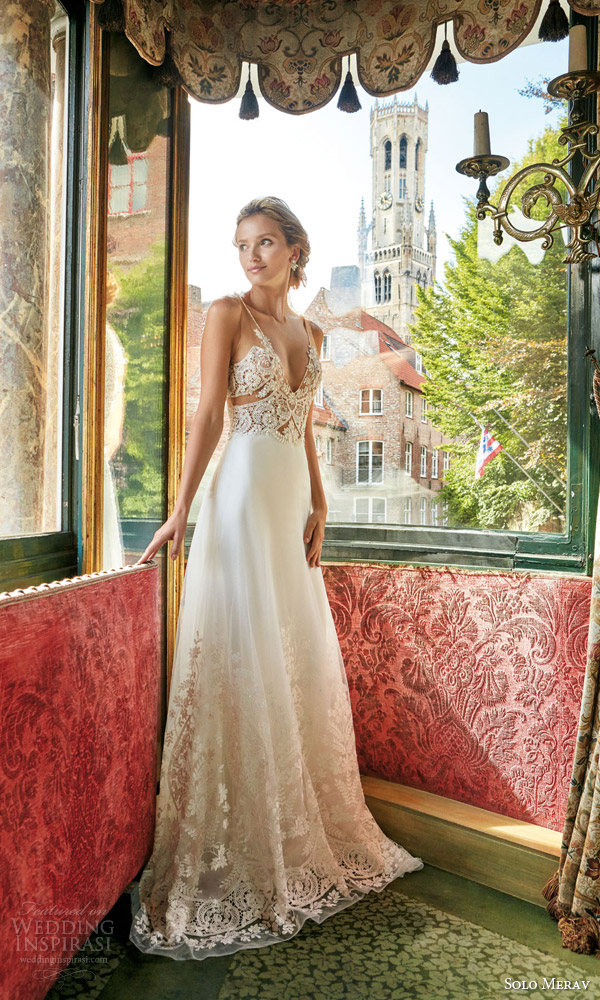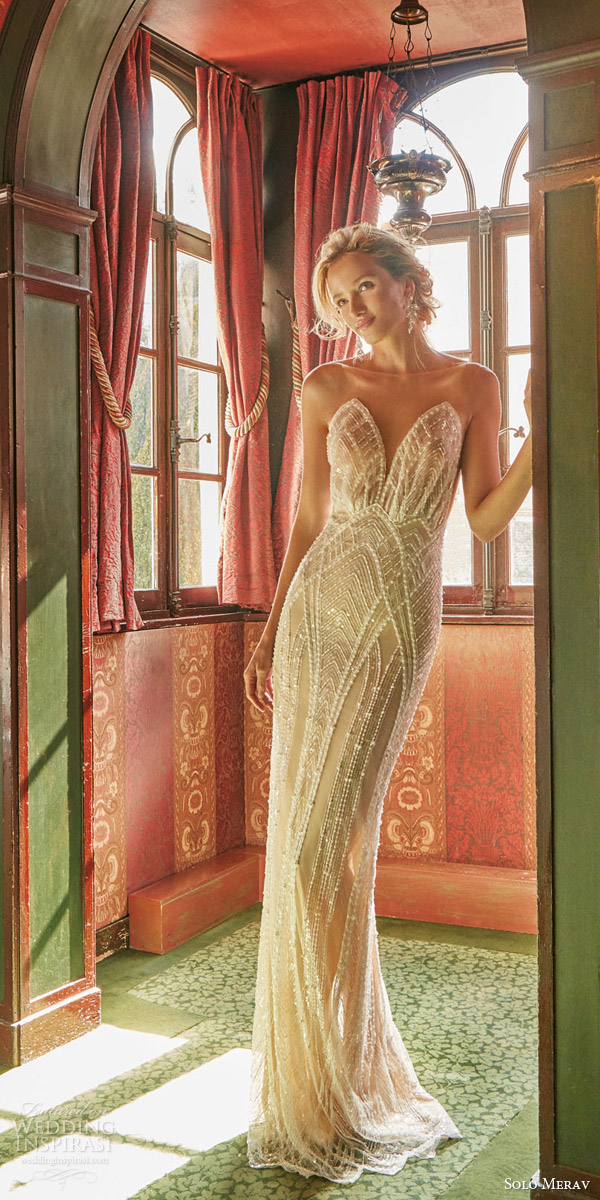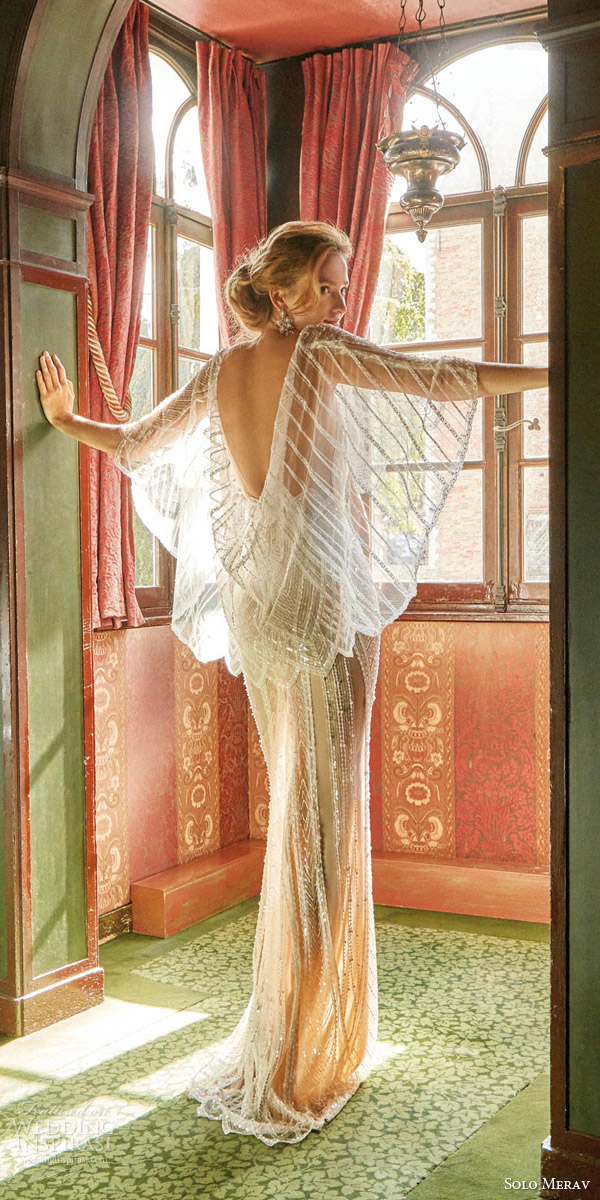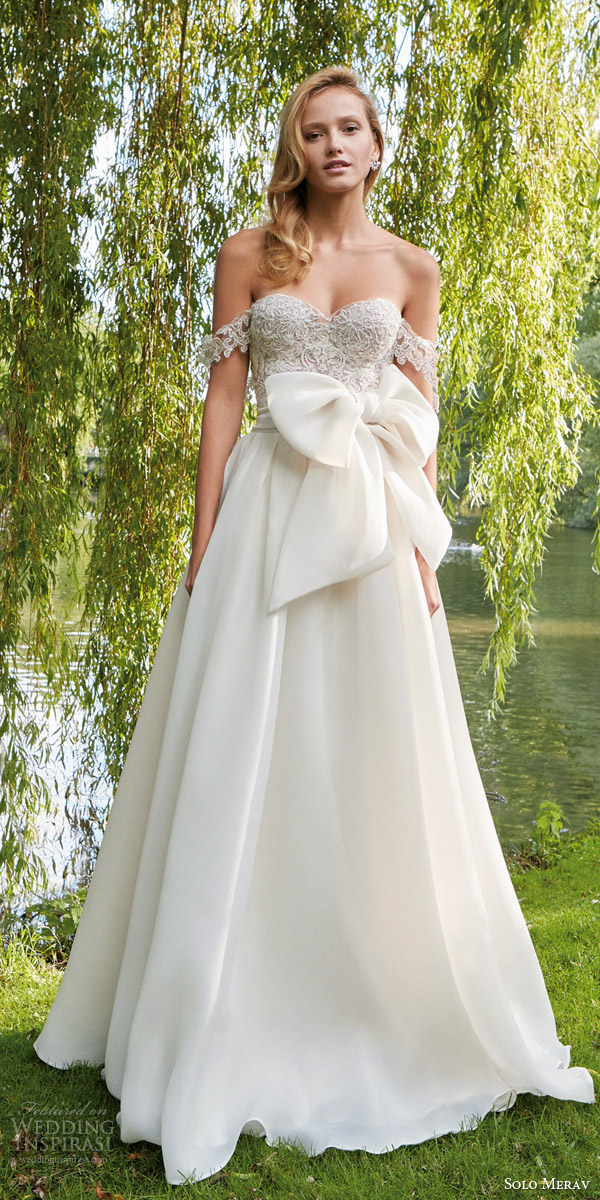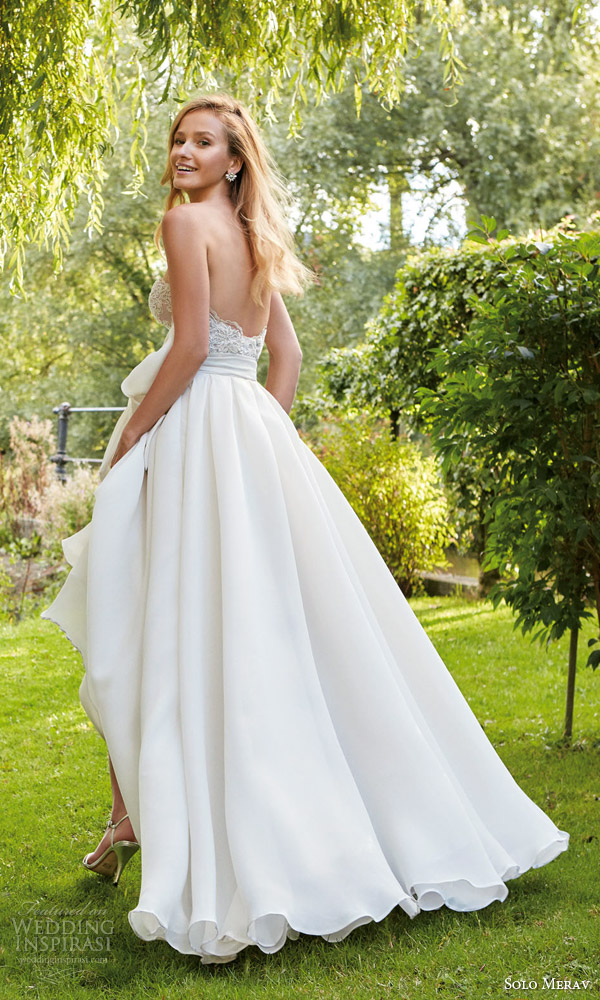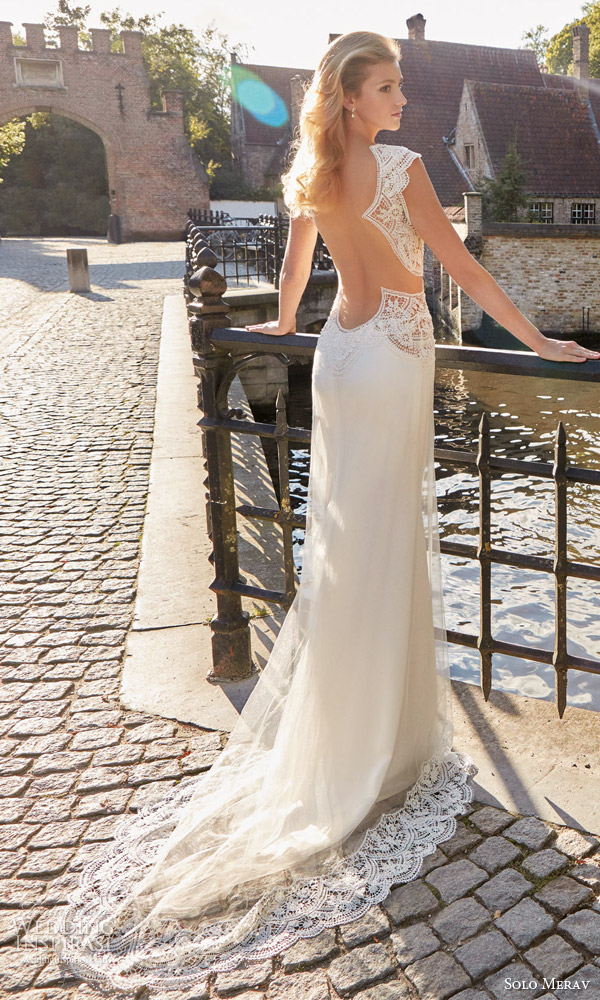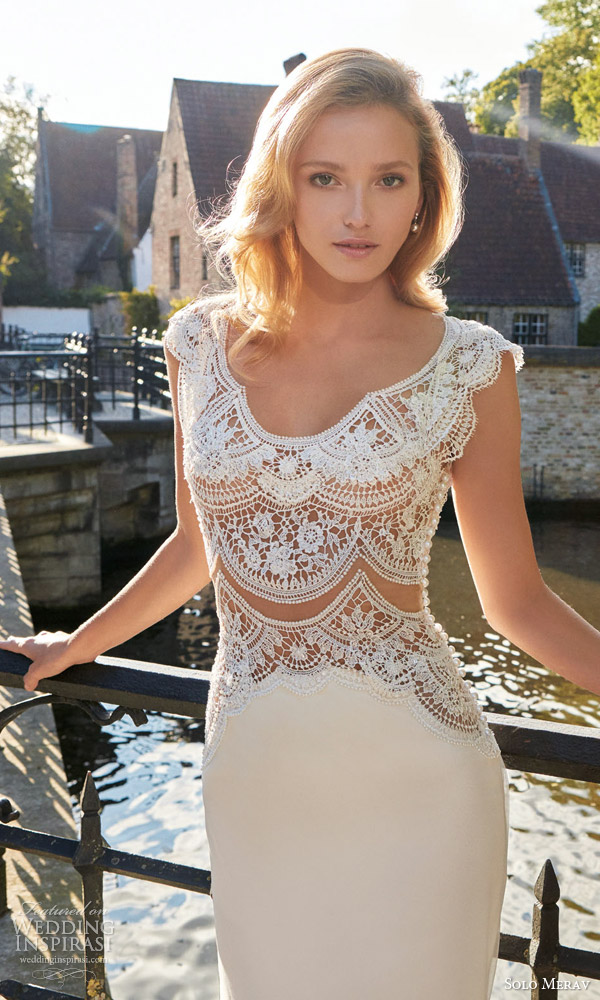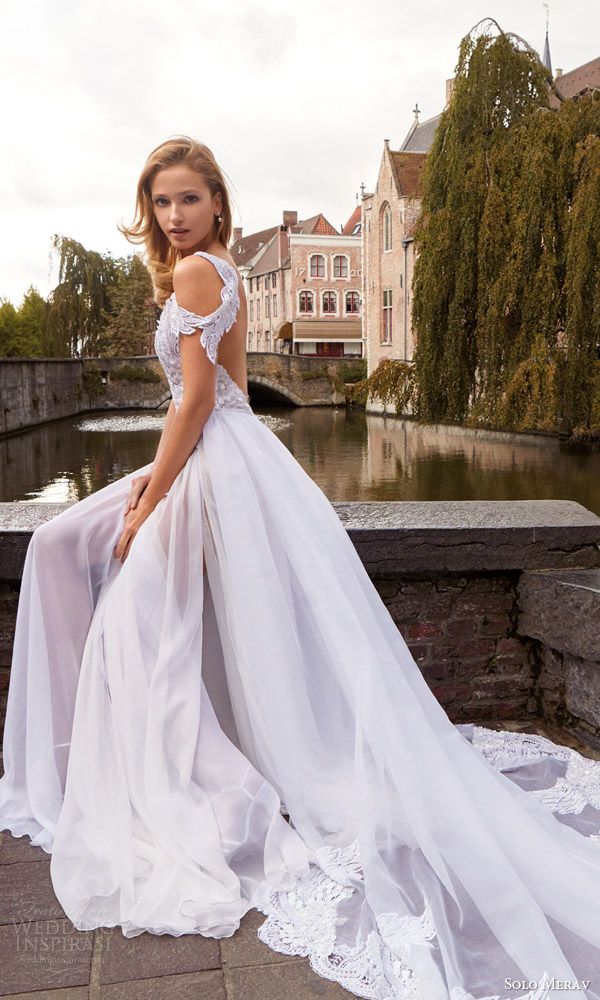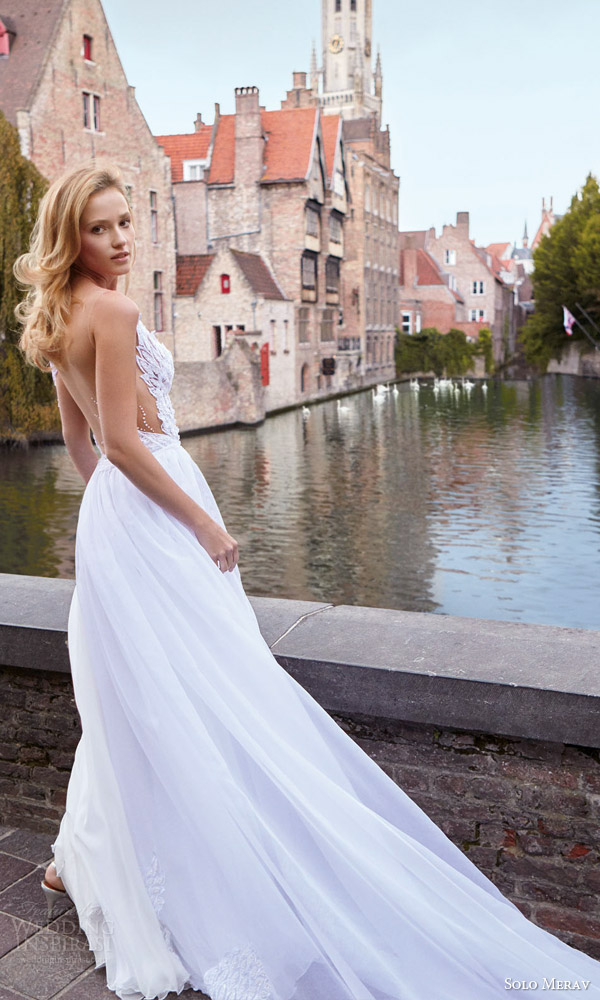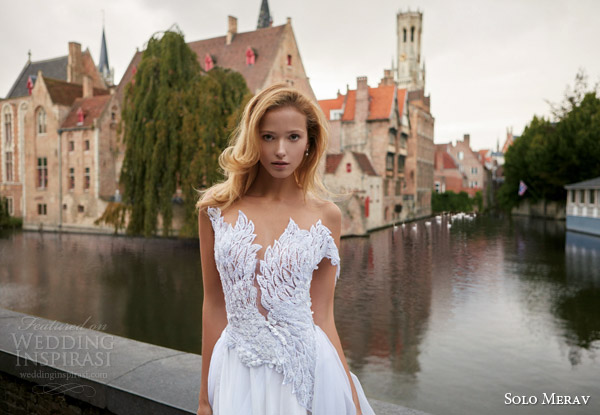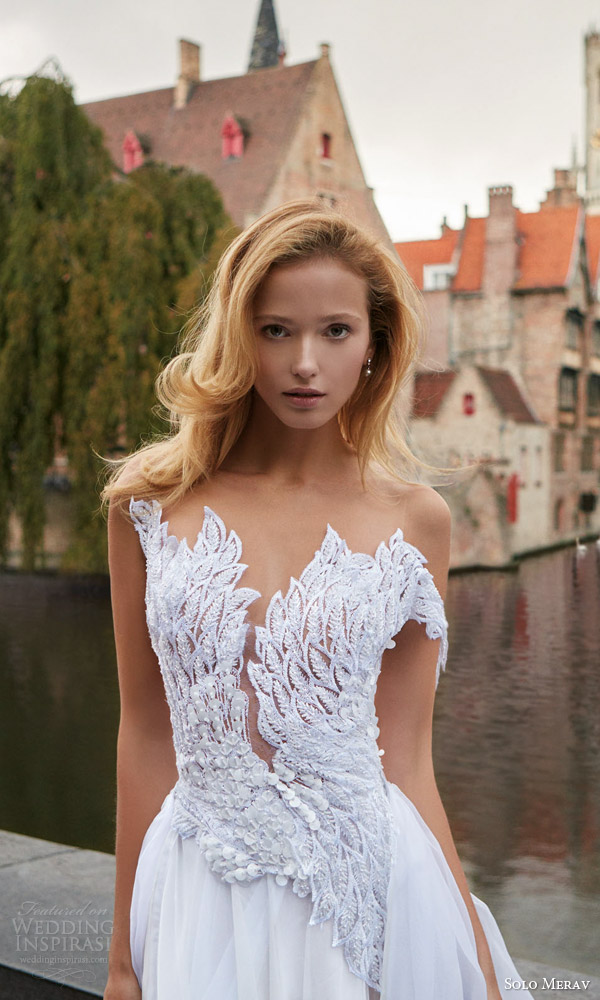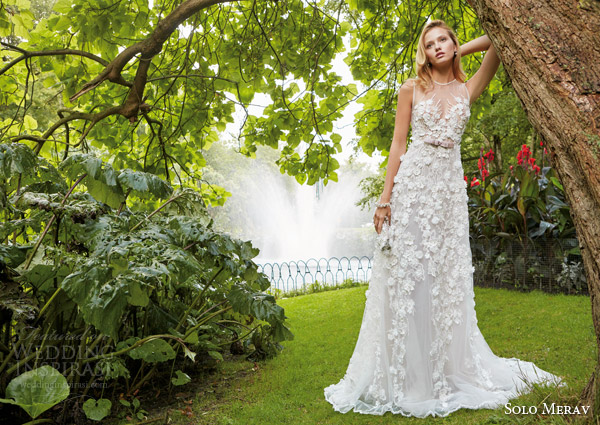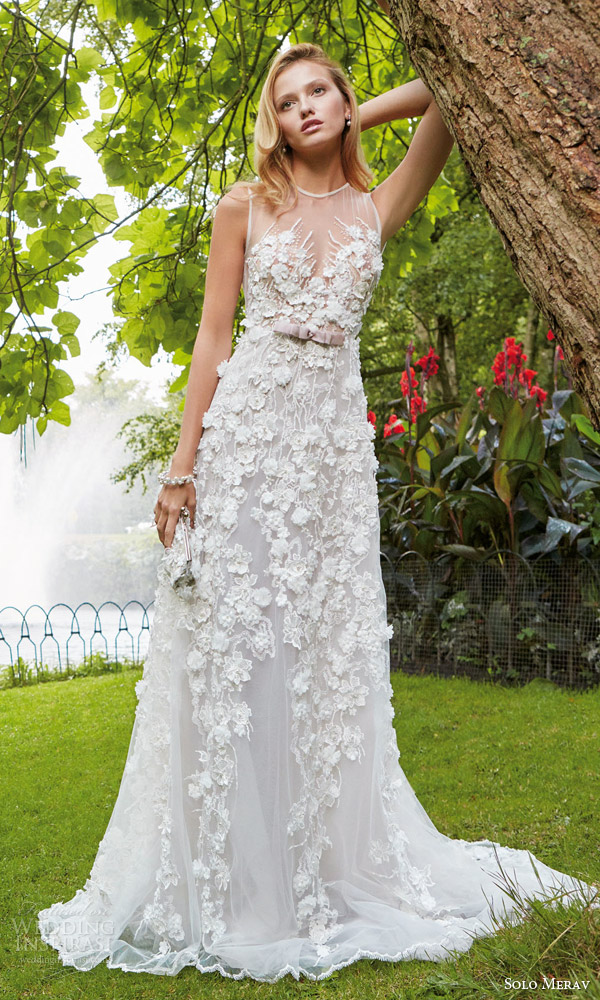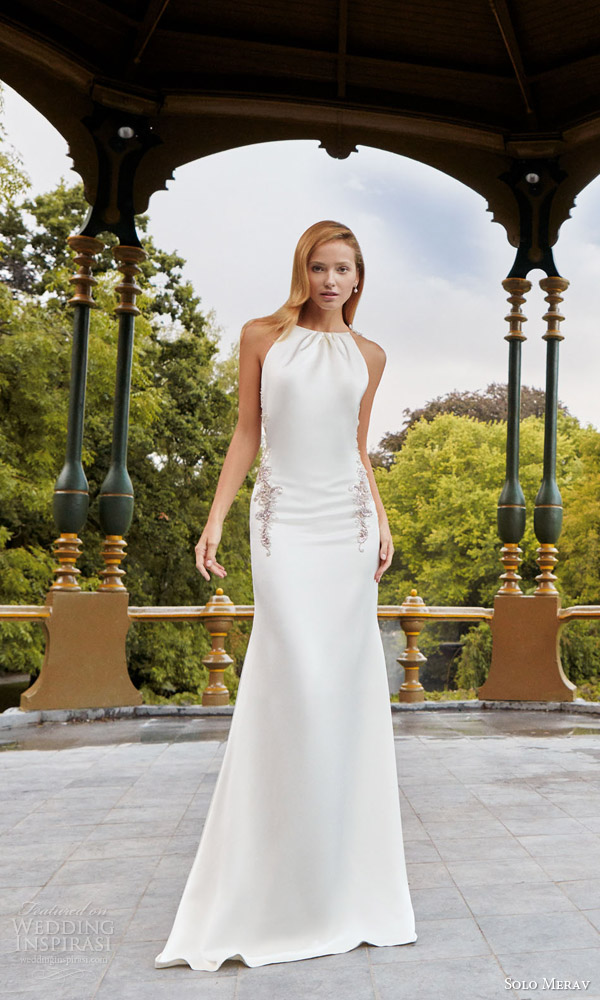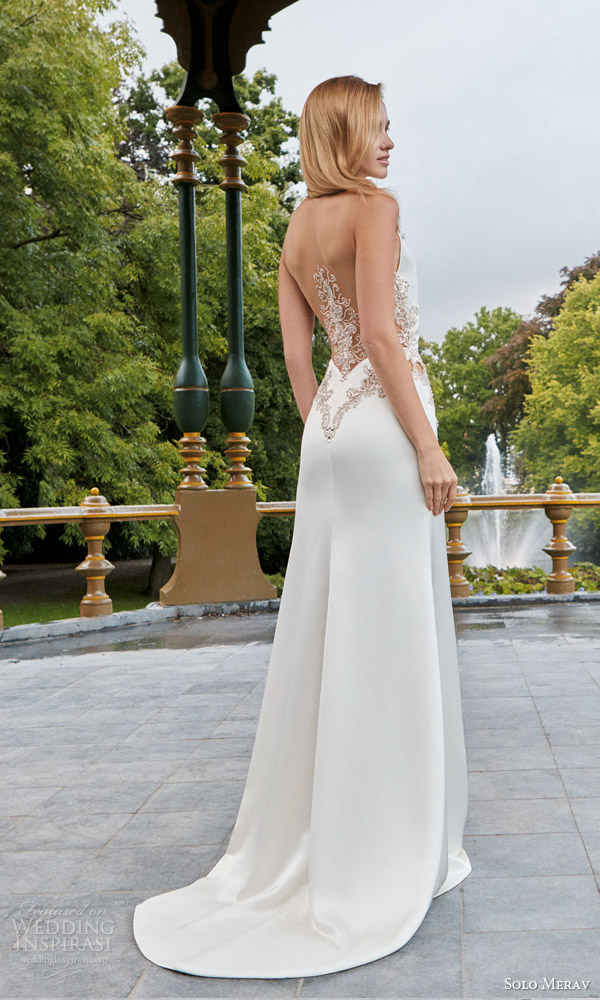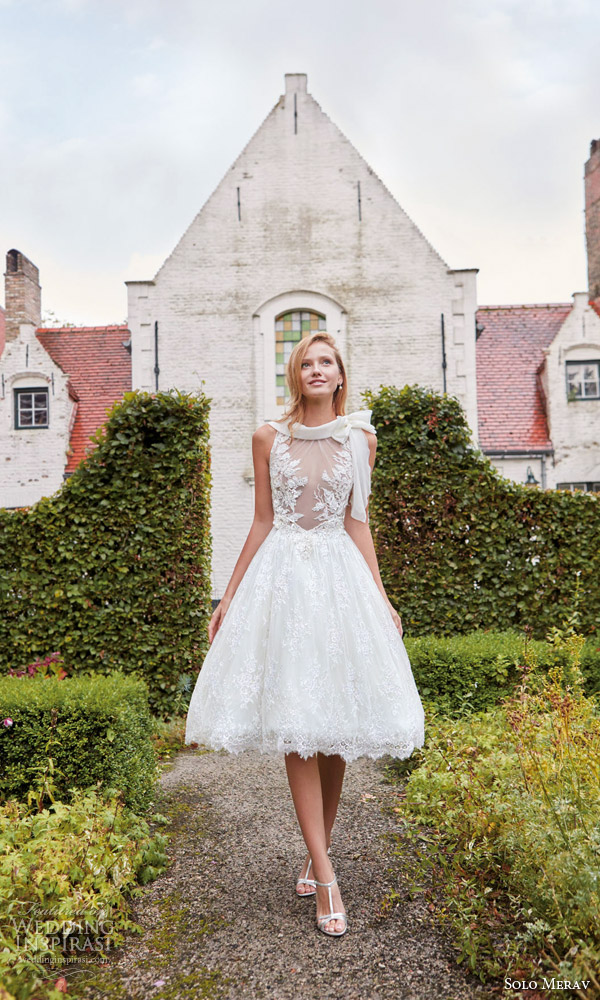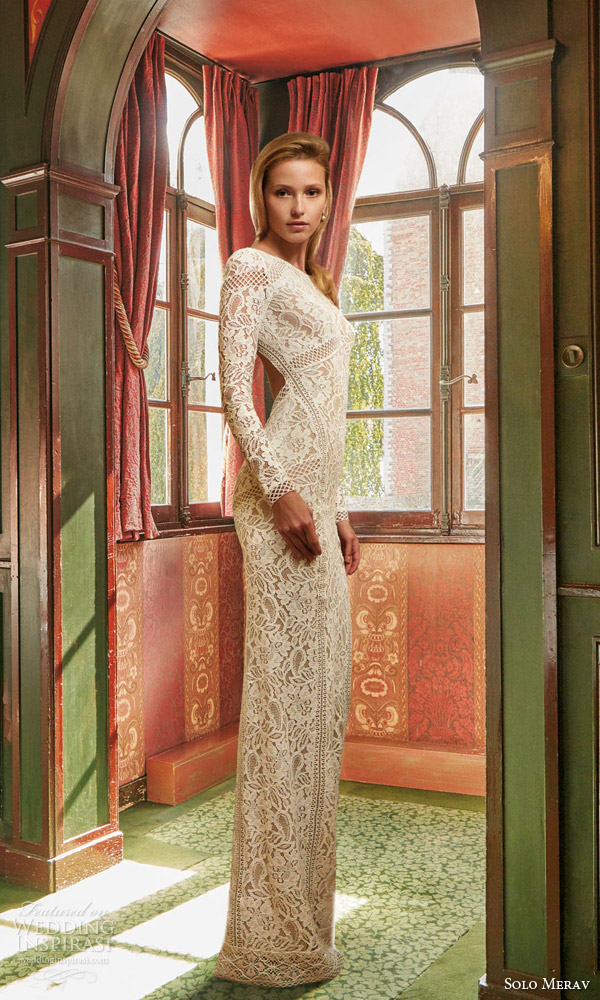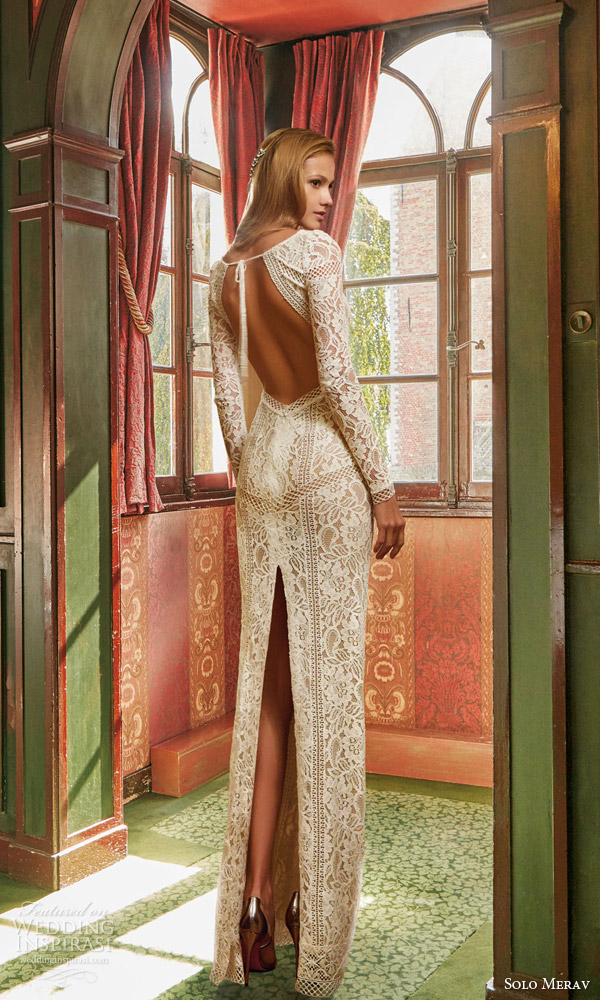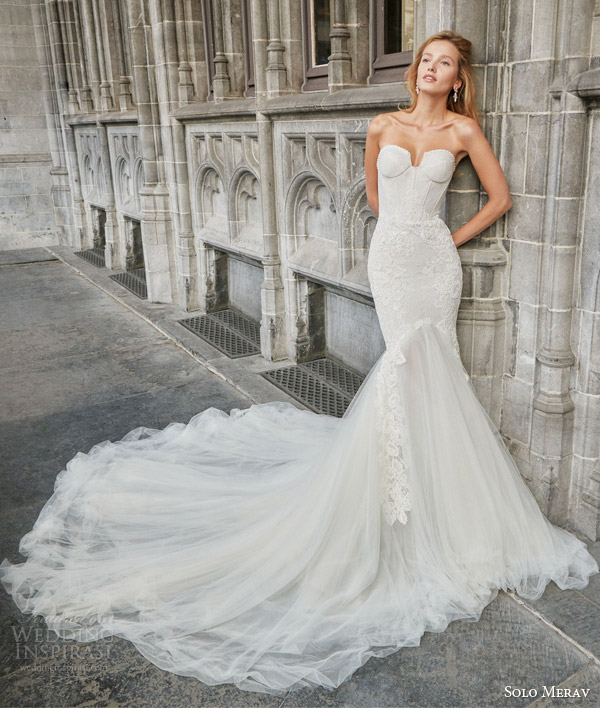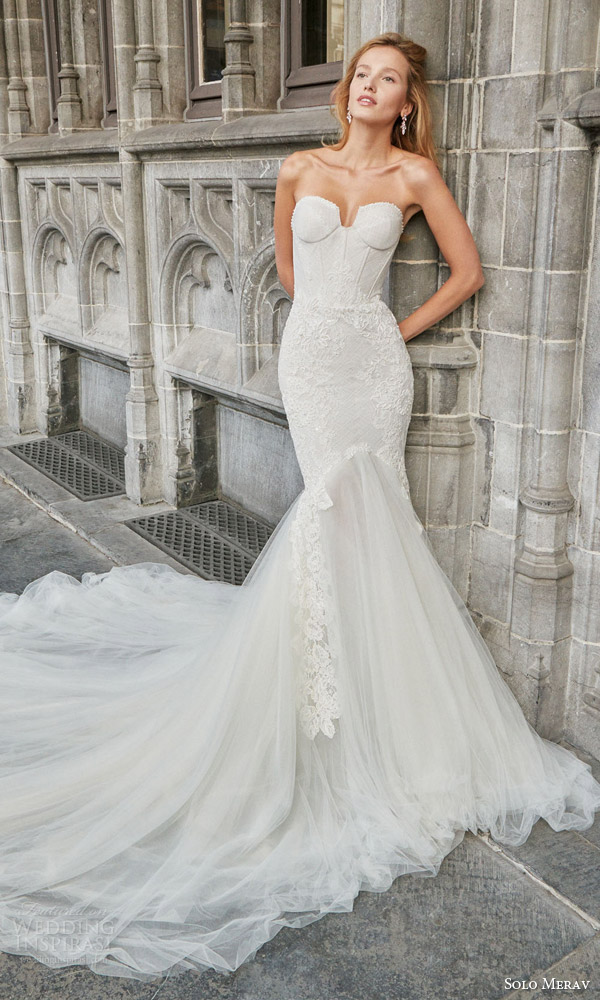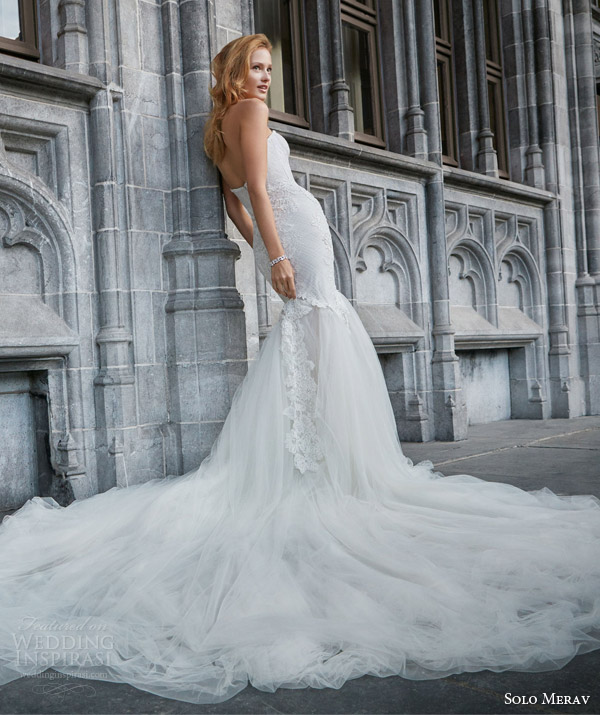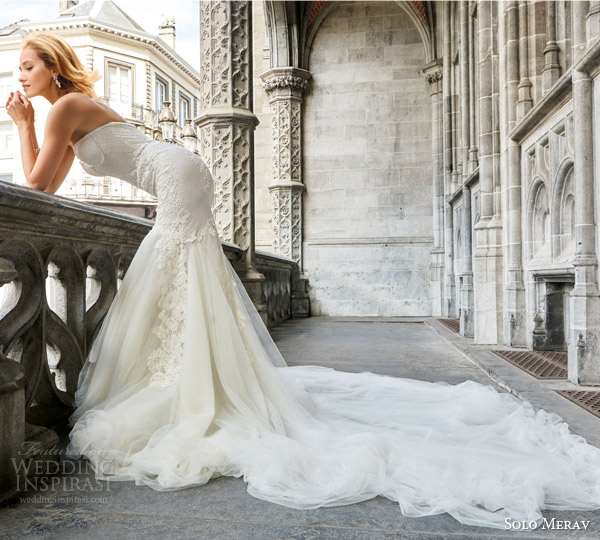 For details visit Solo Merav.
Credits
Wedding Dresses: Solo Merav | Photographer: Andrea Klarin Photography | Hair: Noel Inocencio | Makeup: Philippe Gonay | Model: Zhanna Brass | Jewelry: Gila Shavit | Styling: Andrea Johnen