We love gold for its look of timeless luxury, and its time-honored associations — elegance, longevity and trust – work perfectly for weddings too. This year, gold is back bolder than ever. From the runway to red carpet to street wear, the fashion world is ablaze with the lustrous sheen of gold. 2014 looks set to be a year of gold, which is why Enzoani has tastefully incorporated gilded accents into wedding dresses, ensuring brides-to-be a look that is both chic and brilliantly unforgettable.
Six dresses feature prominent gold arrangements that provide a more couture look for the walk down the aisle. Gage (pictured above and below) is a teacup dress with gold embellishments and unique back.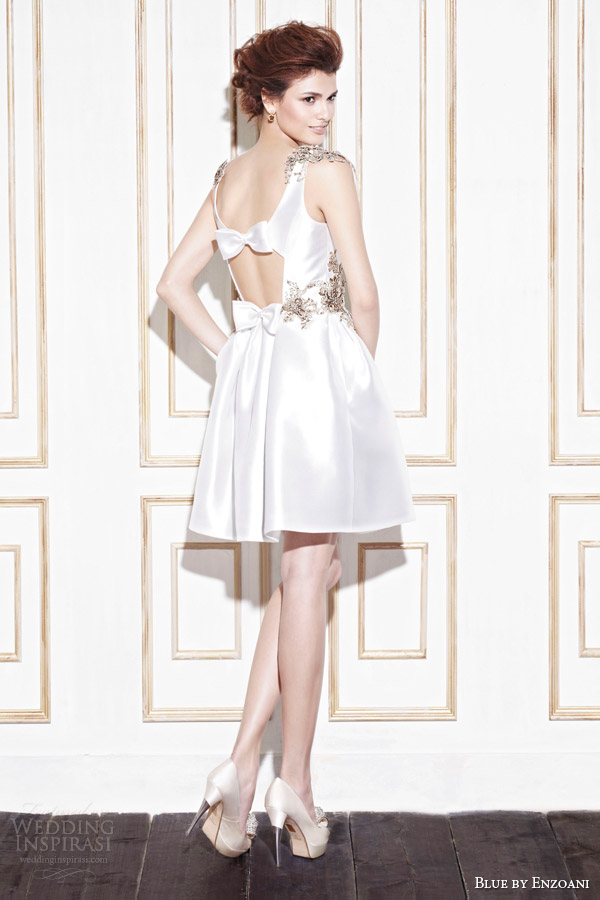 Inara, a classy sheath gown, offers an elegant alternative with Greek-inspired draping on the back.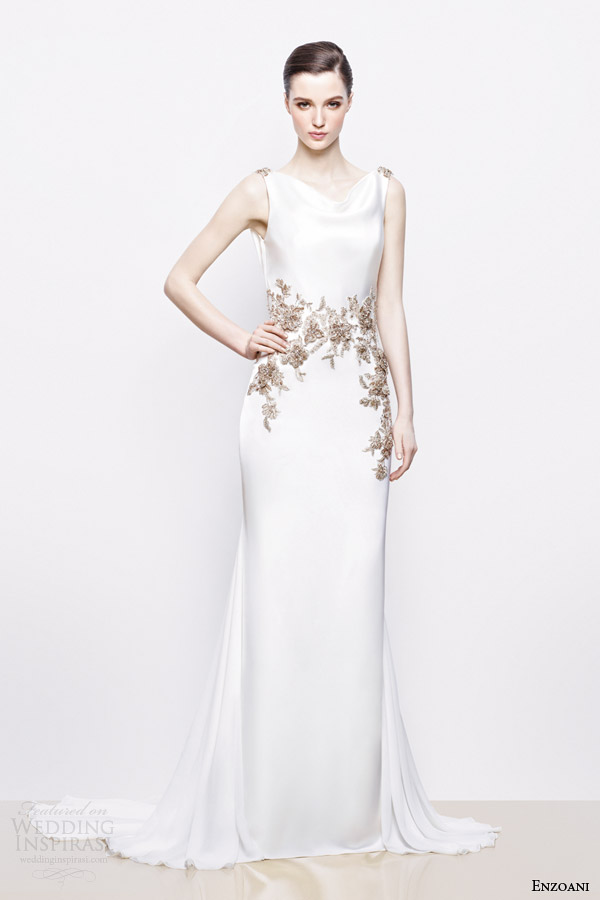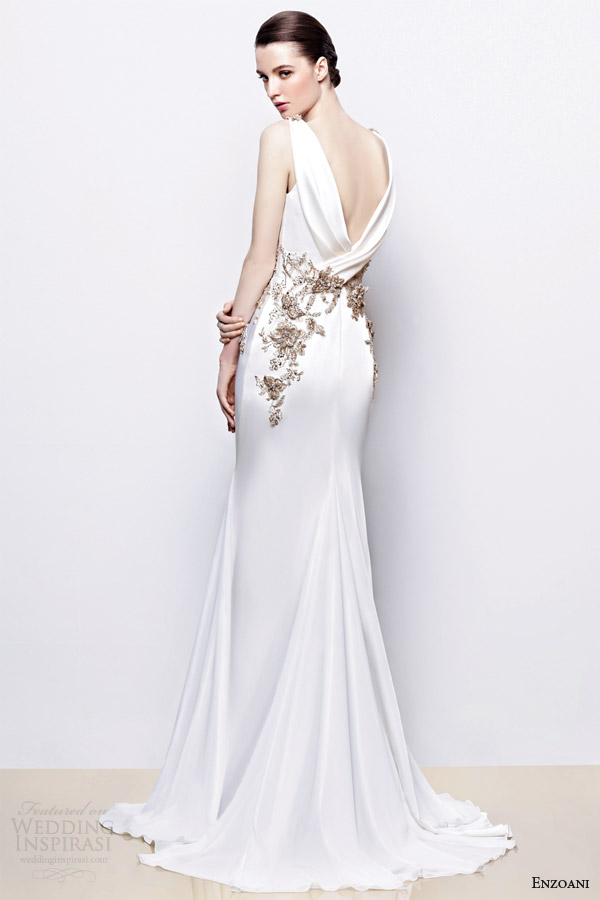 Gainesville mermaid gown features gold accents on the straps and skirt.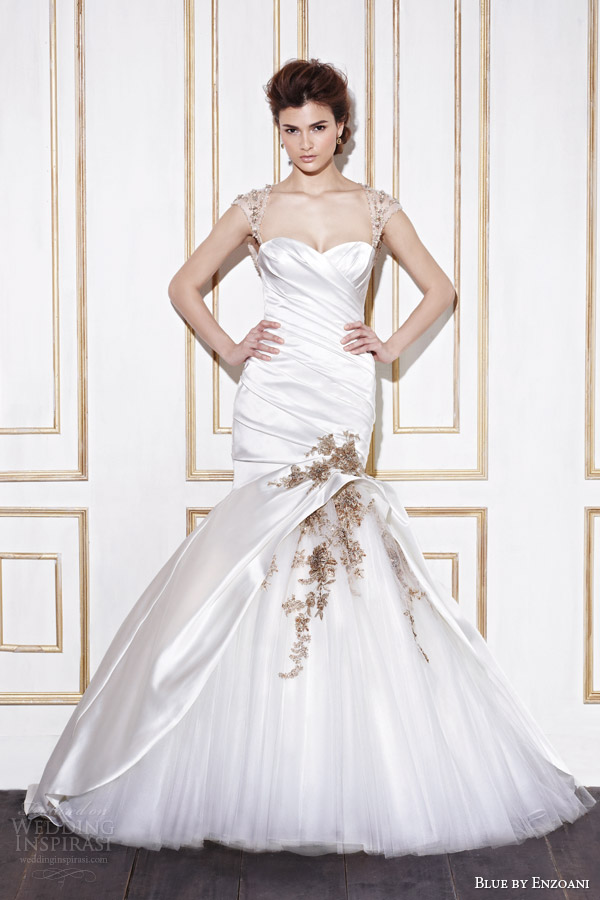 Galela, a spectacular strapless gown features a bodice embellished with pewter and antique gold accents.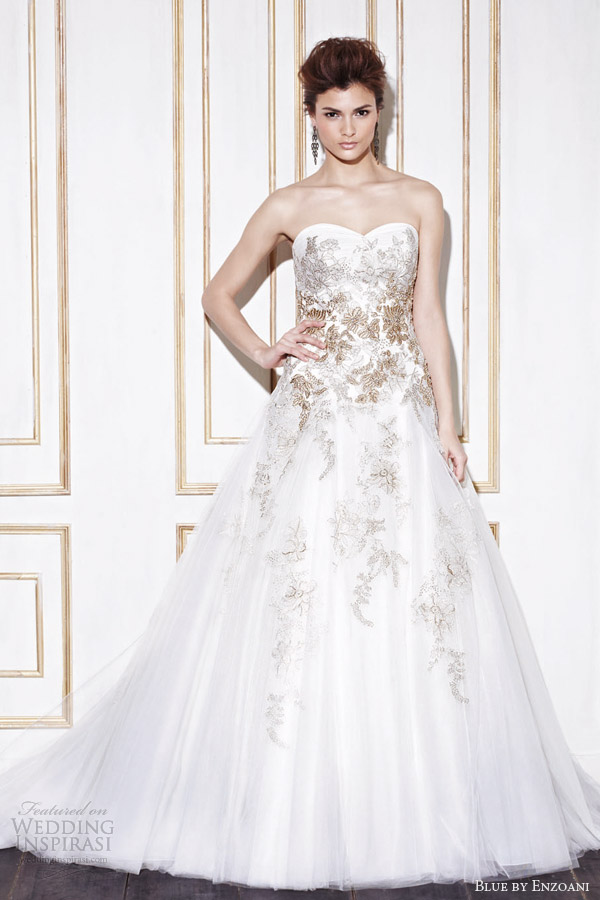 Gabes strapless gown with gold  appliqués around the waist.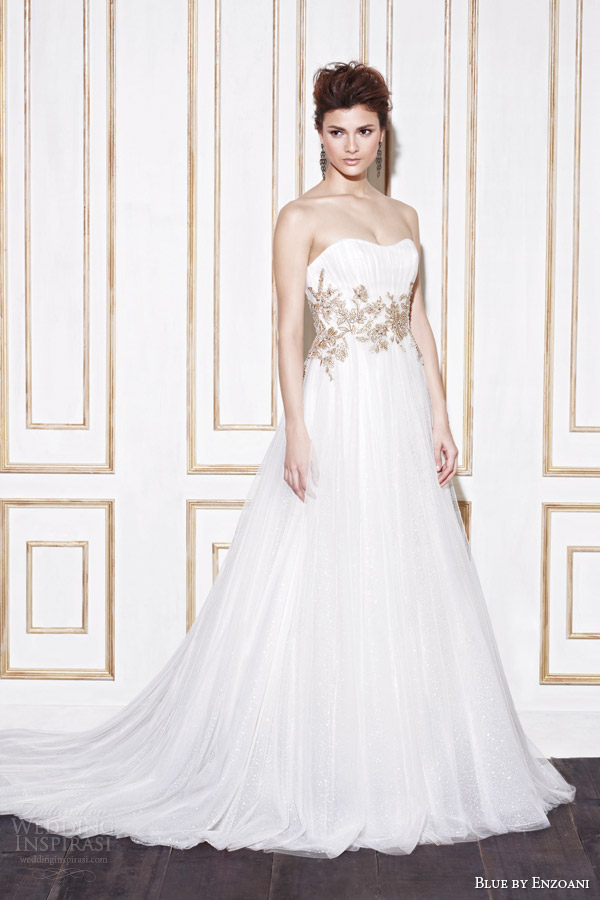 Imala, a stunning strapless lace mermaid gown further accented with gold appliqués.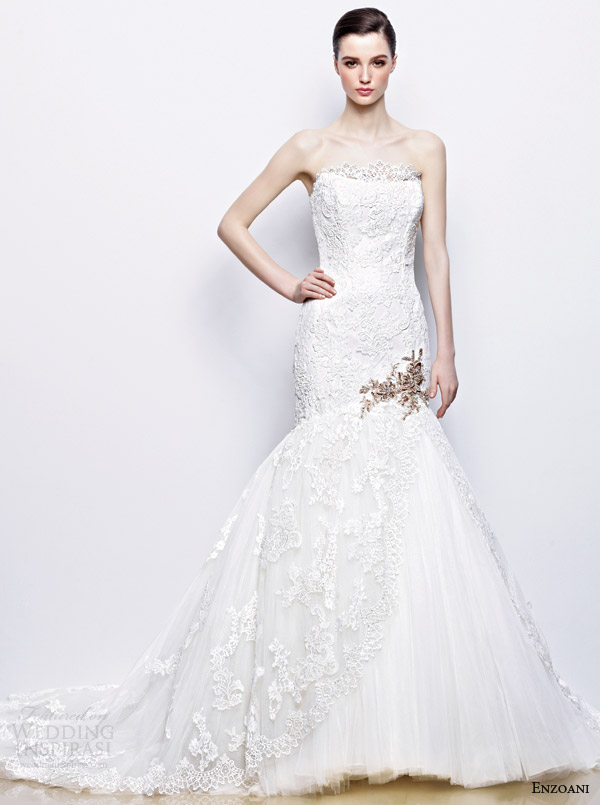 How do you incorporate gold into a bridal setting? Well, today we have the treat of seeing two Enzoani dresses in different but equally beautiful styled shoots: a rustic fall setting that lent itself well to pops of gold, and a glamorous Art Deco styled shoot that used gold and black as part of its main palette.
A Rustic Fall Wedding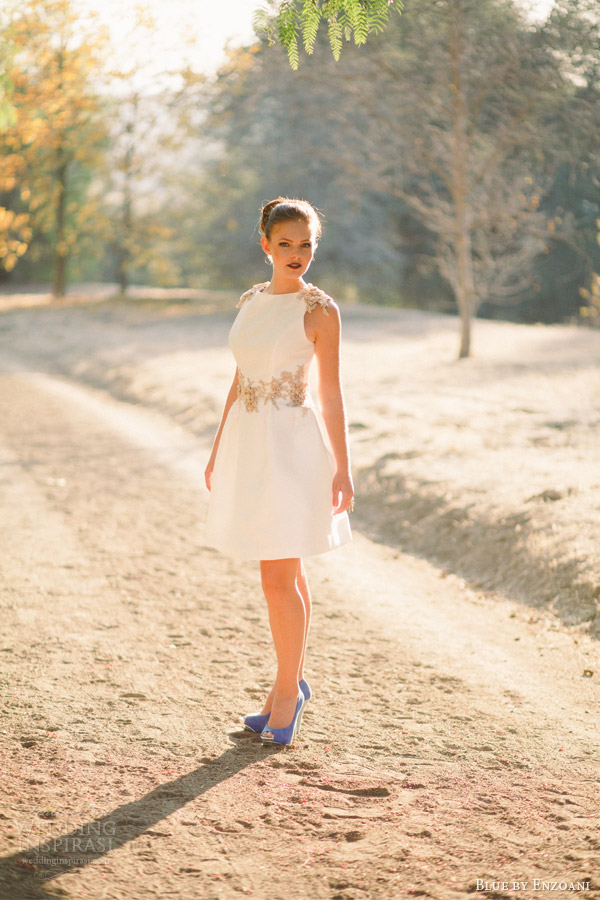 Gage from the 2014 Blue by Enzoani collection is a combination of retro style and modern gold embellishments to create a unique wedding gown for the fashion forward bride. The teacup length is paired with fun bows at the back for a flirty, feminine look while the gold appliqués around the waist and shoulders add instant sophistication.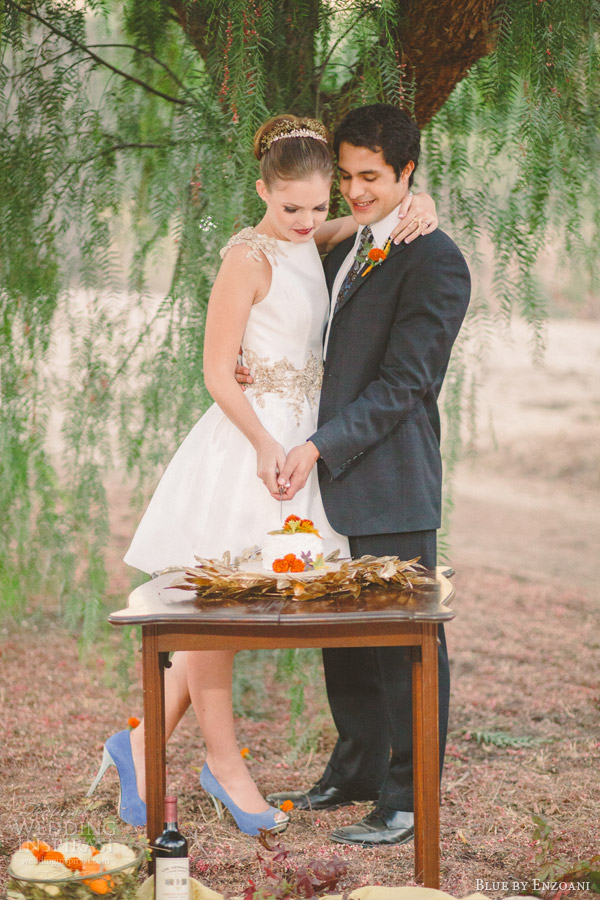 Gage was recently captured in a beautiful rustic fall wedding inspired photo shoot in Orange County, California by Manya Photography. Event Stylist Hope Stanley said her inspiration for accessorizing came from the gold on the gown, and she "wanted something that would keep with more of the retro feel." The scenery and flower display created by Sarah Toner of Floral Riot provided a gorgeous fall-colored backdrop that complements the loveliness of the gilded Gage.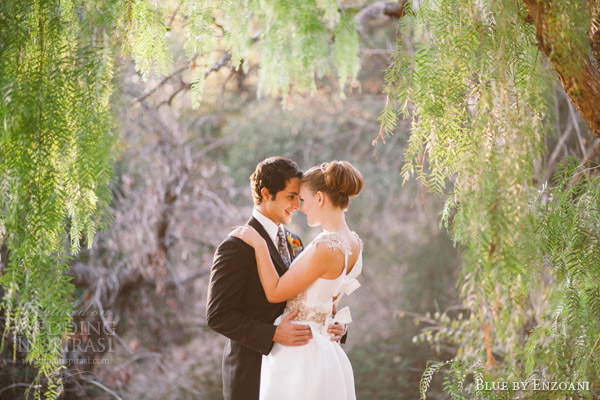 Art Deco Themed Wedding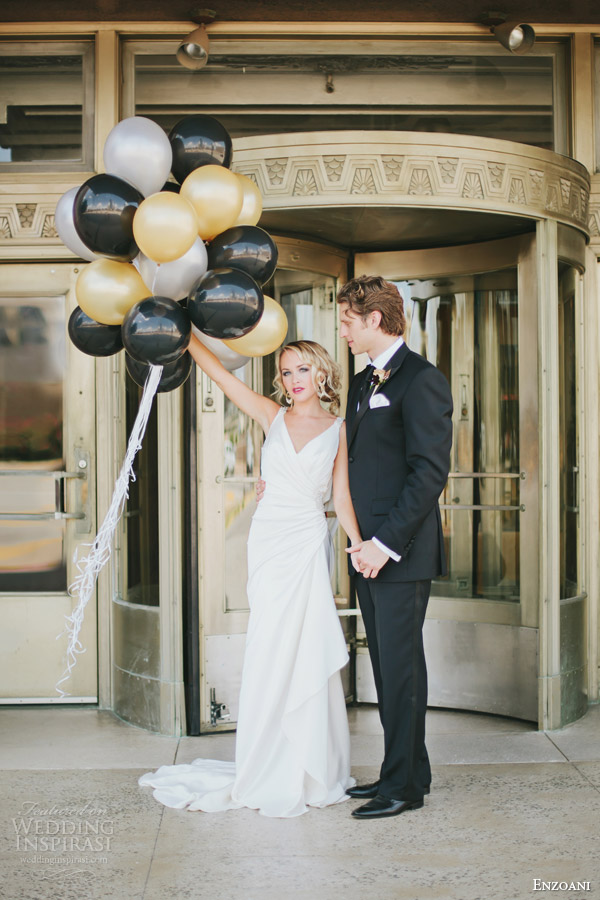 The elegant Harmony from the 2013 Enzoani collection was used in an Art Deco wedding themed photo shoot by Lauren Peele Photography and Jen Rios Design.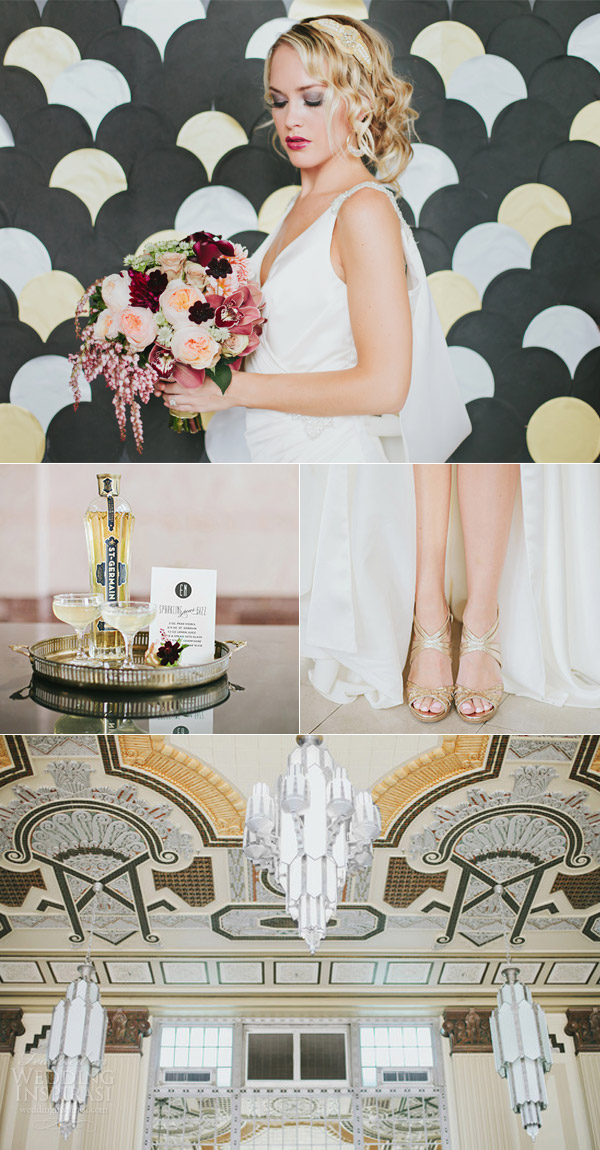 Glitz and glamour were tastefully incorporated through a black and gold color scheme with accents of glitter and white. From the chic drink table to the astonishing background, black and gold has resurfaced in 2014 as the most popular color combination.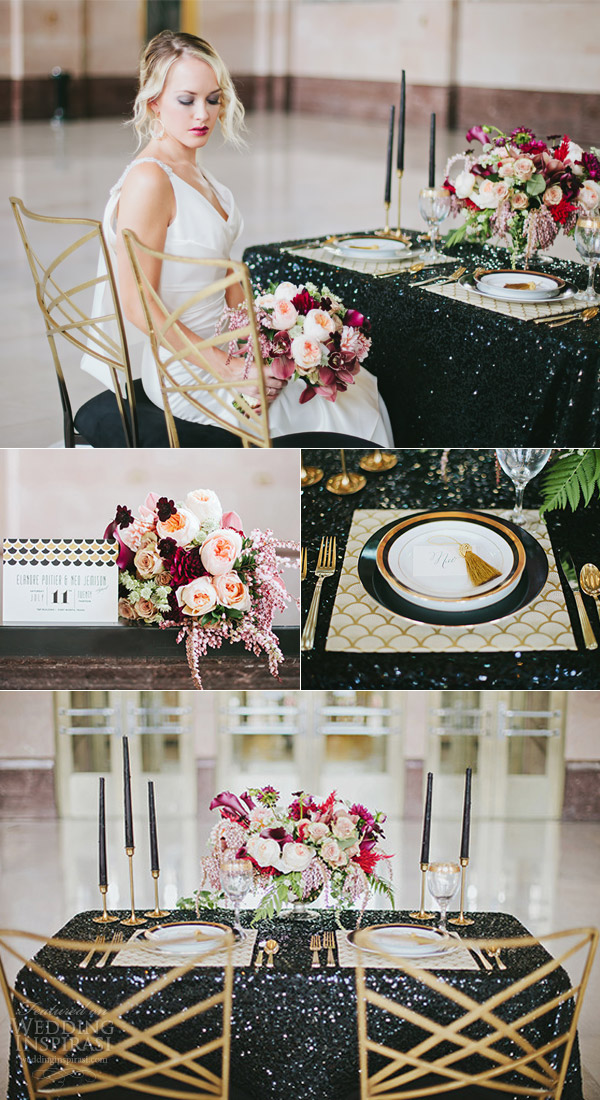 Harmony is the ideal choice since it has a simple Greek-inspired front yet features a dramatic back that gives it that "WOW" factor, perfectly complementing the art deco theme.
Art Deco Shoot Credits
Photography: Lauren Peele Photography / Design & Styling: Jen Rios Designs / Floral Design: Kate Foley Designs / Cakes: Sugar Bee Sweets / Paper Design & Calligraphy: Chips & Salsa Design Studio/ Hair & Makeup: Beauty & the Blush / Bridal Gown: De ma fille / Linens: La Tavola Fine Linen / Chairs & Flatware: Ducky Bob's Event Specialists / China & Glassware: Posh Couture Rentals / Signature Cocktail: Michael Rios Event Bartending / Bride's Earrings: Rory Ashton Jewelry / Location: T & P Station in Fort Worth, Texas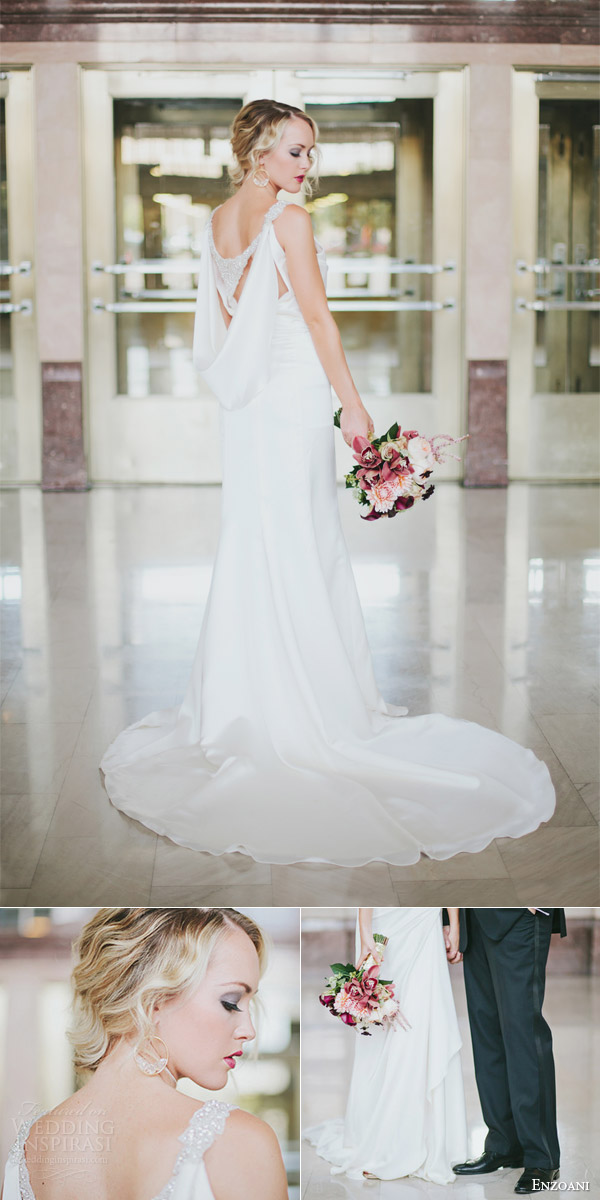 So, are you inspired by gold yet? For more inspiration and eye candy, pop over to Enzoani to see the entire bridal collection and gorgeous gilded gowns in detail.