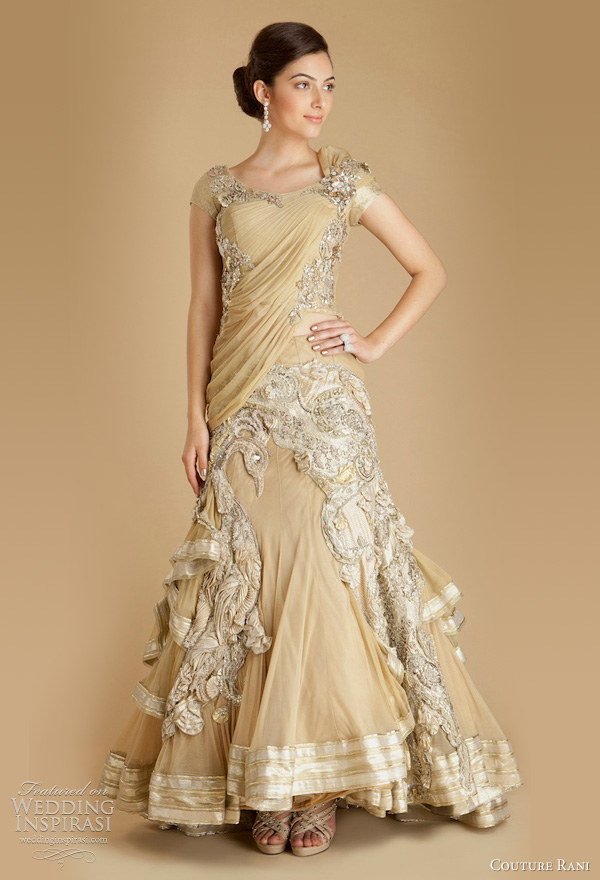 These stunning designer bridal sarees, lehenga choli sets and churidar suits are from Couture Rani, a new online boutique selling made-to-order bridal and evening wear by India's top fashion designers including Varun Bahl, Gaurav Gupta & Ritu Kumar. The site showcases high-end, bespoke garments from the designers' couture range. First up, the beautiful works of Gaurav Gupta. Above, lehenga featuring gold brocade blouse with soft tulle draping and lehenga skirt with embroidered peacock motif; below, embroidered tulle strapless wedding dress with custom designed, hand appliqued Hemla lace.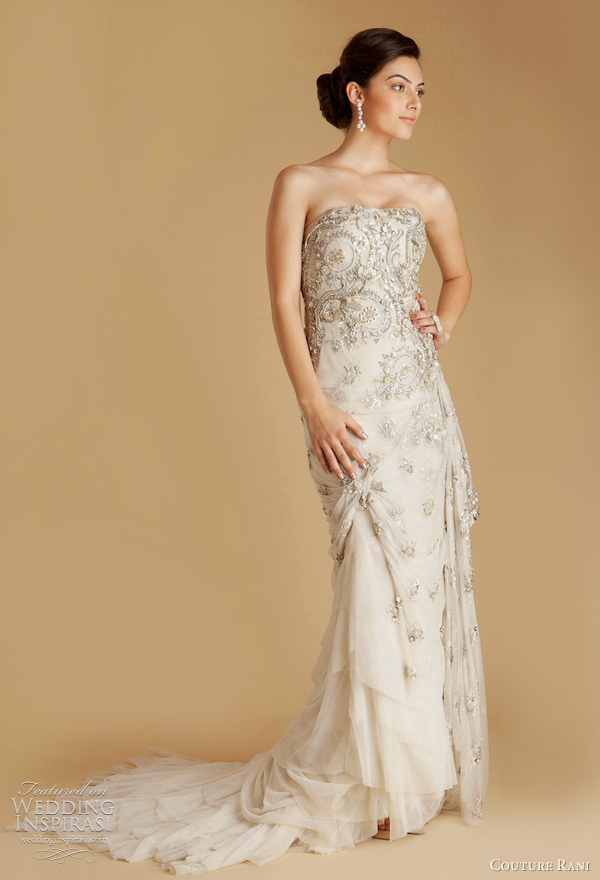 Gaurav Gupta's signature is his modern interpretation of classic Indian design and is a favorite among the country's young fashionistas. Below, light pink booti georgette sari with embroidered peacock motif comprised of yarn thread work and Swarovski Elements embroidery; gold foil chiffon brooch sari.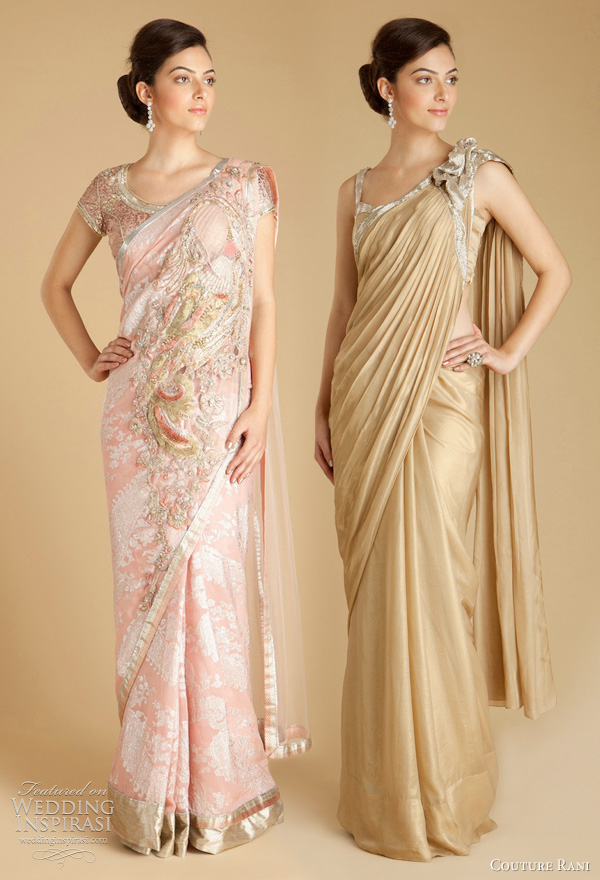 Saffron draped tulle anarkali with asymmetrical cascades down the side and back,Swarovski Elements embellishment on shoulder, neckline and bustline paired with stretch net churidar; hot pink georgette sari with sequined twisted knot with butterfly-wing split pallav.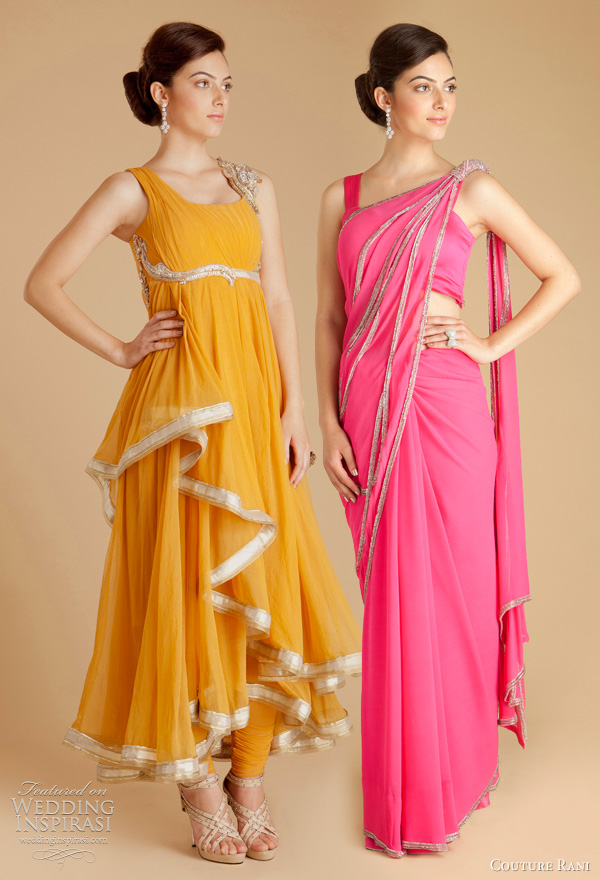 More traditional indian wedding dresses after the jump. Click Read More to continue.
Next, we have the exquisite creations by Ritu Kumar. The grand dame of the Indian fashion industry, Ritu Kumar's career spans over four decades. Her passion is the preservation of the country's indigenous crafts, which she beautifully incorporates into her collections. Below, red and purple velvet lehenga choli with zardozi embroidery and sequin accents; gold neem zari lehenga featuring gold banares silk v-neck choli blouse with zardozi hand embroidery and banares silk lengha skirt with detailed floral zari hand work and sequins lined in chanderi silk.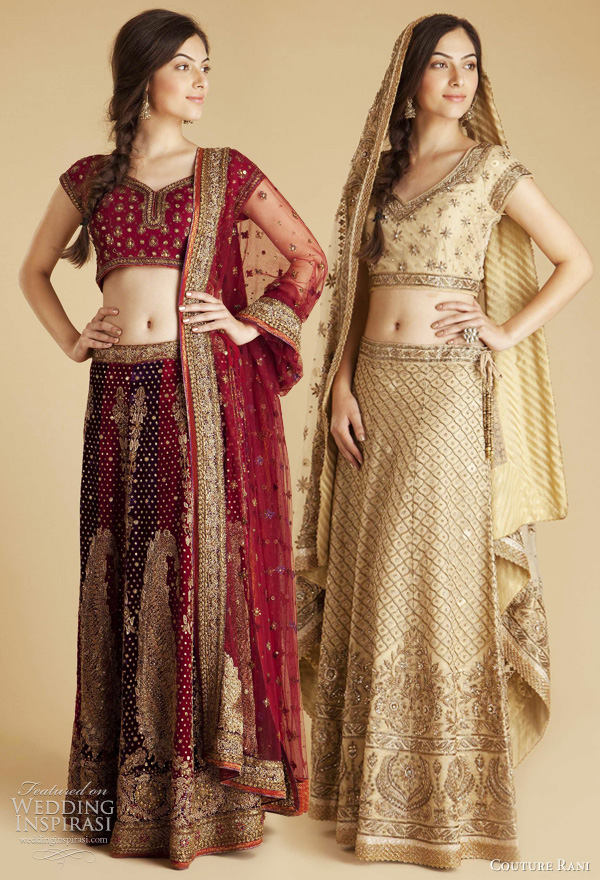 Shimmering georgette kurta with zardozi embroidery paired with cream silk churidar pants and red bordered net dupatta with zardozi embroidery throughout and along border.; pink satin kurta with gota embroidery throughout, paired with silk churidar pants. Churidar bottoms are closefitting while shalwar kameez pants are looser in fit.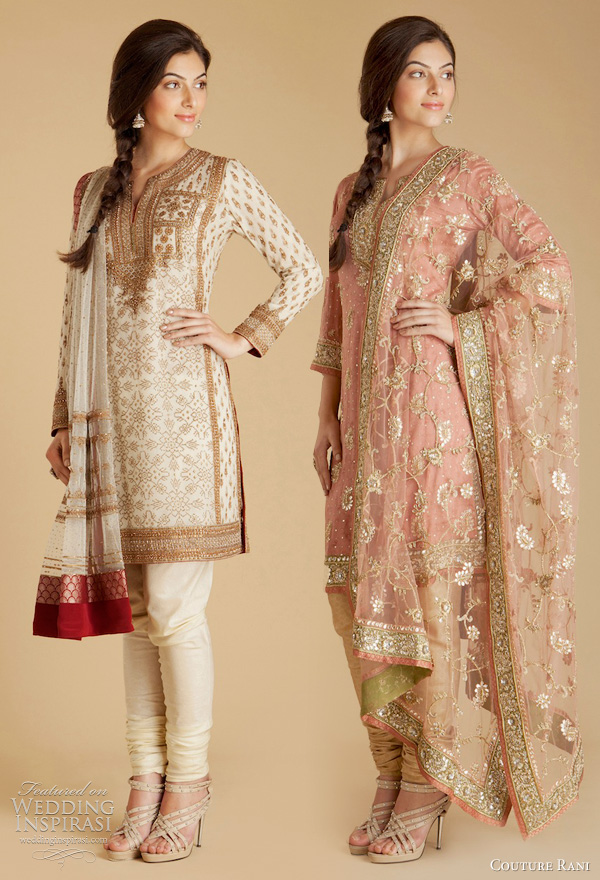 Next, we have the gorgeous outfits by Varun Bahl. Varun Bahl is known for his romantic, luxurious designs and exquisite craftsmanship, and is a favorite among those looking for the very best in bridal and evening wear. Red georgette sari with tilla, zardozi and aari embroidered floral and paisley designs, white net sari with red velvet applique featuring handwoven basket weave border with white pearl sequins.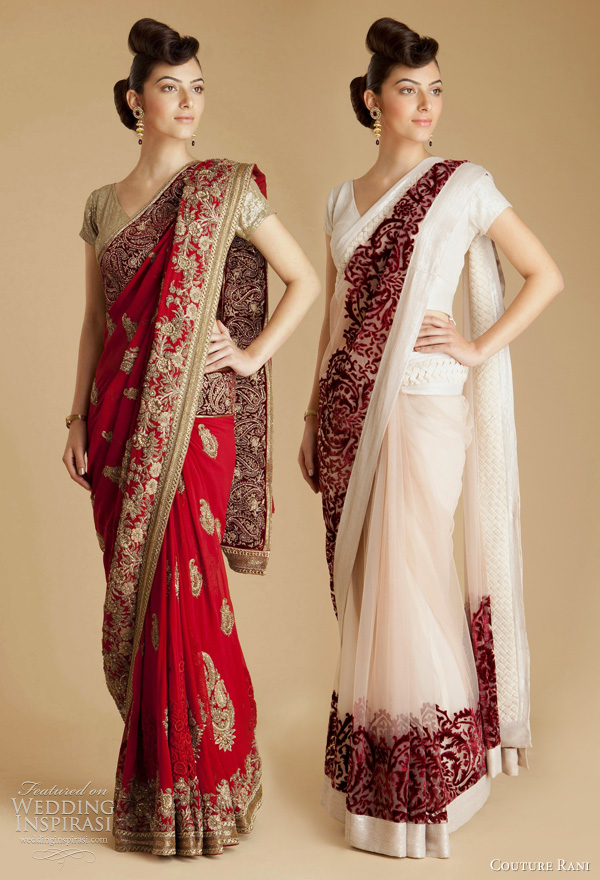 Teal & fuchsia floral net lehenga with strapless velvet corset top, champagne gold georgette lehenga featuring red velvet cholie with fine zardozi embroidery and lehenga skirt with deep red velvet applique and zardozi work with sequin accents.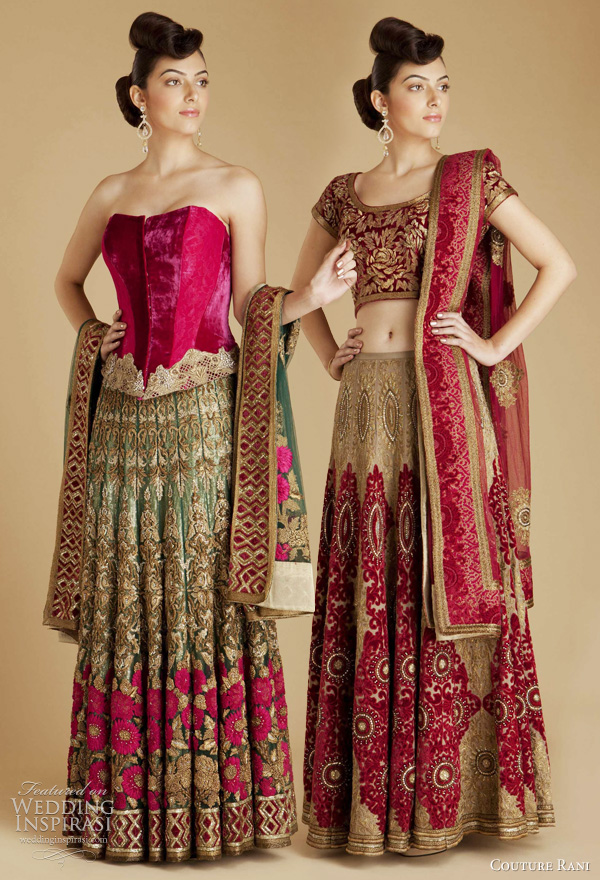 Couture Rani is founded by Gina Mathew after identifying a growing demand for high-end traditional apparel by South Asians living outside of the Indian subcontinent and those interested in Indian fashion and culture. "Couture Rani is unique in that it will allow shoppers to order a custom made, individually tailored piece rather than purchasing from a selection of pre-made stock. "
For details, availability and pricing, visit the website.