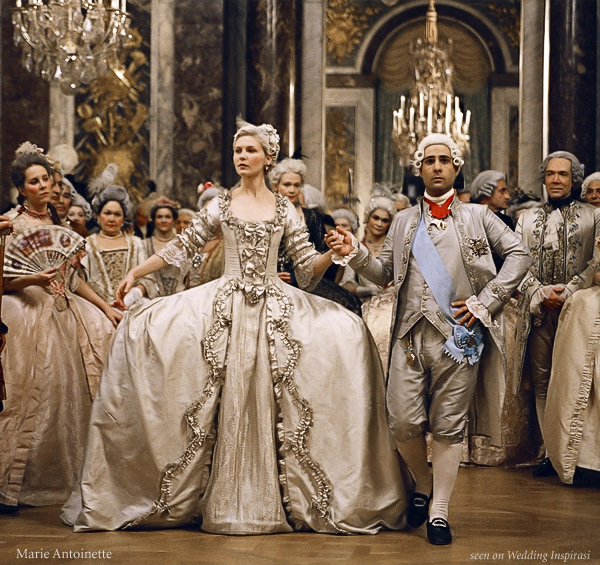 Remember how in a previous entry I wondered what a wedding inspired by the palette of the soft jewel tones of
this bridal necklace from J.Crew
would look like? I think the answer would be Sofia Coppola's
Marie Antoinette
. The 2006 film starred Kirsten Dunst as the young Queen of France and she was clothed in the most delectably gorgeous of clothes throughout the movie.
The costumes for the movie were designed by Milena Canonero, who won an Oscar for Best Achievement in Costume Design. The pretty pastel palette of soft pinks, light yellows, gentle peaches and baby blues was based on a box of macarons from pâtisserie Ladurée.
The cakes, pastries and of course macarons from the French pastry house were also featured extensively in the movie. Yummy! I'll highlight some of the delicious confections in another entry.
Filming locations include Château de Chantilly, Hotel du Soubise, Chateau de Versailles and Opéra National de Paris Palais Garnier in France. Vast gardens with beautifully-manicured topiary and lawns...
... and intricate print upholestry set against gold-gilded doors, floral wallcoverings and panelled walls dripping with decorative Rococo opulence provide a great backdrop for showing the extravagant life of the teenage queen.
Over-the-top wigs, pretty hats, feathers, flowers and fans are big in the movie. Of course, I haven't mentioned the shoes designed by Manolo Blahnik here. That demands a separate entry!
Scenes of Marie at the Petit Trianon, a château located on the grounds of the Palace of Versailles. The Queen would go there to escape from the formality of court life. The dresses worn here, though still very pretty, are less elaborate in contrast to those worn in the palace proper. Fabrics used are lighter, mostly in white or off-white complemented with romantic, feminine ruffles.
Such peace and calm in these scenes. Drinking fresh milk from dainty teacups and reading a book in a field of flowers with close friends.
I'm not sure if wearing panniers (side hoops worn under skirt) is an attractive option for the modern bride but the colors of the dresses from this movie will surely inspire some brides to be more creative with their choice of colors for a wedding gown. :)