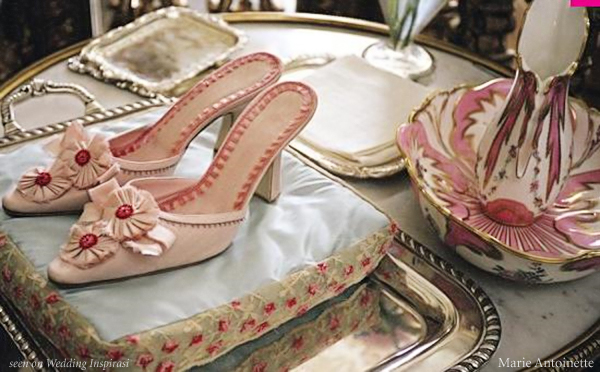 In the last post about
Marie Antoinette
we looked at the elaborate costumes Kirsten Dunst wore in the Sofia Coppola movie. In this entry, the focus is on the accessories featured in the movie — specifically the beautiful shoes!
The scenes involving Marie Antoinette on a crazy "shopping spree" at her not-so-humble royal abode is the highlight of this movie for me. It shows Marie selecting her favorite shoes from a smorgasbord of fancy designer footwear.
Manolo Blahnik created "hundreds of shoes" specially for the film to complement the fancy costumes. The Spanish shoe designer worked with the same palette of pretty colors — light pinks, robin egg blues, dusty mauves — and added few bolder ones like – canary yellow and even fur-lined black and gray .
Converse high-tops or Manolos for the young Queen of France? According to director Sofia Coppola, the sneakers were placed in one of the scenes (a very brief one), as an allusion to Marie being a typical teenager.
Another accessory prominently featured in the film - the hand-held folded fan. Pretty paper hand fans make great wedding favors, don't you think?
Paper, lace, silk, painted, embroidered, beaded -- the gorgeous fans are used more as a fashion accessory rather than a functional implement...
but of course, it has practical purposes, like um, covering one's modesty. He he.
What do you think of pairing colored shoes with a white wedding dress?