Fans of Maison Signore's exquisite Italian wedding dresses have a big reason to celebrate! Maison Signore is having a trunk show at Kleinfeld Bridal in New York on November 24th, 25th and 26th, and this is your chance to see some of their ever popular wedding dresses and 2018 bridal collections in person. Of course, we today are treating you to the highlights from the gorgeous new Excellence, Seduction and Victoria F. collections.
The 2018 Maison Signore bridal collections revolve around the idea of a wedding dress that "fits perfectly" in every sense of the word: something appropriate for the bridal ceremony yet stunningly unforgettable for the celebration after, something comfortable for each and every moment of the big day, and, most importantly for the bride, something that spells "me". To achieve this, many of the gown's designs for new season are adjustable and can be tailored to better fit the bride's vision of her wedding day style.
We're showing you some of the highlights from Maison Signore 2018 collections today. If you would like to view these amazing wedding gowns and more in person, remember to book an appointment for Maison Signore's Trunk Show at Kleinfeld.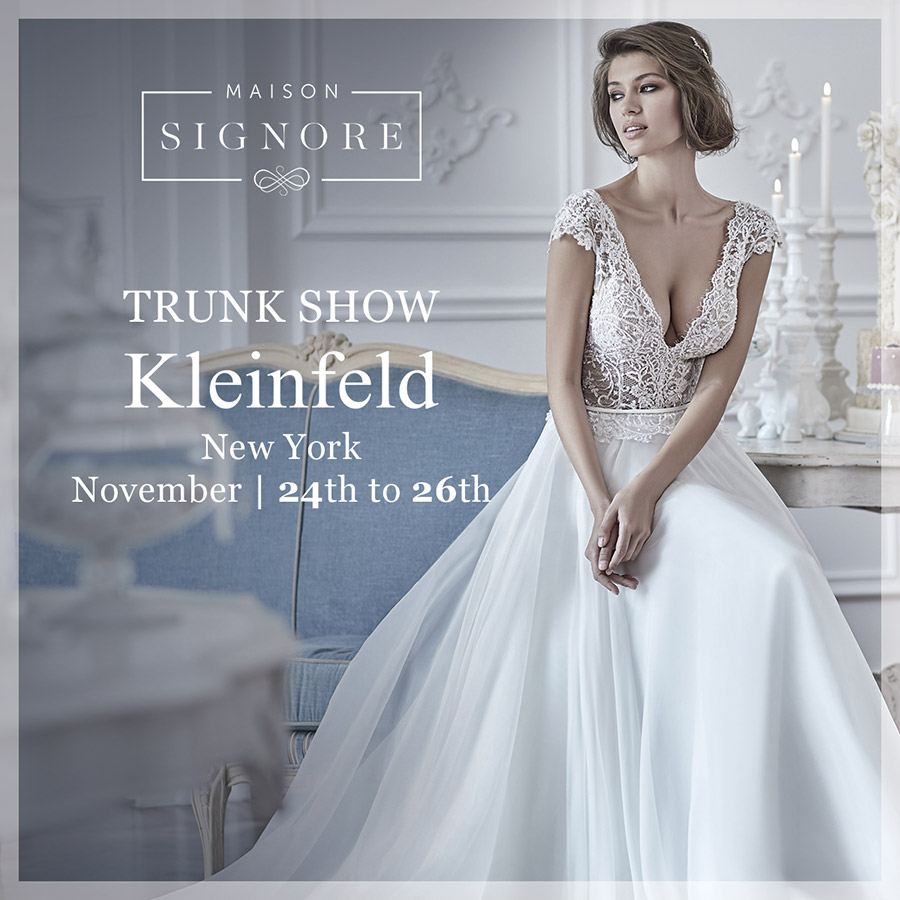 EXCELLENCE 2018 collection
Excellence, Maison Signore's top of the line collection, features "jeweled dresses" that are, in essence, wearable works of art. Realized in fine silk and other luxurious fabrics, and embellished with intricate embroideries, pearl arabesques and semiprecious stones, these gowns are proudly Italian made by artisans working exclusively from the Maison. In this collection you can truly understand and appreciate what drives the soul of the Maison: to make a difference with unique and inimitable creations. The Excellence bride loves luxury and elegance and is never shy when it comes to the spotlight.
VICTORIA F. 2018 collection
The Victoria F. bridal collection is driven by three concepts: pure elegance, simplicity and beautiful details. These extremely romantic wedding dresses are designed for the modern, elegant woman. Designer Vittoria Foraboschi uses fine laces, sumptuous silk and other light fabrics, such as Chantilly lace, silk georgette and plumetis tulle to bestow each design a sense of ethereal lightness and movement. The Victoria F. bride will dazzle in the immaculately executed details that include stylized ribbons, hand made flowers, and delicate embroideries.
SEDUCTION 2018 collection
Maison Signore's Seduction collection is aimed at brides who want to celebrate their femininity. Inspired by glamorous Old Hollywood style, these showstopping wedding dresses are meticulously constructed by Italian seamstresses and embroiderers for the ultimate in sophistication and glamour. The details are to-die-for: think sleek forms and elaborate draping, illusion details with tattoo effects, unique necklines, laced corsets, incredible embroideries and fine French laces. The Seduction bride magnetizes everyone in her direction with her alluring confidence.
Maison Signore's trunk show at Kleinfeld New York. The event will be on from November 24th to November 26th 2017. Remember to book an appointment because you don't want to miss seeing these fantastic designs in person.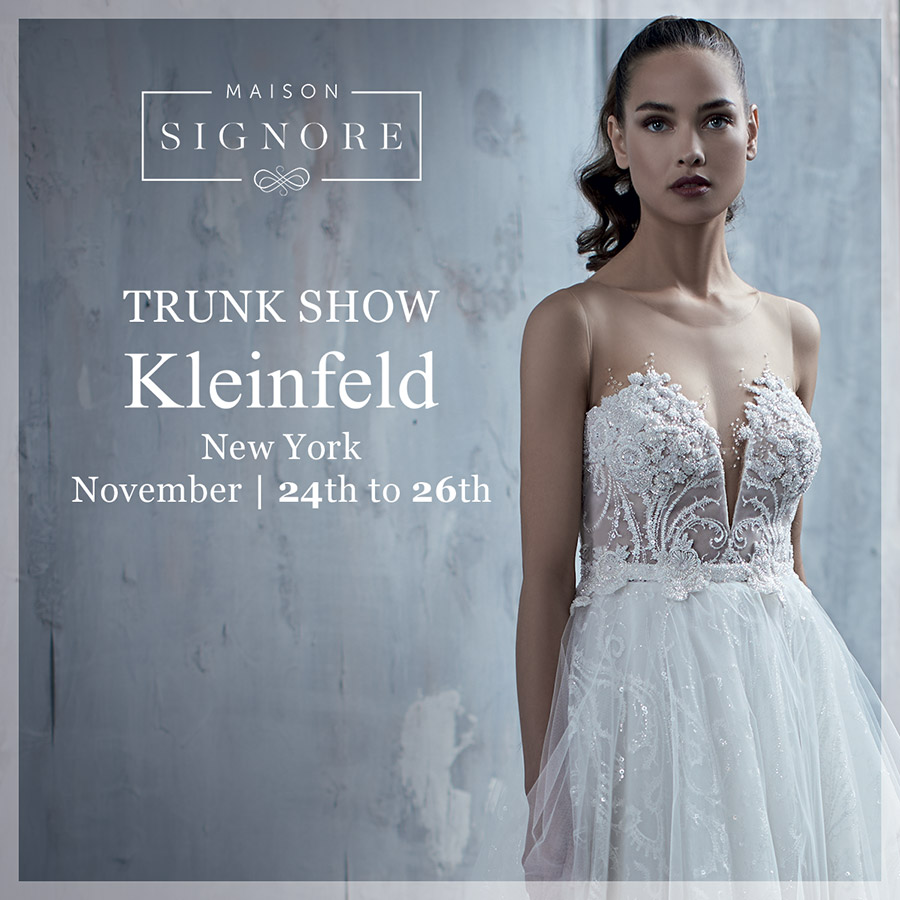 Want to see more stunning gowns from Maison Signore? Check out all the collections in full at Maison Signore. For the latest updates and more inspiration, you can also follow Maison Signore on Instagram, Facebook and Pinterest.