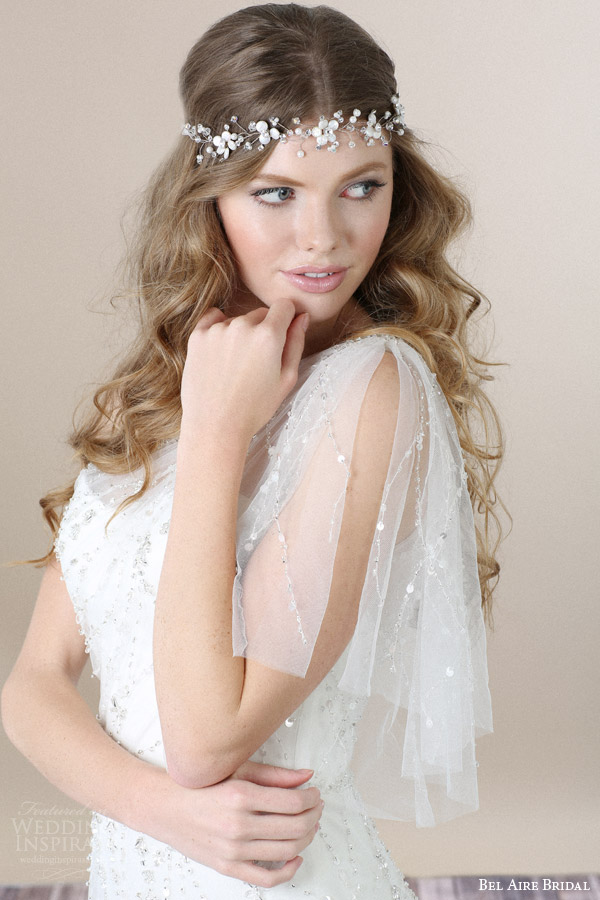 It goes without saying that we are lovers of all things pretty, which is why we are smitten by these exquisite headpieces and veils by Bel Aire Bridal. Add a gorgeous shoot complete with vintage postcards and handwritten letters, and we are head over heels in love. With mixed blooms and delicate lace accents thrown into the mix, this shoot provides plenty of beautiful inspiration for a romantic wedding, whatever the season.
Bel Aire Bridal: Love, Lace & Romance Shoot
Bel Aire Bridal accessories from the Spring and Fall 2014 – 2015 collections were used in this shoot.
"This romantic photo shoot incorporates lace, intricate details, and light accents to create a soft, dreamy ensemble. These favorite headpieces and veils, gathered from several collections, highlight the bride's feminine beauty with ethereal veils and delicate, sparkling headpieces. Floral combs, French net, and dainty freshwater pearl halos gracefully personalize any bridal ensemble."
A bohemian bride can either wear flowers in her hair or don a mantilla veil. A wired garland or headband with rhinestones and pearls in a nature-inspired motif is a great all-season alternative to using real flowers. Bel Aire Bridals V7202 veil, shown above, puts a twist on the traditional mantilla. This stunning lace-topped veil features a beaded edge, so there's no need for a separate headpiece.
For a classy, understated look, an elegant floral comb is the perfect finishing touch, while a floral headpiece with a birdcage veil would complement a 1950s style tea length gown beautifully.
"Handwritten love letters, post cards, vintage-inspired accents, and fabric notions add instant charm to a romantically themed wedding. Soft blooms with subtle pastel colors infuse the bride's look with the fresh beauty of a garden. Bel Aire Bridal veils complete this mood of dreamy love with light layers and gorgeous lace details."
In the examples above, Bel Aire Bridal accessories were paired with a veil for an ultra-romantic look. On their own, Bel Aire Bridal headpieces and jewelry, make stunning statement pieces to highlight your wedding day hairstyle, whether you choose to wear your hair down or in a loose chignon, as shown below.
My Bridal Style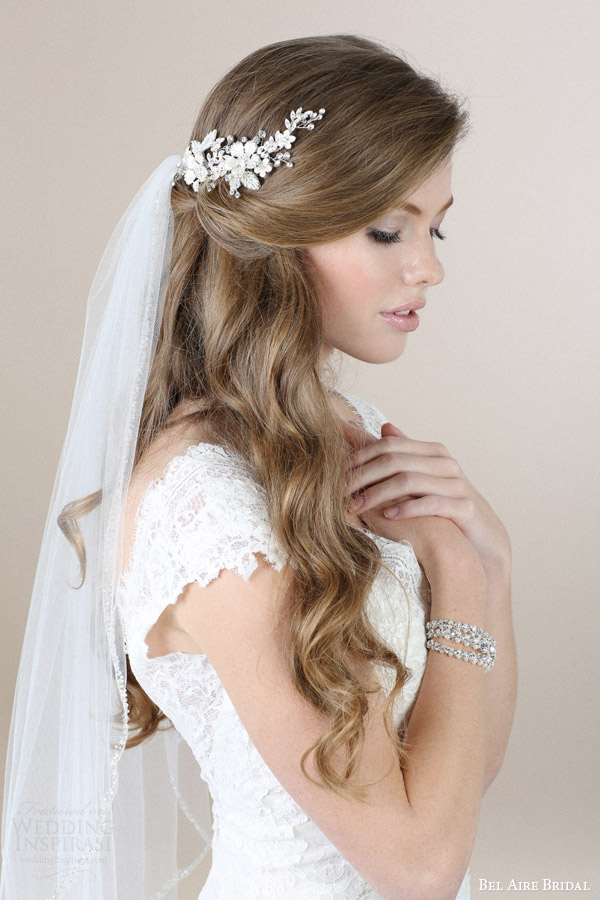 Are you a classic or a glamorous bride? Do you love the romantic look or prefer something more trendy? Apart from completing a bridal look, accessories are also great for showcasing your unique personality. For this very reason, Bel Aire Bridal has created My Bridal Style to help brides imagine their dream wedding-day look within each category.
For more inspiration, you can also check out BA Love & Accessories blog.
Bel Aire Bridal veils, headpieces, belts, and jewelry are available at authorized retailers across the US and worldwide.