Fans of Japanese wedding dresses — you know, those fanciful, colorful creations plucked from fairy tales — have we got some wonderful news for you today! TIGLILY, a brand based in Japan, has launched a gorgeous new Spring/Summer 2015 bridal collection, and they are making these beautiful gowns available to brides worldwide! Through Bridal Amore, their exclusive agent in Japan, customers can purchase TIGLILY gowns from their catalog of about 1000 designs (including white, colored and short wedding dresses) with the assistance of their English speaking staff (details at the end of this post).
Inspired by Alice in Wonderland, the 2015 TIGLILY bridal collection is incredibly romantic with a good dose of fantasy. TIGLILY's designs are characterized by their unique play of different colors and fabrics, delicately adorned with flowers and lace. For the new collection, TIGLILY's designers channel the beauty of storybook queens and princesses into each design, resulting in a dreamy, feminine collection fit for a, well, fairy tale princess.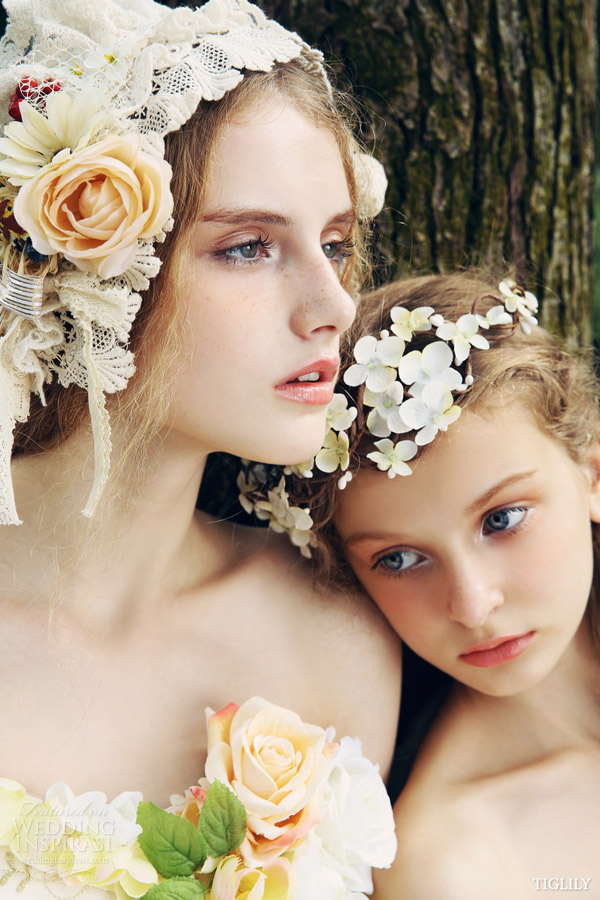 Photos courtesy of TIGLILY. TIGLILY is exclusively available through Bridal Amore, Japan. For international orders, please contact Jenny Young via email at: info[at]bridalamore[dot]com (service available in English, Japanese, Chinese).