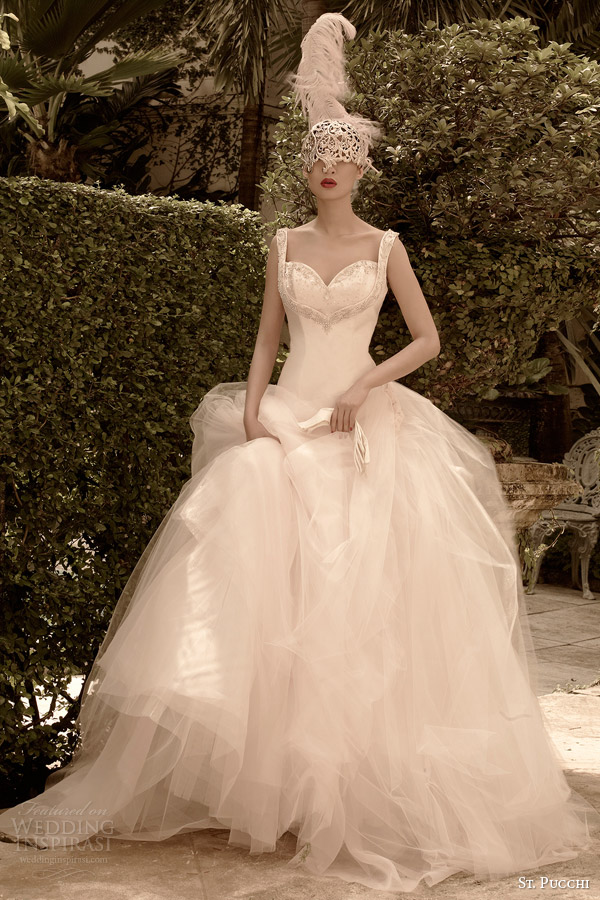 In an illustrious career spanning almost three decades, Rani Totman, president and designer of St. Pucchi, has witnessed countless fashion trends come and go. But the doyenne of bridal couture is unaffected by passing fads and rules (she's been pushing colored gowns since her first collection in the 80s!). Instead she believes in the concept of timeless style. This philosophy is what makes a St. Pucchi wedding gown so highly prized and relevant for years after its release.
The latest St. Pucchi Couture bridal collection is a brilliant example of what happens when the designer manifests her unbridled creative thoughts to reality. Inspired by the works of Rumi, the 2014-2015 collection features sublime gowns, each representing a poem from the Masnavi.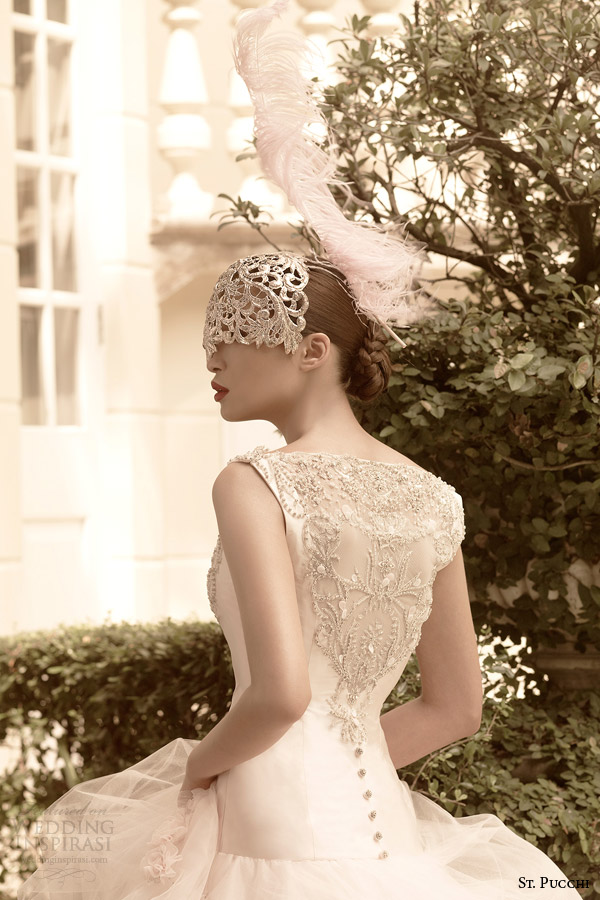 In this interview with Wedding Inspirasi, Rani Totman shares us with us her design philosophies and the inspiration behind her new collection:
Wedding Inspirasi: How did you get started in the fashion business? Is it your first love?
Rani Totman: It was certainly one of my two loves. If I had not gone into fashion then I would have wanted to be a writer. How I was thrown into fashion was really more of a necessity of having to earn a living when I was married and still living in my home town of Bangkok, where I opened a tailoring shop catering to tourists at the time. An opportunity to show my ready to wear collection came my way when a friend living in TX requested that I bring my collection for a charity fashion event. A blush colored bridal gown that I used as a finale for the show received so much press that I was invited by the Dallas Apparel Mart to showcase my bridal collection at their annual event. The rest as they say is history!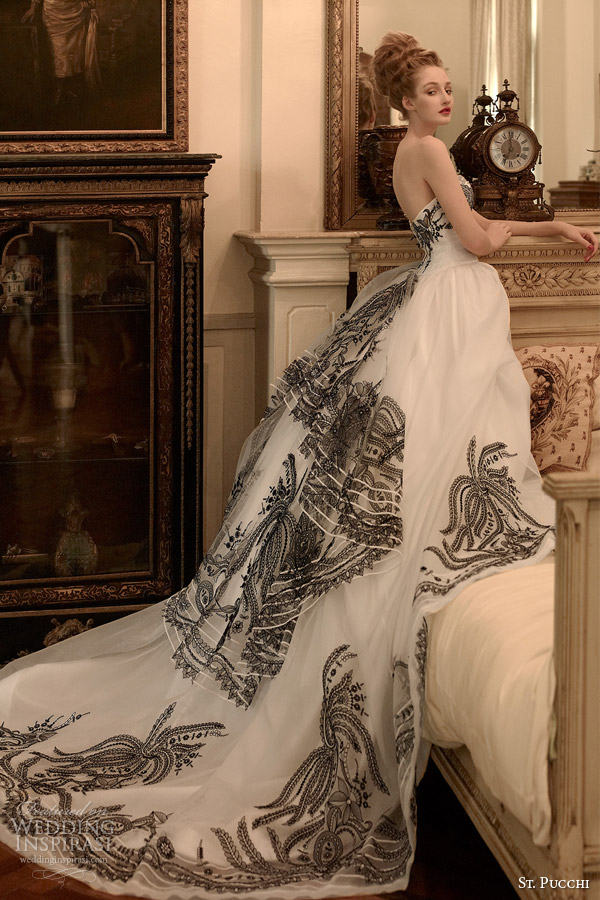 How would you define the St. Pucchi style?
St. Pucchi is not for your typical bride. The look is very special and unique in its intricacy and affinity to evening wear and special occasion dresses with much of the inspiration drawn from the Royalty of yester years. Each is a Couture piece, a work of art, worthy of preserving and passing on to future generations. It is a labor of love as almost every single dress is hand drawn and hand embroidered using the finest silks, metallic threads and crystals. The look is timeless…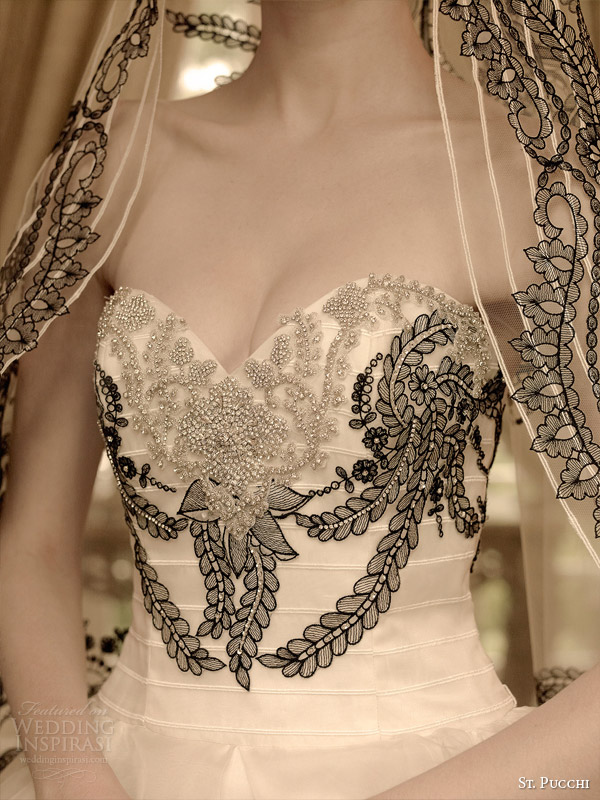 We are officially obsessed with your new couture collection. It's very dramatic yet soft and romantic, almost like a dreamscape. What is the inspiration behind the current couture collection?
The current 2014-2015 collection was inspired in its entirety by the poetry of Rumi, the 13th century Sufi poet. Literally every single dress is based on a poem he wrote. It was the most spiritual experience that would be impossible to describe, in that ideas flowed as if from another realm, not from my hands on to the paper but from a higher Power. It's like being on a high each time a collection comes to life. I am humbled and in awe because I realize more and more that the talent that I am Blessed with truly comes from another dimension. God is amazing is he not?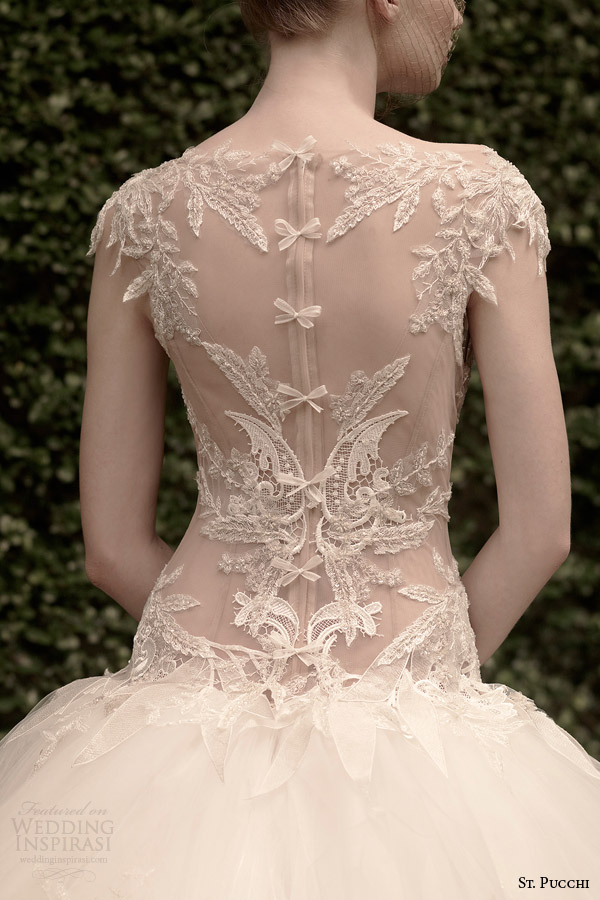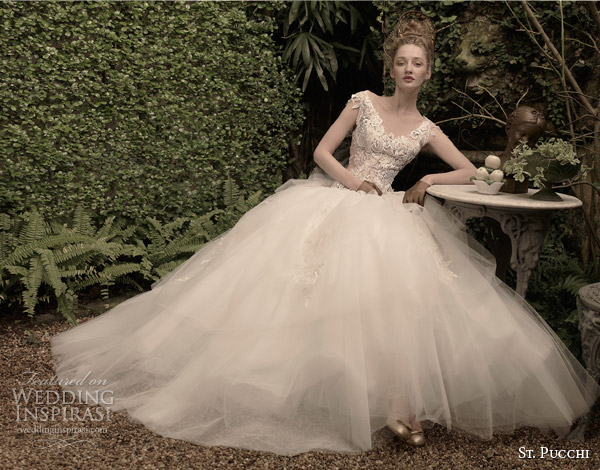 Over the years, you've design many gowns that incorporate color. You also have an entire collection of short wedding dresses. Both are key trends in bridal fashion this season. What's your favorite style right now and what does your crystal ball say for 2015?
I have always, from my very first collection in 1985, believed very strongly in color in bridal gowns. It has been my signature thru the ages. Lisa Kudrow as Phoebe in "Friends" wore a dress with a corset bodice that I specially designed for her in a Lilac color. To date I must have designed over 6,000 styles and I feel Blessed to say that no two are alike. The "Short Story" dresses that I have been designing for a few years now are very appropriate and in keeping with the times. Many brides are having destination weddings and most are opting to wear two (or three sometimes!) different dresses. I feel that Bridal, especially St. Pucchi bridal, is timeless. Therefore dresses that I had designed 10 years ago are still sought out today and are still relevant.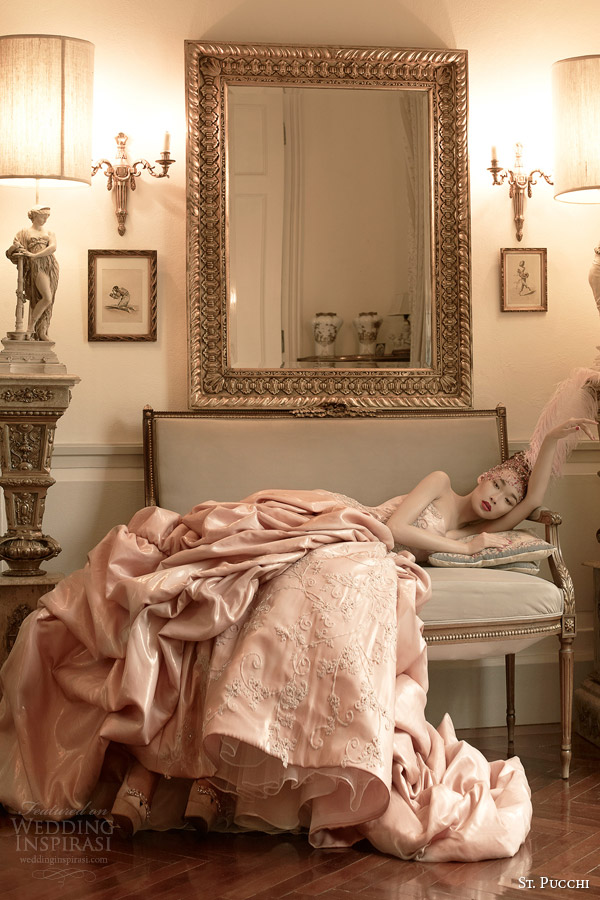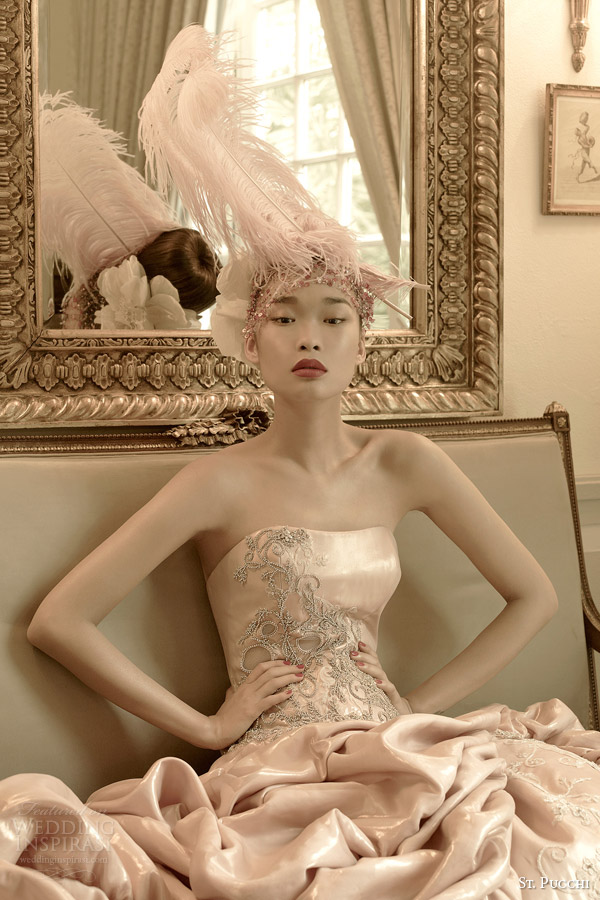 What do you like best about what you do?
My favorite part of being a bridal gown designer is meeting and working with wonderful people, traveling to the most exotic and diverse countries, and to have the freedom to create and explore ideas, innovate and set trends without having to follow the "rules"!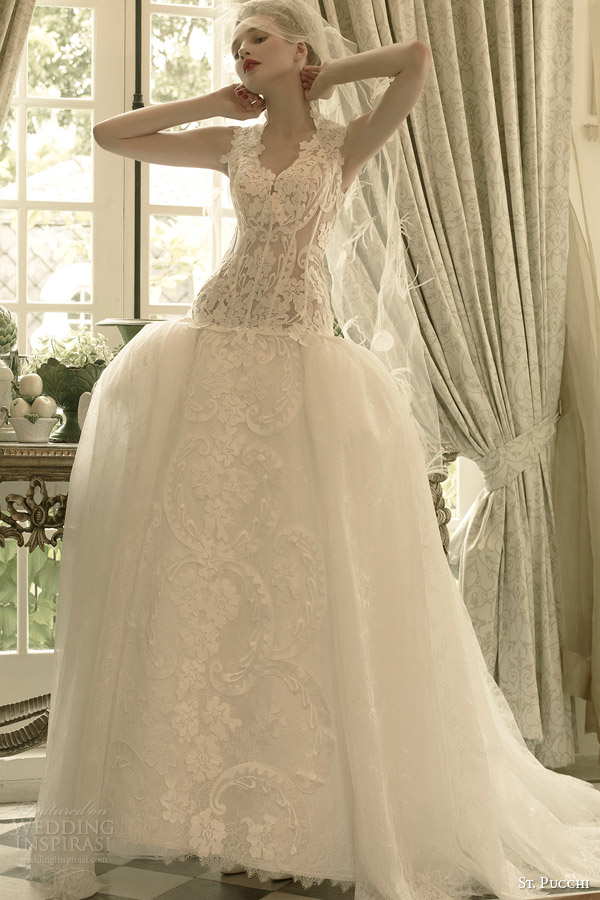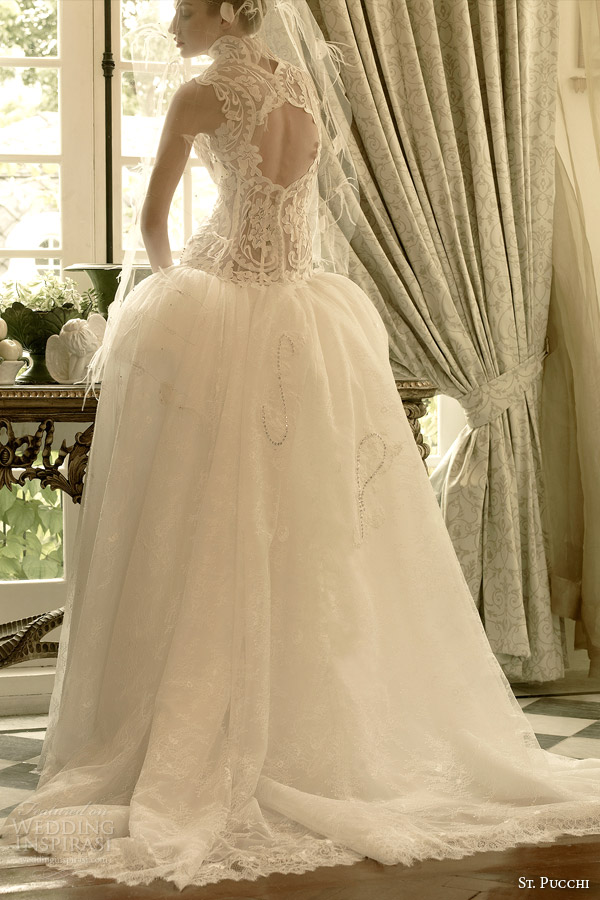 See more amazing St. Pucchi Couture wedding gowns on the next page.