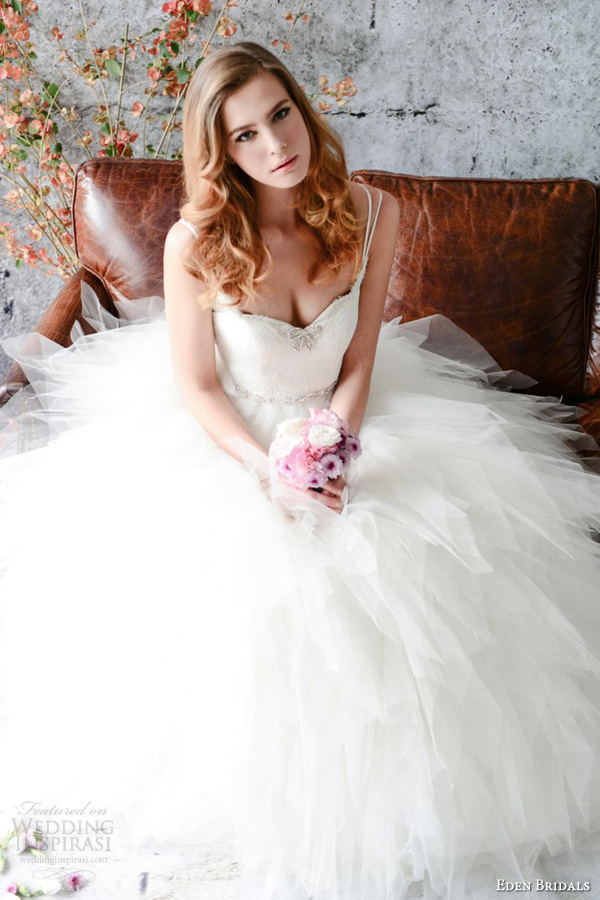 What do you look for in a wedding dress? Let's ponder over that question for a bit as we feast our eyes on these absolutely gorgeous wedding gowns courtesy of our  sponsor, Eden Bridals, a California-based bridal gown design and manufacturing company founded in 1988.
Above, style BL068  ball gown with lace sweetheart bodice adorned with crystallized beading and full skirt with sequin tulle handkerchief ruffles. Below, style GL037 taffeta and tulle ball gown with a strapless sweetheart bodice fully embellished with beading and finished with a ribbon belt.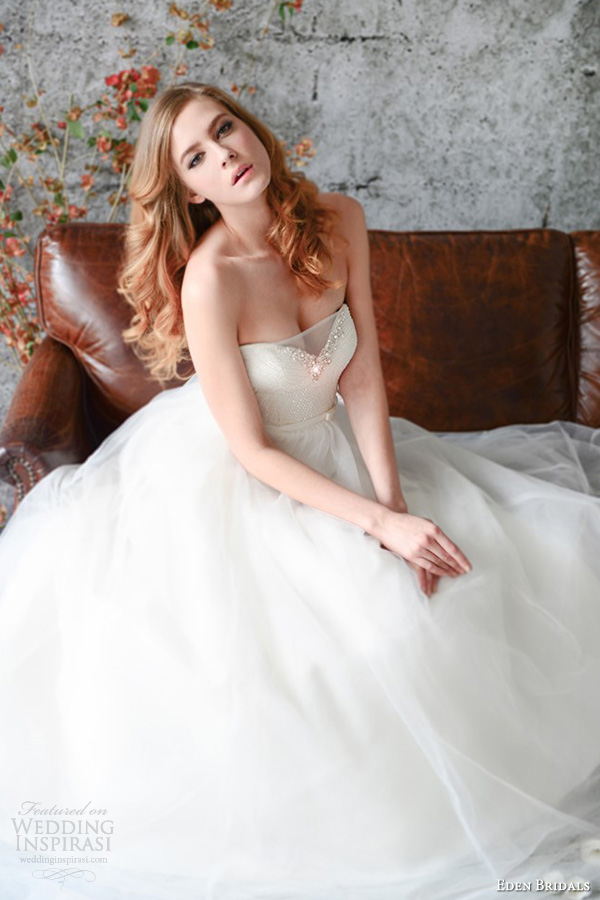 When it comes to wedding dresses, every bride-to-be has her own idea of the perfect one. Perhaps she envisions herself walking down the aisle in a Vera Wang mermaid dress or a haute couture ball gown by Dior, but for most brides, her final decision always boils down to two major factors — do I look good in this and can we afford it?
Finding your dream dress is much like falling in love. Your heart beats a little faster as you catch the first glimpse of its lovely silhouette. You wonder if it will fit your style. And when the gown and bride are finally one, it just feels right. Much of this feeling comes from the design of the gown and how many ticks it gets on The Perfect Gown must-have list — the cut (does it highlight my assets and conceal my flaws?), color (does it come ivory/white/ blush?) and detail (is it "me" enough?). What seals the deal?  The price. While there are brides who are willing to splurge for the cachet of wearing a designer name, many cost-conscious brides among us are looking for quality gowns at affordable prices. Which is why we're so thrilled to share with you these stunning wedding dresses by Eden Bridals.
Eden Bridals has both the glamour aficionado and money wise bride in mind with their "moderately priced couture." What this means is that you can get bridal gowns of comparable quality to costlier couture creations, without the designer price tags, resulting in savings which can be channeled to other areas of your wedding or honeymoon.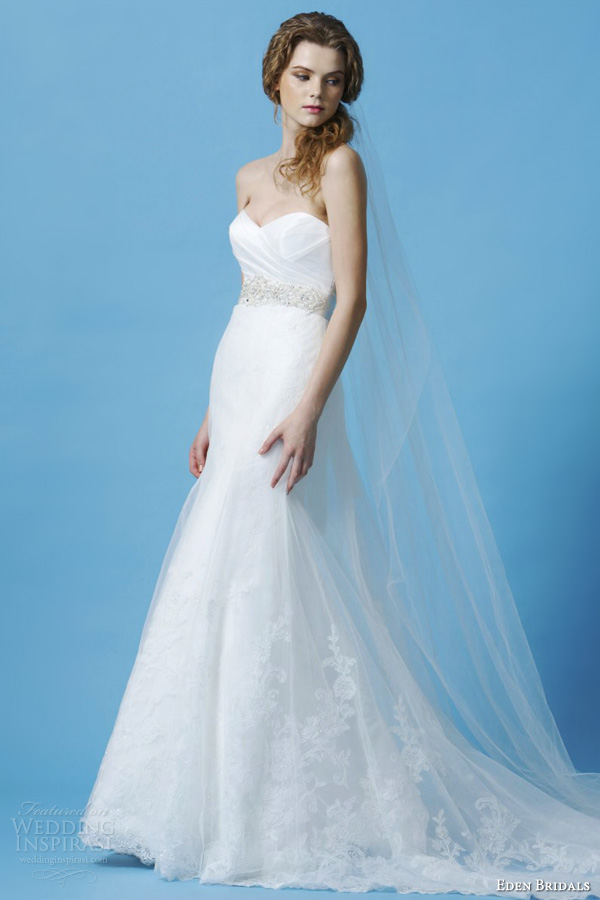 To be perfectly honest, we don't really need much convincing with these gowns (just look at them!) so for them to be priced to please is just the icing on the cake. But there's more…
Eden Bridals offers an unprecedented twelve week delivery for any of their made-to-order gowns.  At twelve weeks, Eden's delivery makes purchasing a made-to-order gown an extremely viable option for couples with a short engagement and/or close wedding date. Sounds good to us! We'll let the gowns do the rest of the talking…
Above, style BL036 strapless mermaid gown with overlay lace skirt. Below, style BL037 strapless gown featuring a crossover sweetheart neckline and asymmetrically pleated bodice with tulle overlay.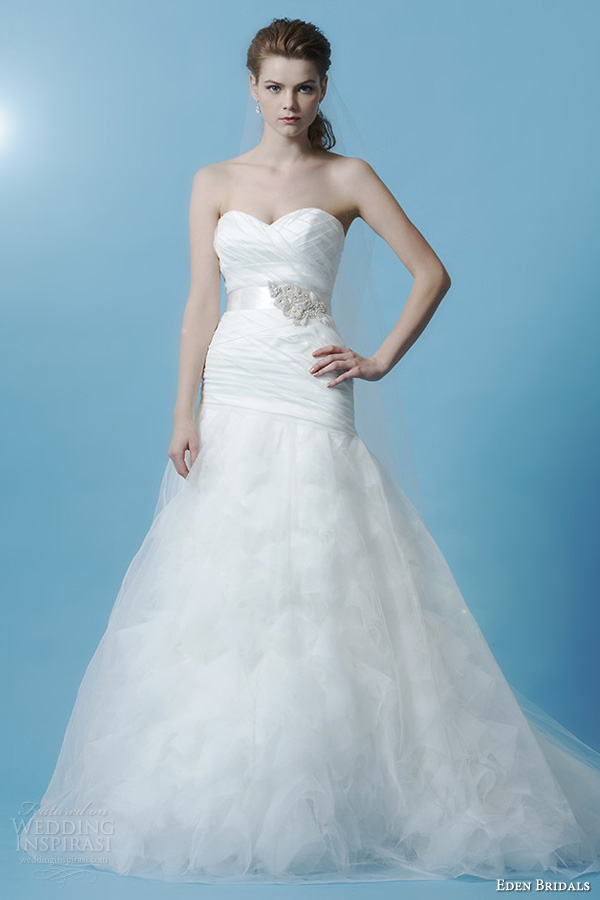 Style BL064 ball gown featuring sequin tulle skirt with pick ups, lace sweetheart bodice with sheer straps and crystallized beaded trim at the waist.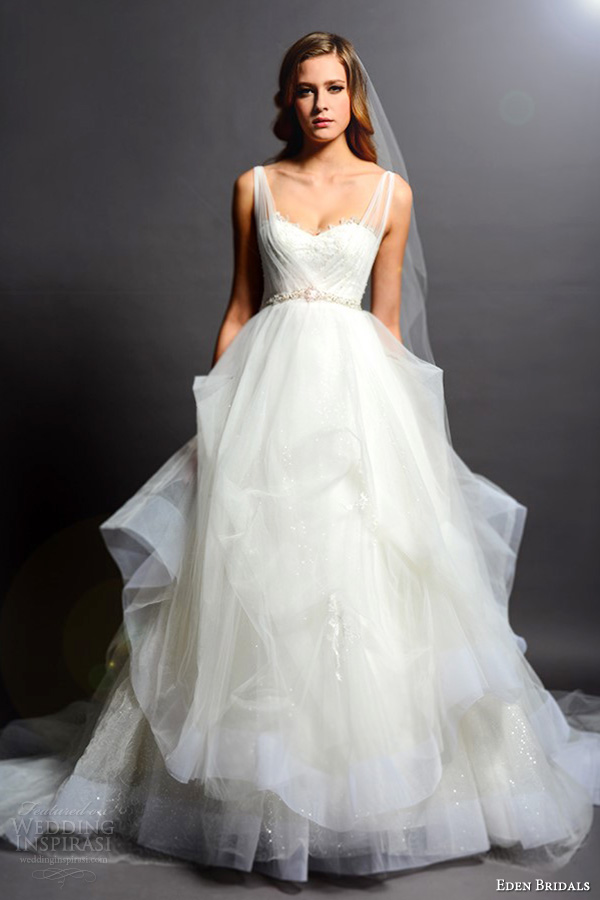 Style BL058 strapless tulle gown with sweetheart lace bodice and crystal beading at the waist. Simply divine!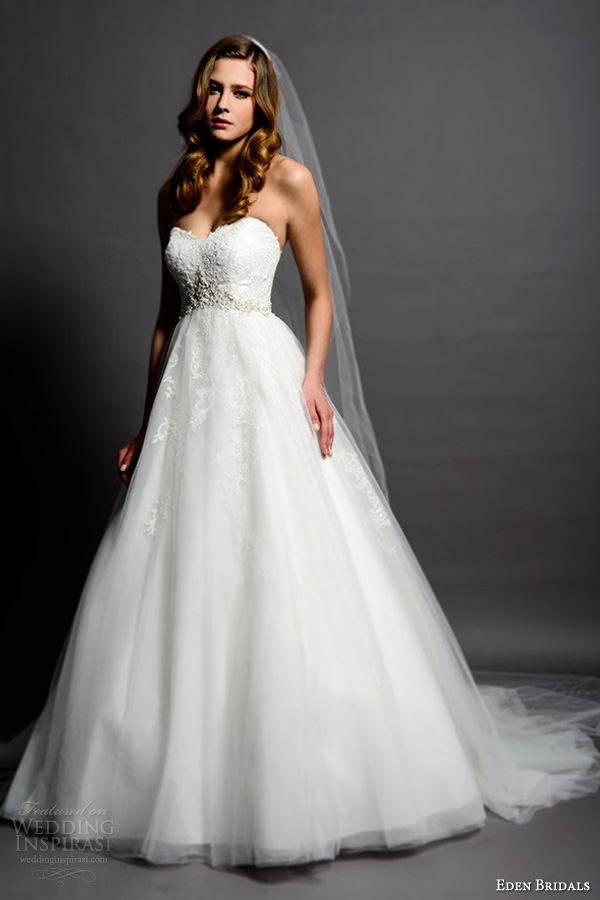 Style BL048 soft tulle and shiny organza strapless ball gown with pickup detail. You should see the video of this gown in motion at their website. It's so dreamy!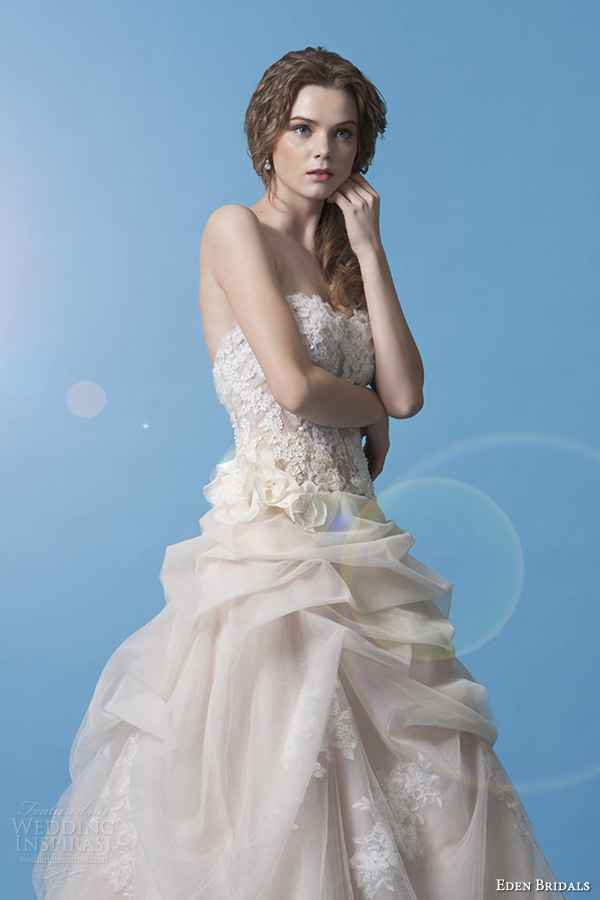 More beautiful Eden Bridals wedding dresses on the next page.