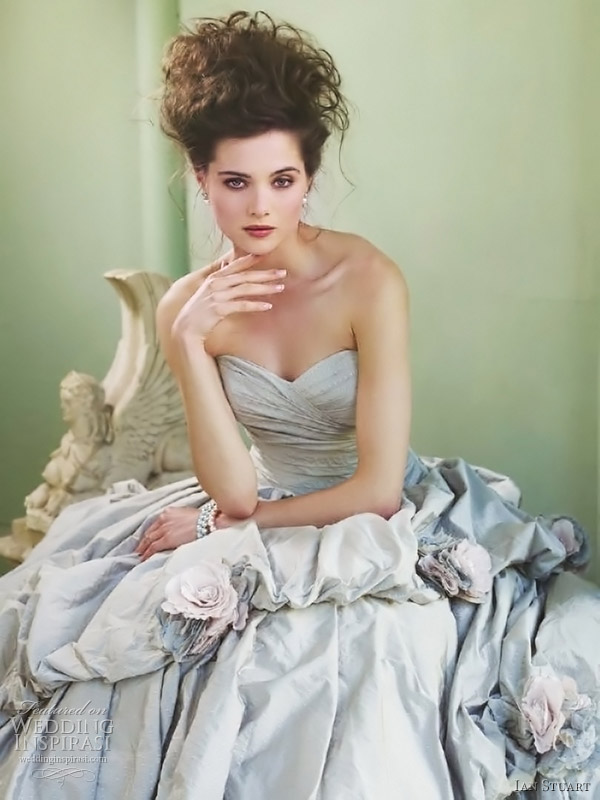 Ian Stuart Killer Queen 2012 collection is about color and drama. This show-stopping follow-up to the 2011 Marie Antoinette inspired collection features an array of classic,romantic and contemporary silhouettes in luxurious fabrics presented in pastel colours such as powder blue,lilac, pale pink, and taupe. Above and below, Verbier ball gown with sweetheart neckline, pleated bodice and asymmetric tiered bubble skirt adorned with hand made flower corsages. Shown in blue spot taffeta.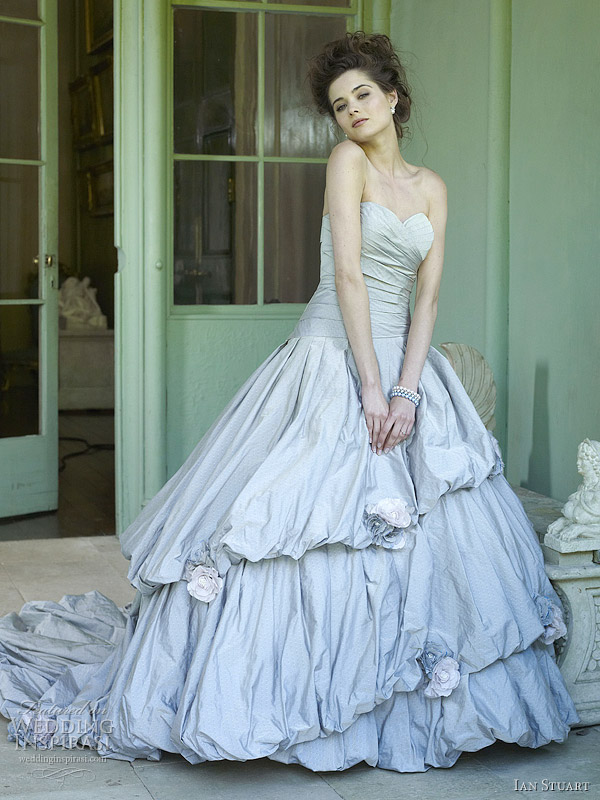 Constantine gown with delicately draped sweetheart neckline, asymmetrically draped bodice and handmade rose accents.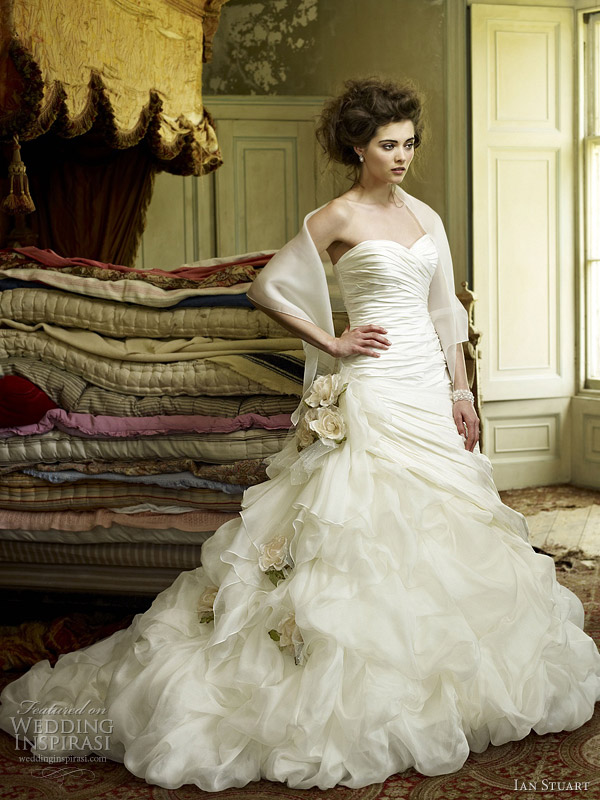 Bourbon tea length dress with sweetheart neckline, asymmetrically draped bodice and trio of handmade Austrian roses on the righ hip.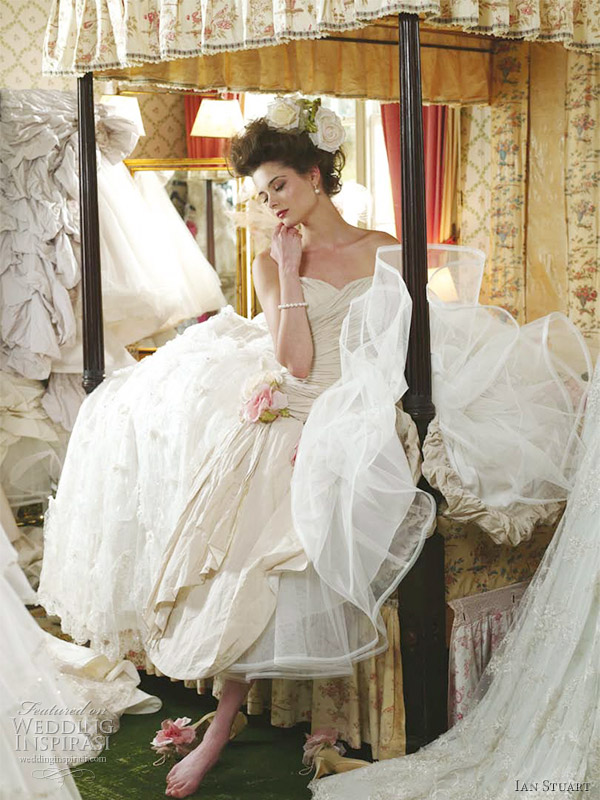 More gorgeous Ian Stuart wedding gowns after the jump.
Miami sexy mermaid gown with Swarovski crystal adorning the sweetheart neckline, finely ruched fitted bodice and dramatic skirt with oversized crystal-encrusted satin bow on the train.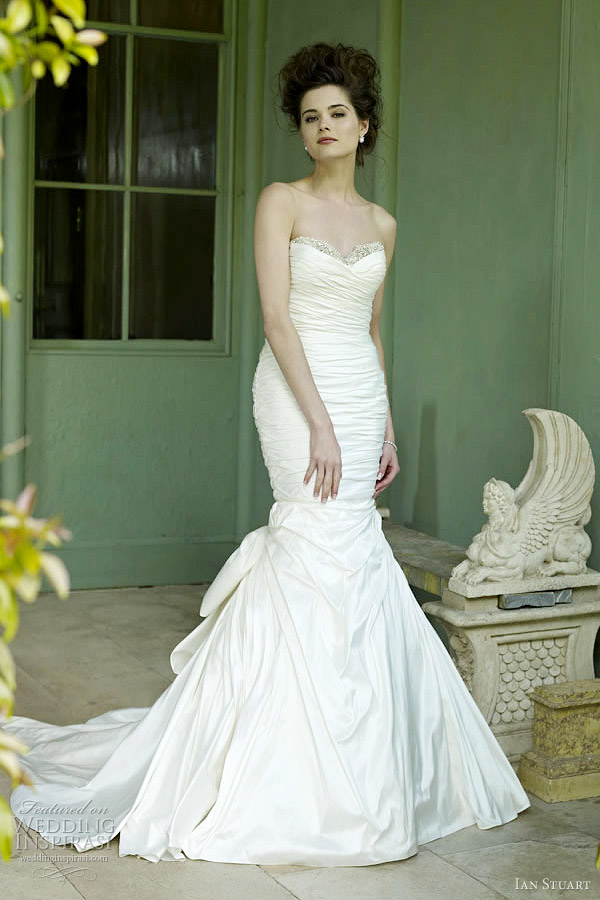 Chevallier strapless mermaid wedding gown with heavy beading and pearls on the lace of the bodice, asymmetric waist with fine ruching to the knee, oversized waterfall bow with scattered flowers.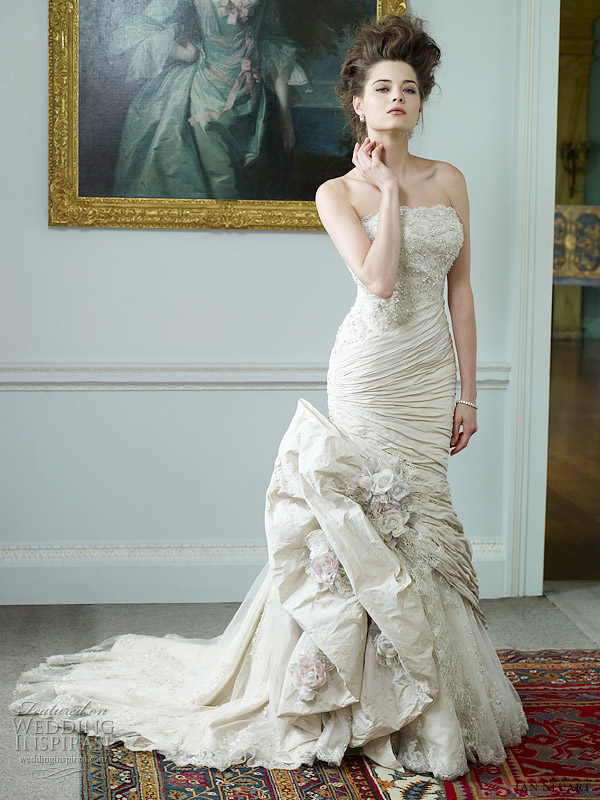 Wisteria romantic wedding gown with bodice covered in Southache lace embellished with pearls and scattered flowers.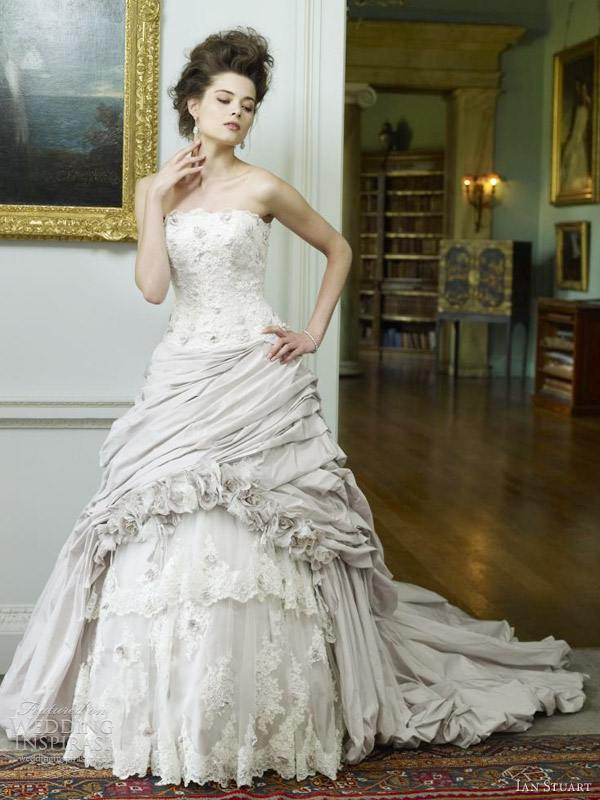 Vaudeville mermaid gown with explosiong of flowers, tulle, lace and petals at the skirt which cascade into a train.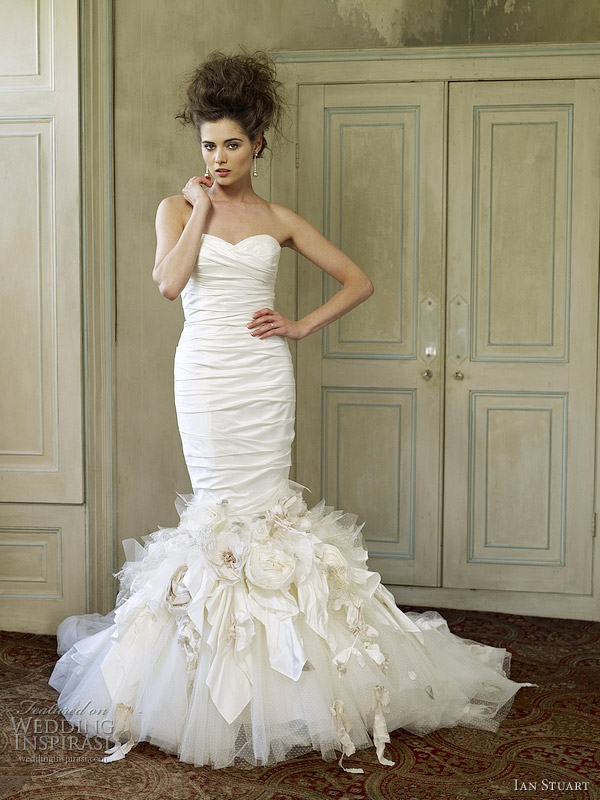 Blue Bird gown with striking back detail, featuring oversized bow tails that waterfall down the chapel train. The pleated bodice features a halther neck strap. Shown in Azure taffeta with ivory gazar and multi-color flowers.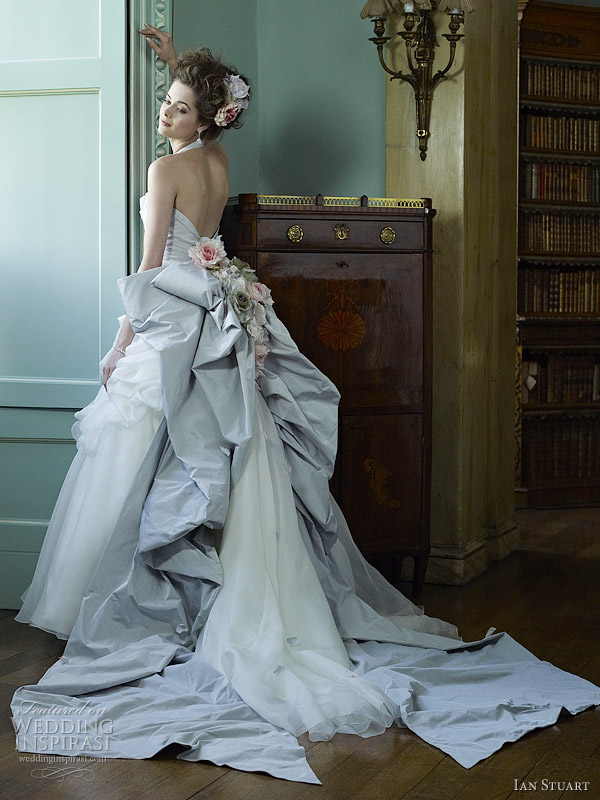 Modern Millie chic lace shift dress with scoop neckline, rose decoration on the hem and with soft tulle overlay soft that finishes below the hem. Shown with matching cape embellished with roses at the neckline.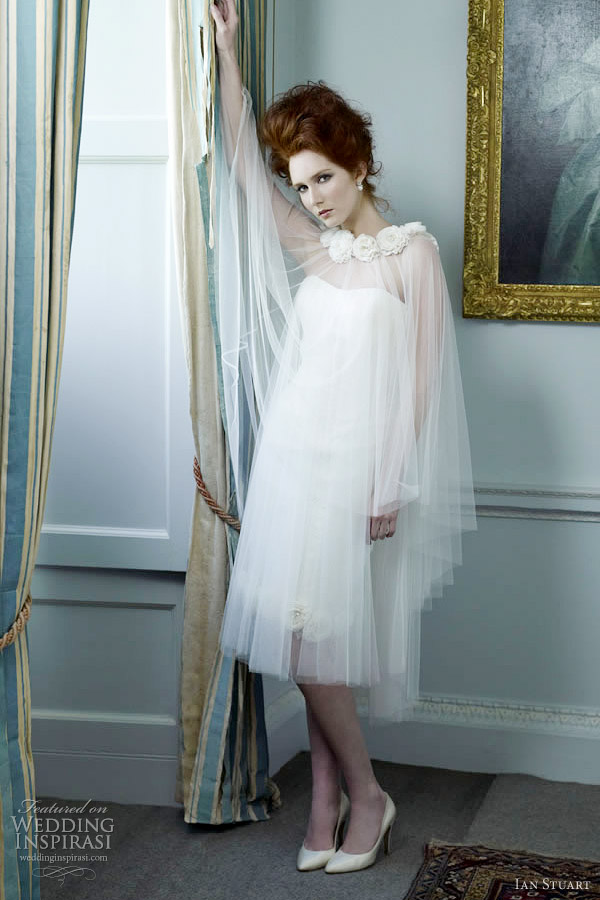 Rhapsodia mermaid gown with soft tulle ruching, neckline embellished with scattered Swarovski crystals and voluminous loose bows trail asymmetrically across the fron of the skirt.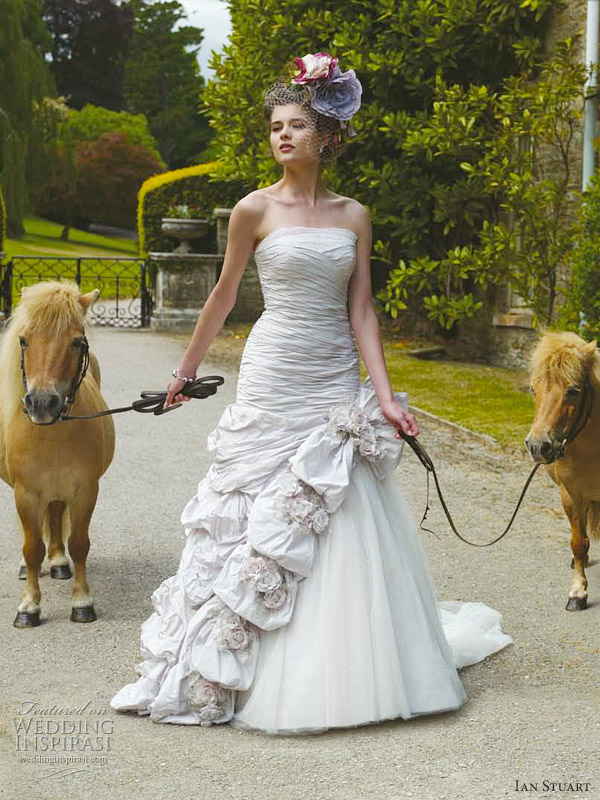 Equador wedding dress featuring beaded lace bodice and tiered bubble skirt adorned with flower corsages with trailling ribbons. Shown in cream with black lace. All-white and all-ivory versions available.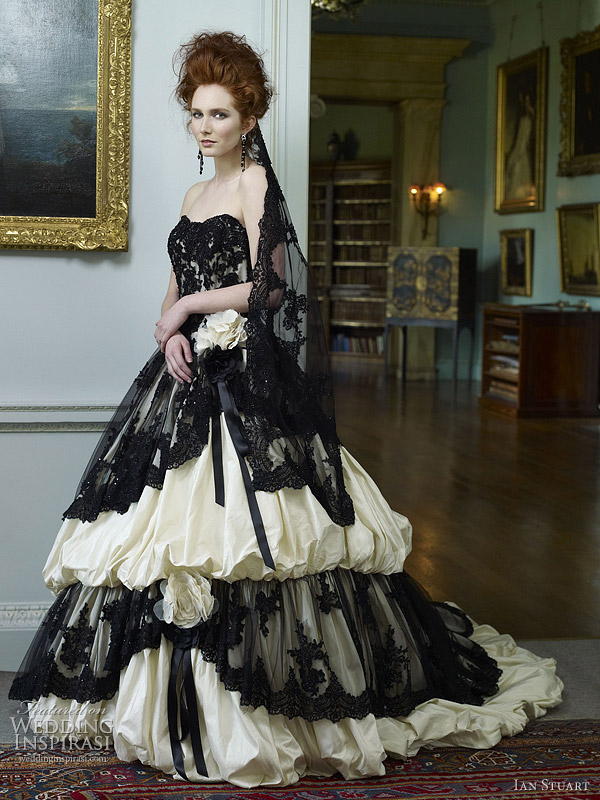 Broadway gown with pleated sweetheart neckline and bodice, pick up skirt accented with peony flower. Available in Peony, Ivory and Taupe.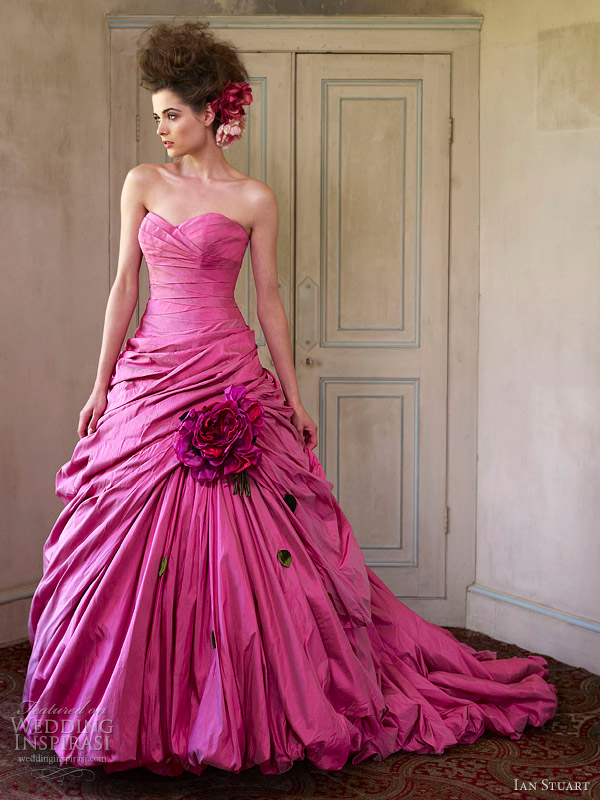 Santa monica mermaid wedding dress in all over metallic lace featuring Swarovski crystal encrusted soft V neckline with cross-over draping, lace corsage on the skirt.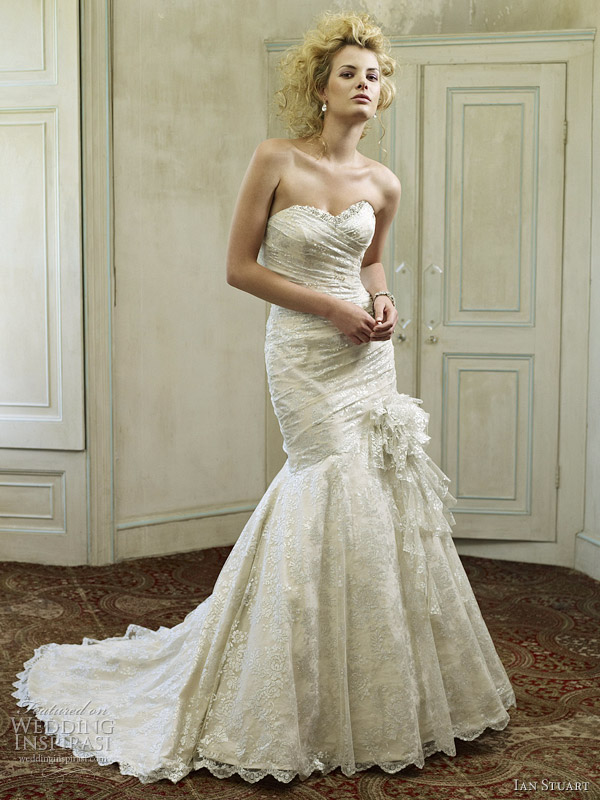 Cadillac all-over lace tea length wedding dress with a 50's rock n roll inspired feel, featuring V-neckline, draped bodice and full circle skirt.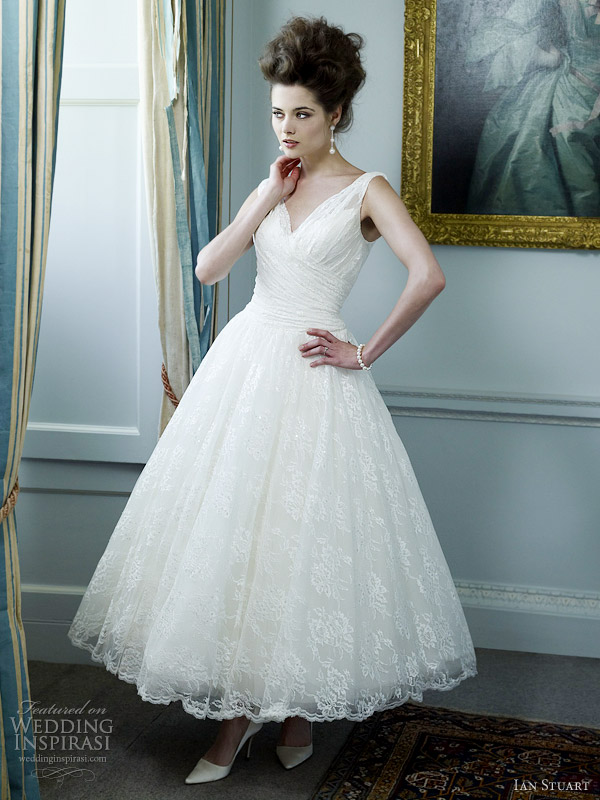 Fontana strapless gown with sweetheart neckline embellished with beaded lace motices and skirt with scalloped organza tiers with fine lace trim.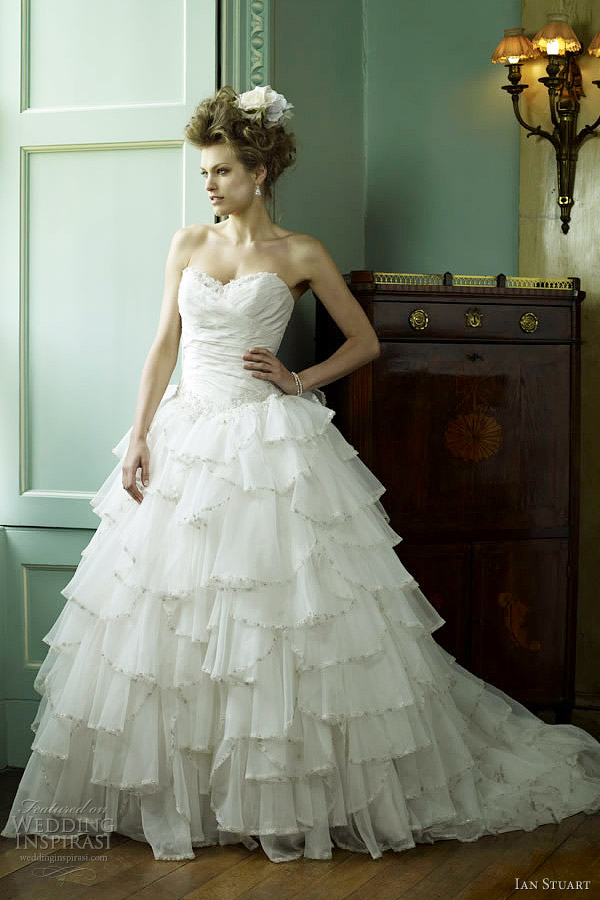 Basilica gown in all over metallic lace with matching long sleeve jacket. Matching mantilla veil available.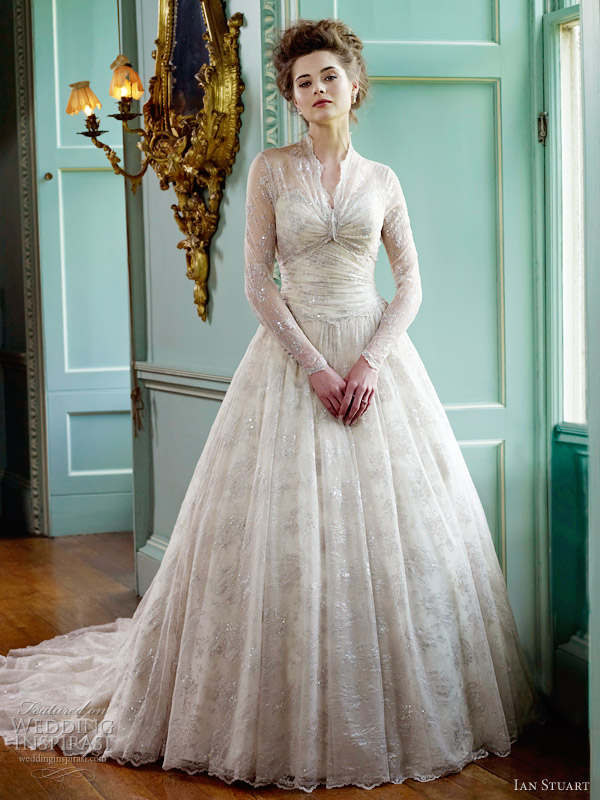 Rockafella two-piece mermaid gown with one-shoulder jacket, Bourgeois satin gown with scoop portrait neck line and Basilica wedding dresses.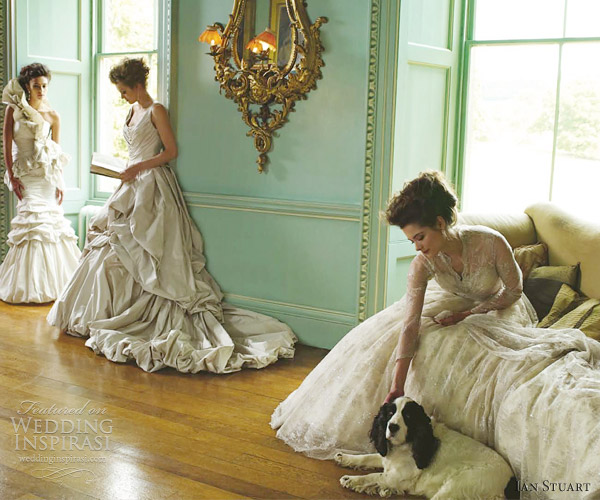 For details, prices and availability, visit Ian Stuart.