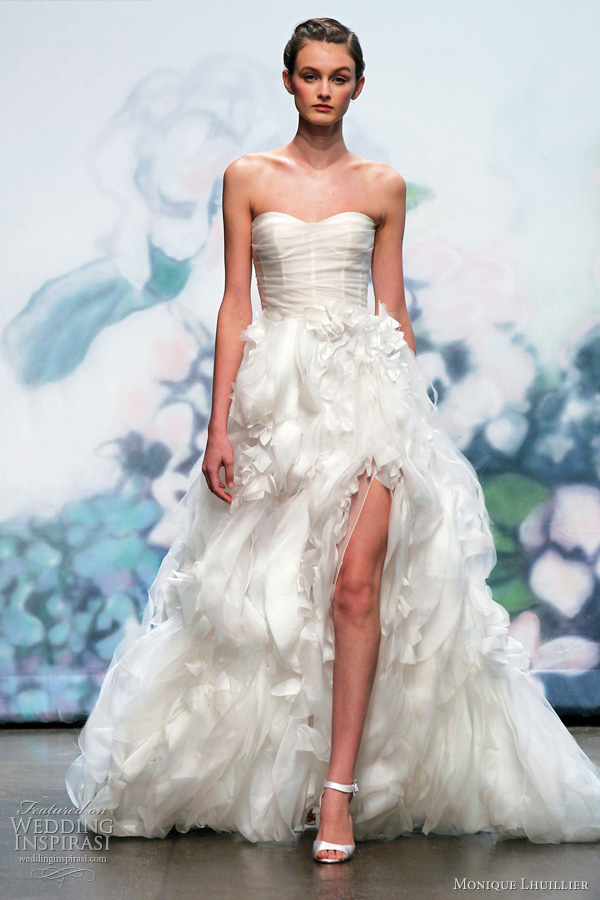 Gorgeous wedding dresses from Monique Lhuillier Fall 2012 bridal collection. Bouquet silk chiffon and embroidered silk organza strapless gown with lightly draped bodice and feauturing textured floral skirt  with front slit. Below, Keepsake wedding dress in silk white organza with mattelasse strapless sweetheart neckline, natural waist with draped bodice and hand tufted ball gown skirt.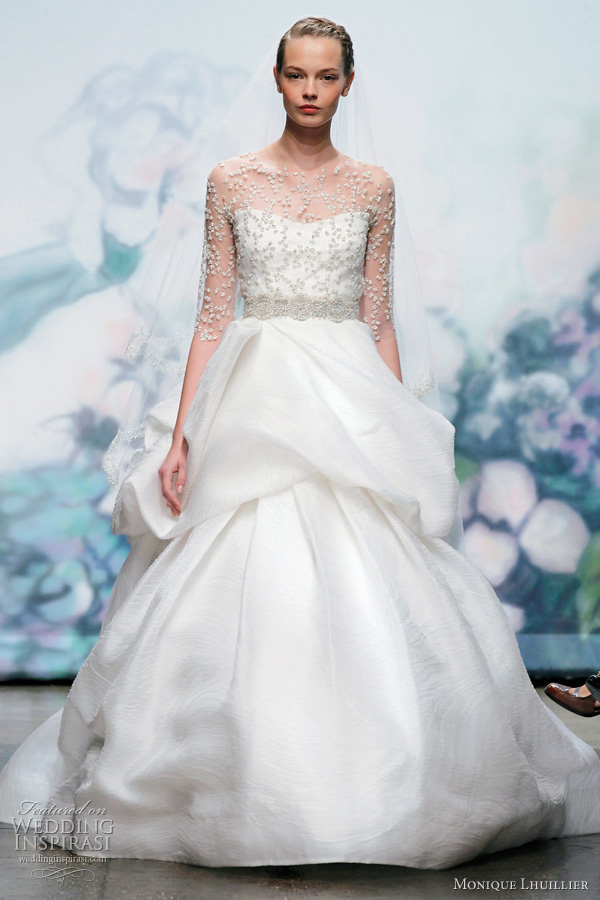 Cherish silk white chantilly lace gown with lingerie straps, corset bodice, modified trumpet skirt and embroidered tulle overlay; shown with Cherish brooch and Brooke horsehair sash with lace detail.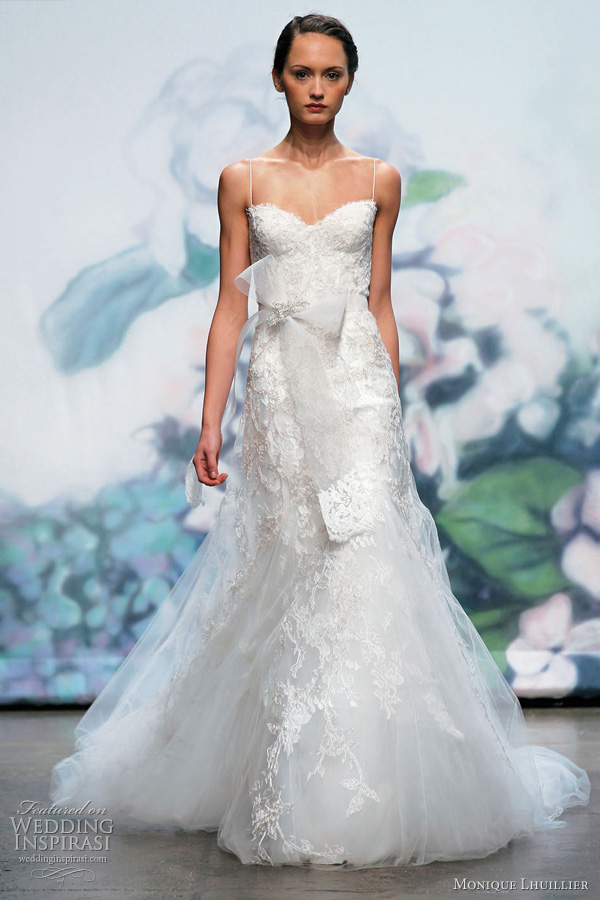 Moment silk white floral embellished tulle mermaid gown with portrait neckline, 3/4 sleeves and elongated bodice with layered skirt; shown with Moment horsehair sash with embroidered ends and Cherish brooch with crystal embroidery.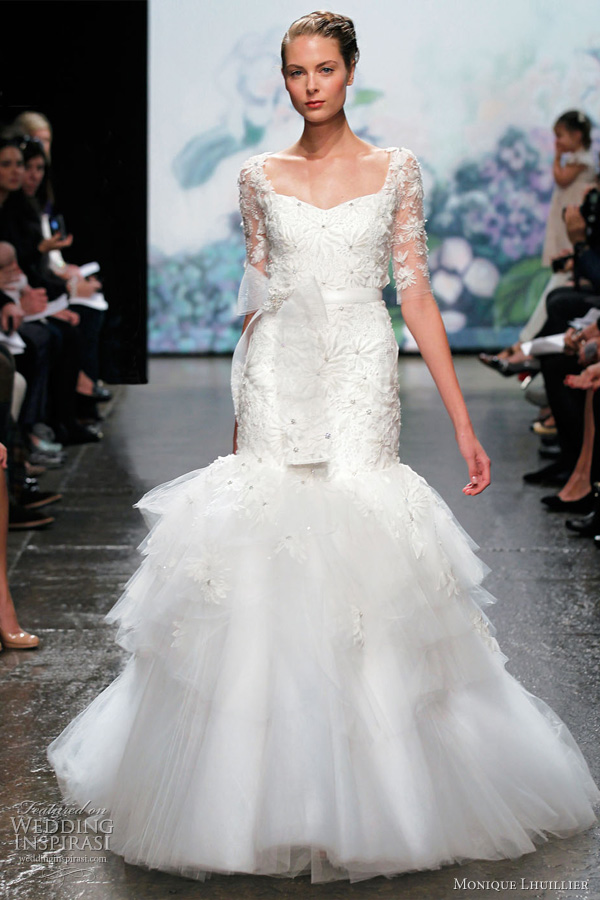 More Monique Lhuillier wedding gowns after the jump.
Mila sleeveless re-embroidered lace v-neck sheath gown featuring modified trumpet skirt with front slit; Heidi re-embroidered lace cap sleeve gown with keyhole back and flowing silk chiffon empire skirt.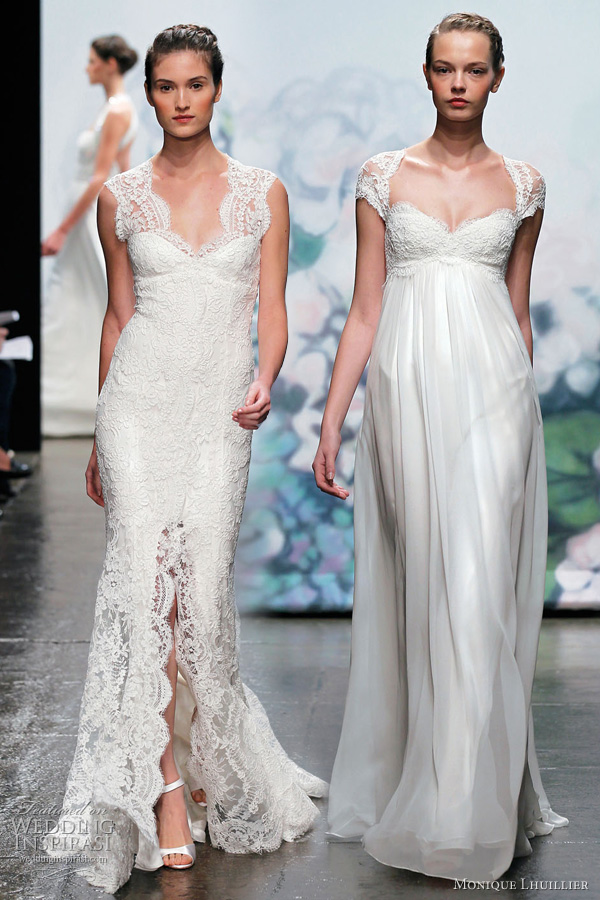 Coquette re-embroidered lace and embroidered silk organza gown with elongated corset bodice with straps and textured ball gown skirt with lace detail; show with Emma sash with lace detail and Cherish broosh with crystal embroidery.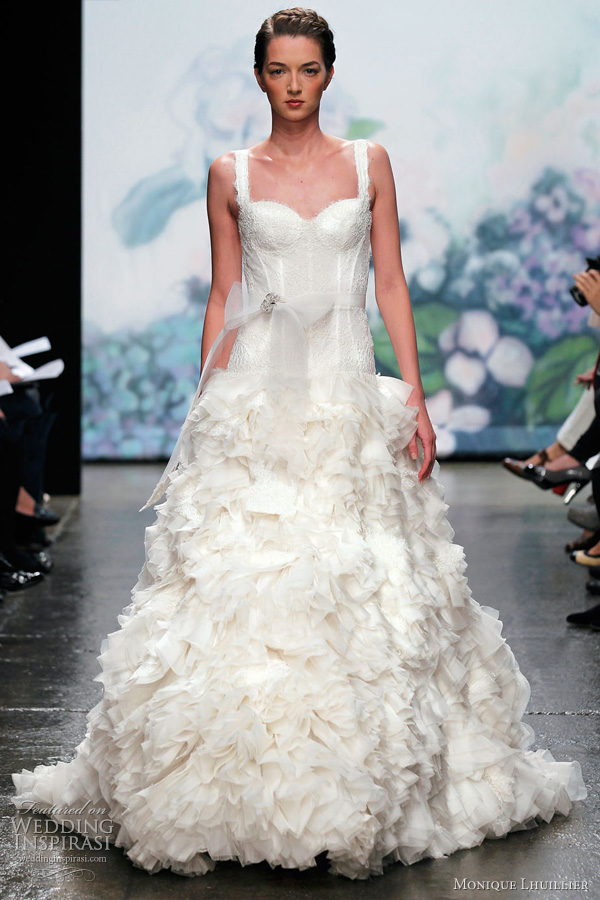 Sentimental silk white chantilly lace and embroidered tulle strapless gown with embellished modified trumpet skirt, show with Sentimental belt with crystal embroidered sequins.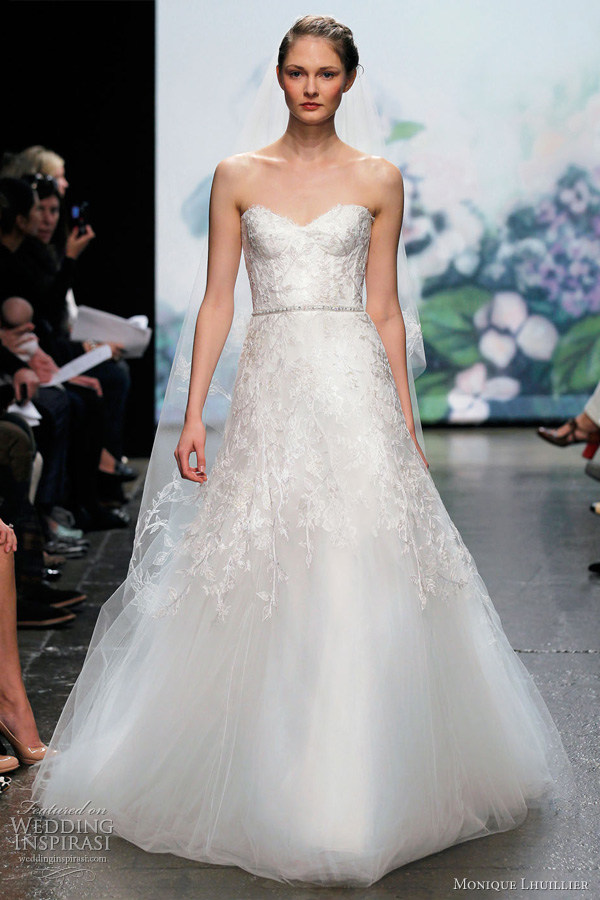 Short and sweet -- Lili silk white silk failler strapless 1/2 moon natural waist mini dress with low v-back and box pleated high to low skirt.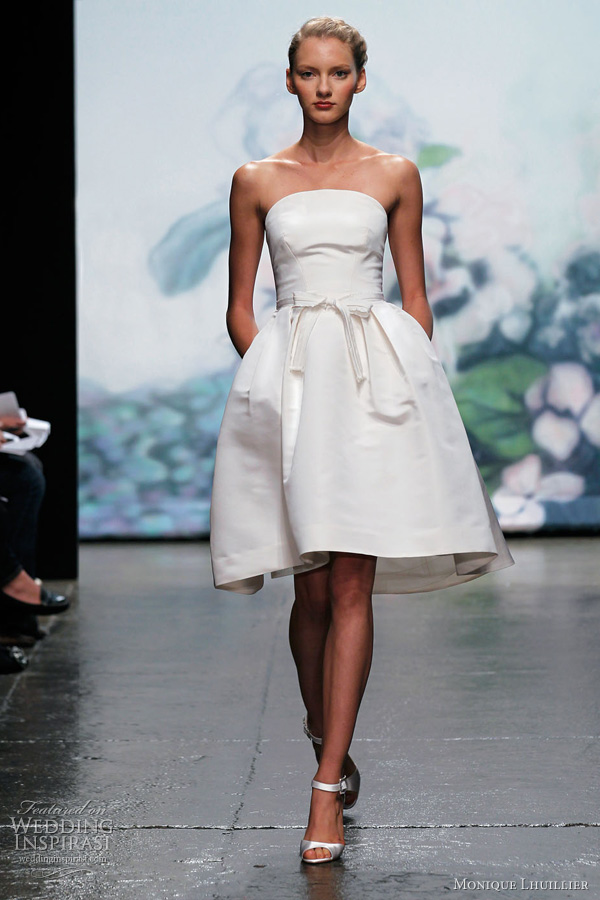 Adoration embellished chantilly strapless drop waist gown with corset bodice featuring embroidered organza signature textured ball gown skirt; shown with Adoration belt with double row crystals.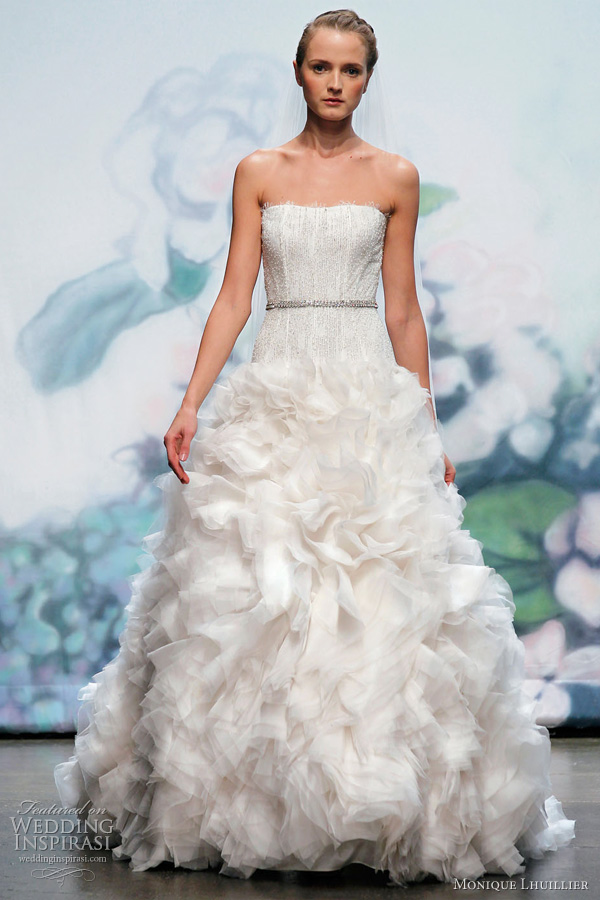 Emma re-embroidered lace strapless modified A-line gown with sweetheart neckline and tulle inset skirt.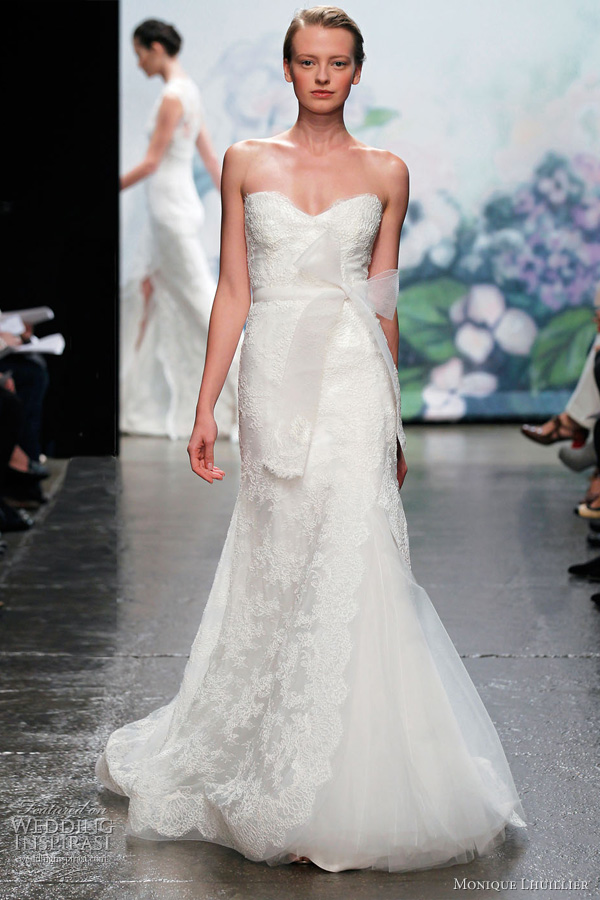 Garland ivory sweetheart strapless dress with embellished chantilly corset bodice with natural waist and embroidered organza skirt; shown with Garland sash and Brook brooch.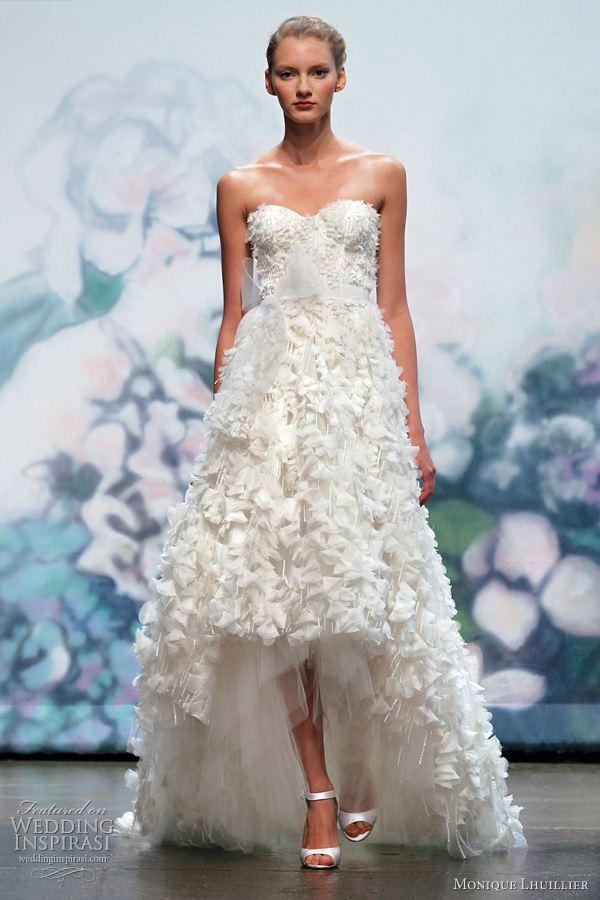 Promise ivory re-embroidered lace strapless wedding dress with crisscross neckline and A-line skirt with back inset appliqued tulle; shown with Emma horsehair with lace detail sash and Brooke brooch with crystals and embroidery.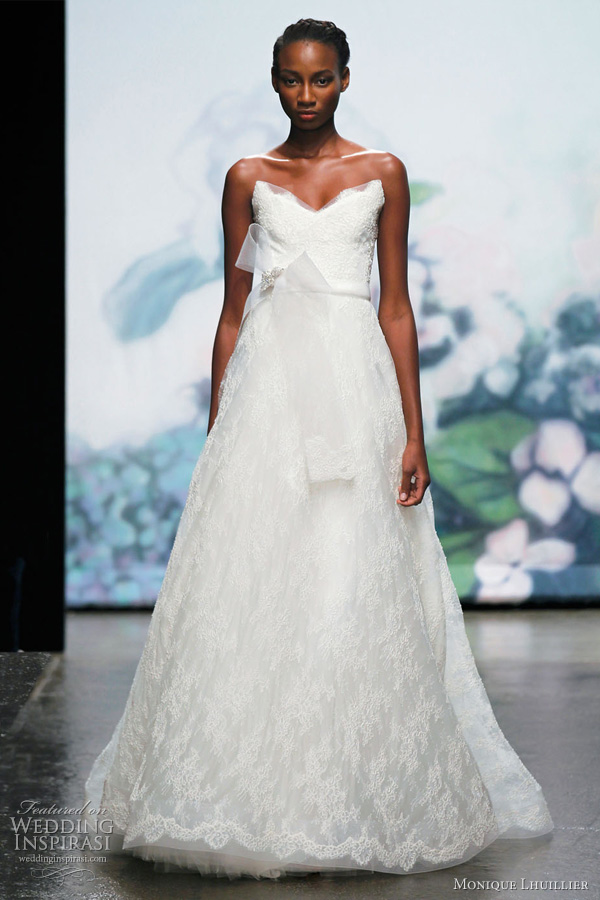 Sterling embellished chantilly tank corset top, silk faille asymmetric draped tulip skirt with front slit, shown with Sterling belt with embroidery and 3-dimensional crystals.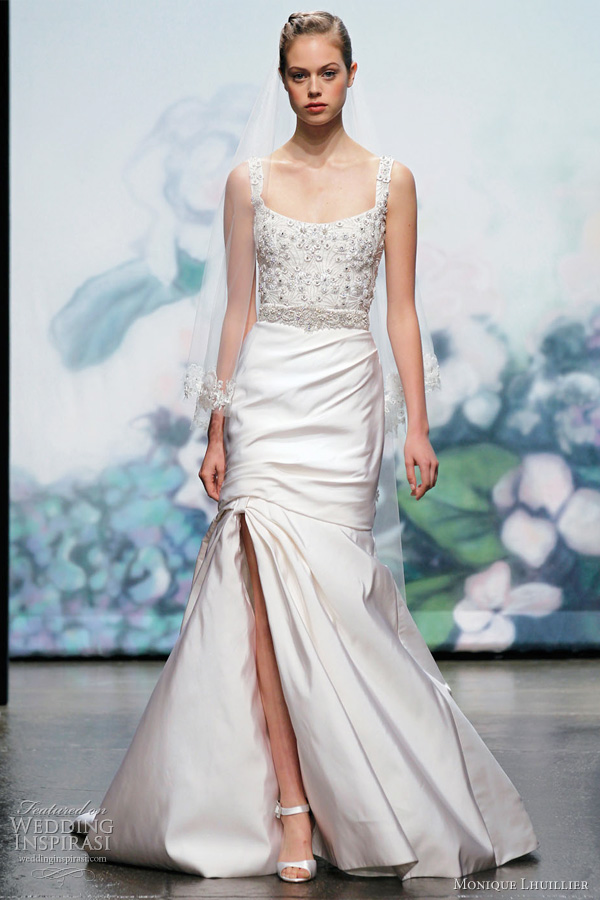 Brooke chantilly lace sheath gown with racer back, illusion back and sides, shown with Brooke sash and brooch; Aurora lace V-neck elongated bodice gown with full circle skirt and hollyhock embroiedered tulle overlay, shown with Aurora belt with floral crystals wrapped in tulle.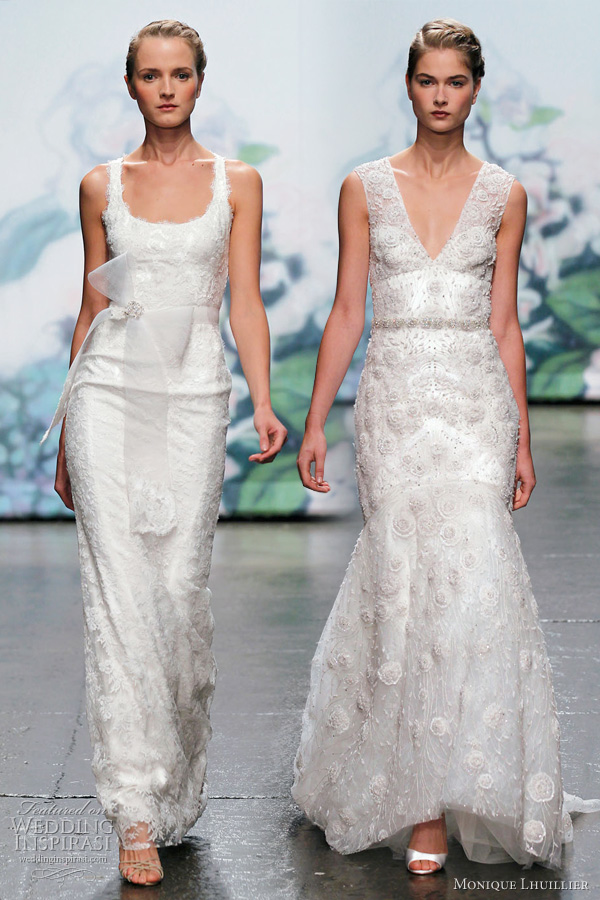 Cecelia ivory re-embroidered lace and orchidea satin strapless wedding dress with asymmetric draped corset bodice and tulle ball gown with cascading lace motif.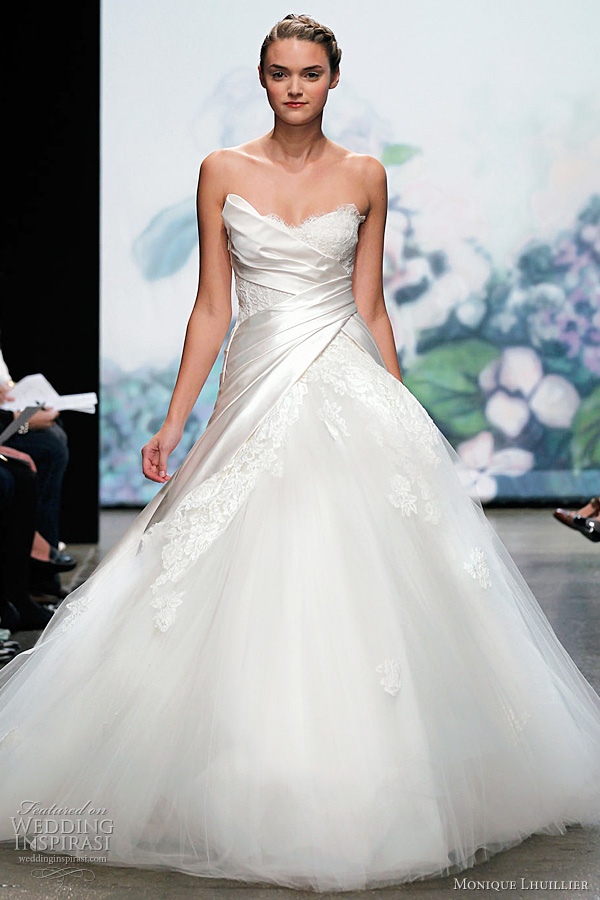 For details, prices and availability, visit Monique Lhuillier.