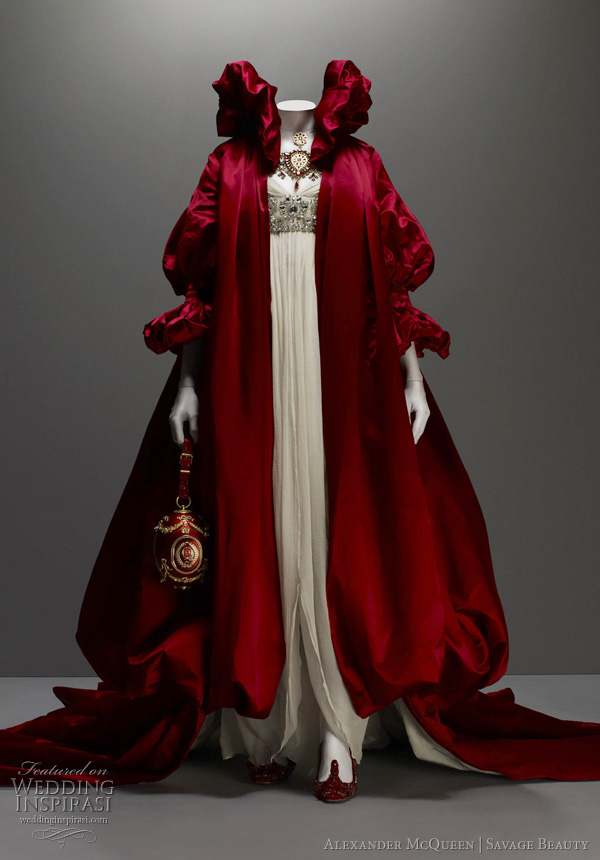 Dresses of sublime beauty from Alexander McQueen "Savage Beauty" exhibition. These romantic works of art heavily feature royal and historical references, some of the recurring themes in McQueen's works. Above, regal coat of red silk satin and empire waist dress of ivory silk chiffon embroidered with crystal beads from "The Girl Who Lived in the Tree", Fall 2008. Below, cream silk tulle and lace gown from "Widows of Culloden", Fall 2006. Now that long sleeves lace wedding dresses are in trend, thanks to Kate Middleton, wouldn't this creation make an exquisite vintage-inspired wedding gown?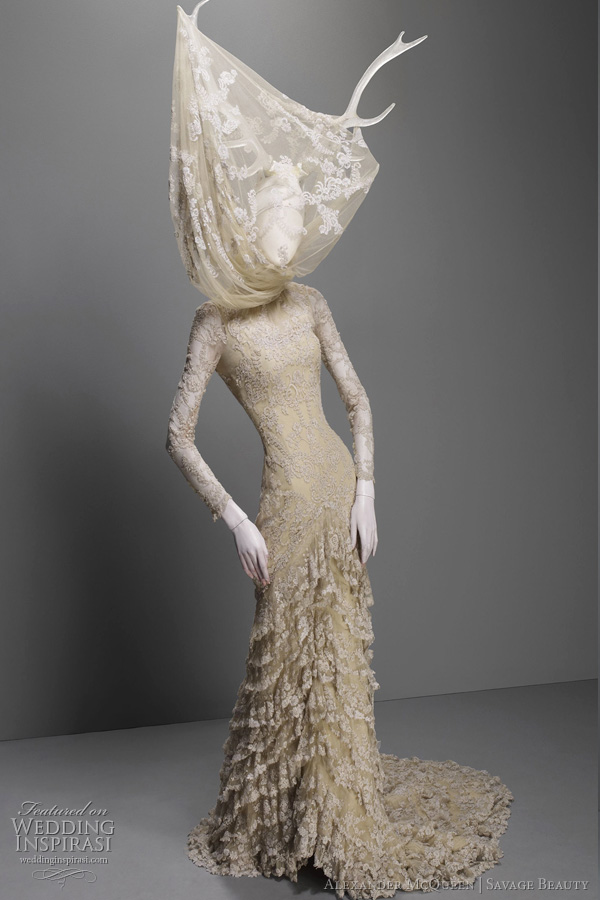 Alexander McQueen – Savage Beauty exhibition at The Costume Institute of the Metropolitan Museum of Art, New York features five of McQueen's landmark collections — Dante (Autumn/Winter 1996-97), #13 (Spring/Summer 1999), VOSS (Spring/Summer 2001), Irere (Spring/Summer 2003), and Plato's Atlantis (Spring/Summer 2010). The collection is divided into galleries of themes and concepts occurring in McQueen's work — The Romantic Mind, Romantic Gothic, Romantic Naturalism, Romantic Primitivism, Romantic Nationalism, and Romantic Exoticism, as well as a Cabinet of Curiosities. Below, razor-clam shell dress from VOSS, Spring 2001.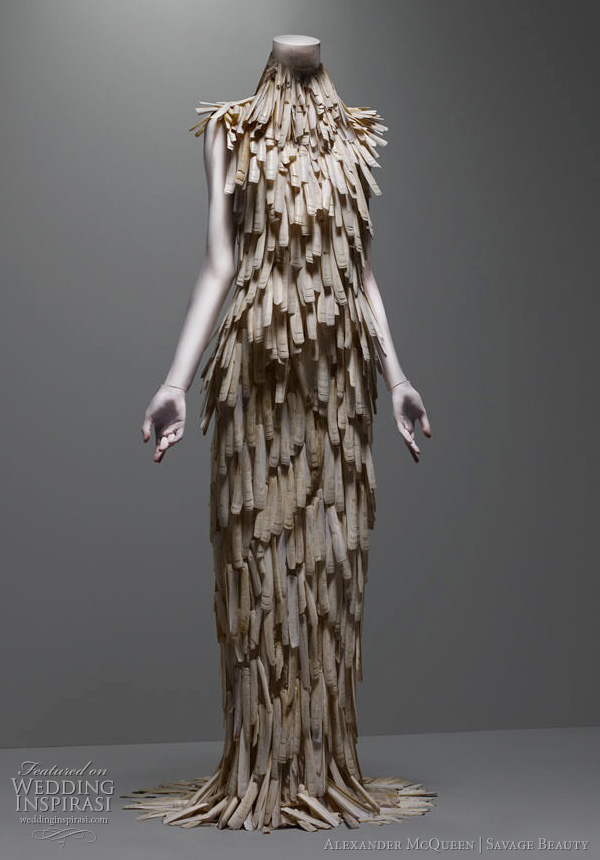 McQueen learned to apply softness and lightness in his style after his stint at Givenchy. "Oyster" dress, "Irere", Spring/Summer 2003. Georgette and chiffon dress skirt made of hundreds of layers of silk organza. The layered skirt in a style similar to this has only became more commonly seen on wedding dresses from other designers in recent years.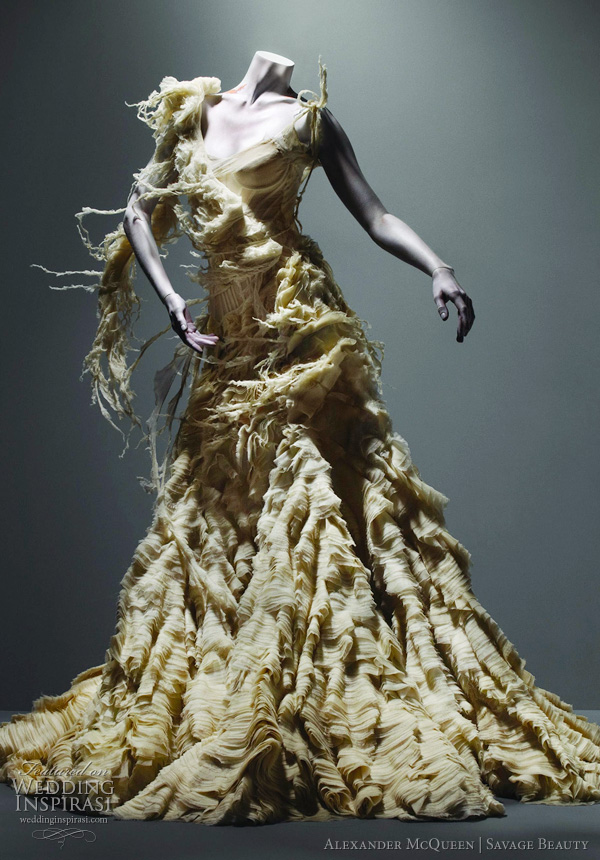 Pheasant feather long sleeve dress with elongated bodice based on gowns from the 1890s , "Widows of Culloden" collection, Autumn 2006. "Birds in flight fascinate me. I admire eagles and falcons. I'm inspired by a feather but also its color, its graphics, its weightlessness and its engineering. It's so elaborate. In fact I try and transpose the beauty of a bird to women."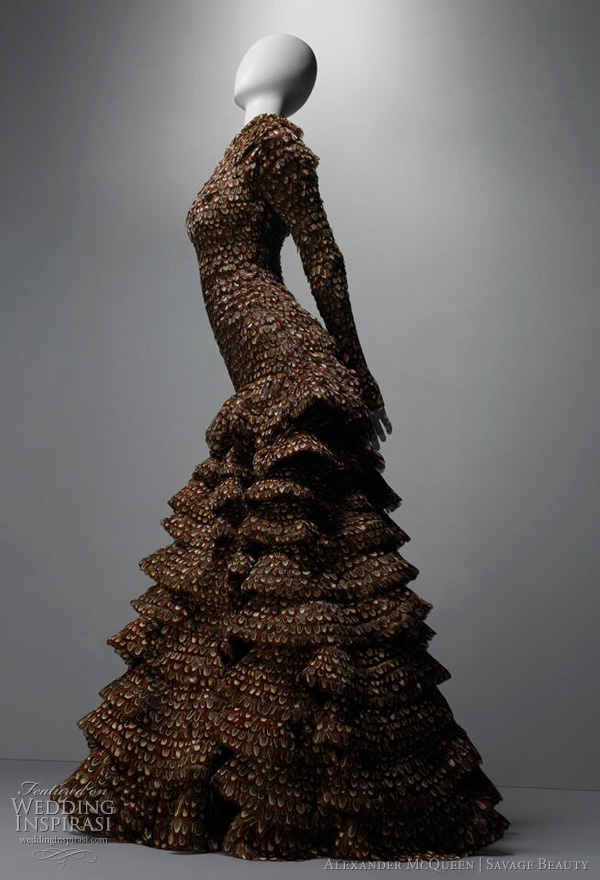 Red and black dyed ostrich feather dress featuring bodice made of glass medical slides painted red, to represent how "there's blood beneath every layer of skin." VOSS, Spring 2001.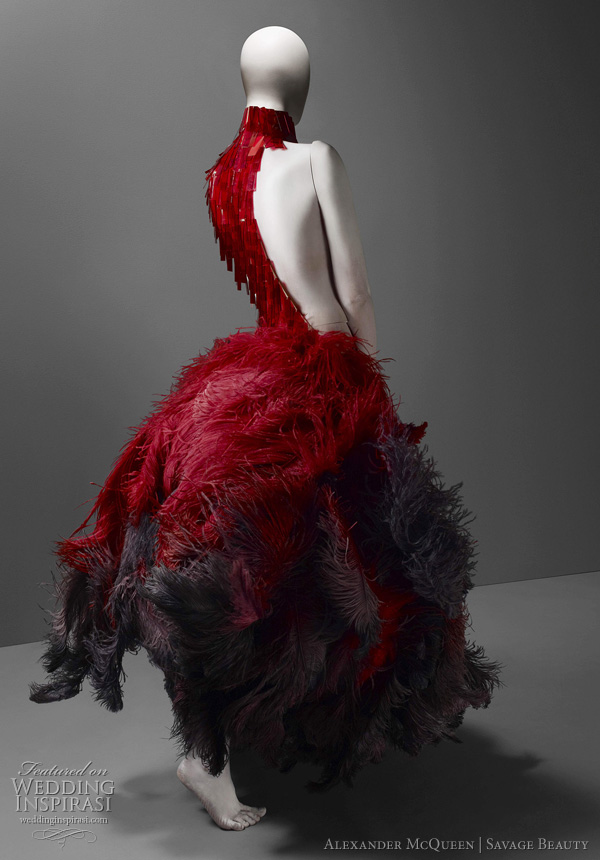 Nude silk organza embroidered with silk flowers and fresh flowers, "Sarabande", Spring 2007.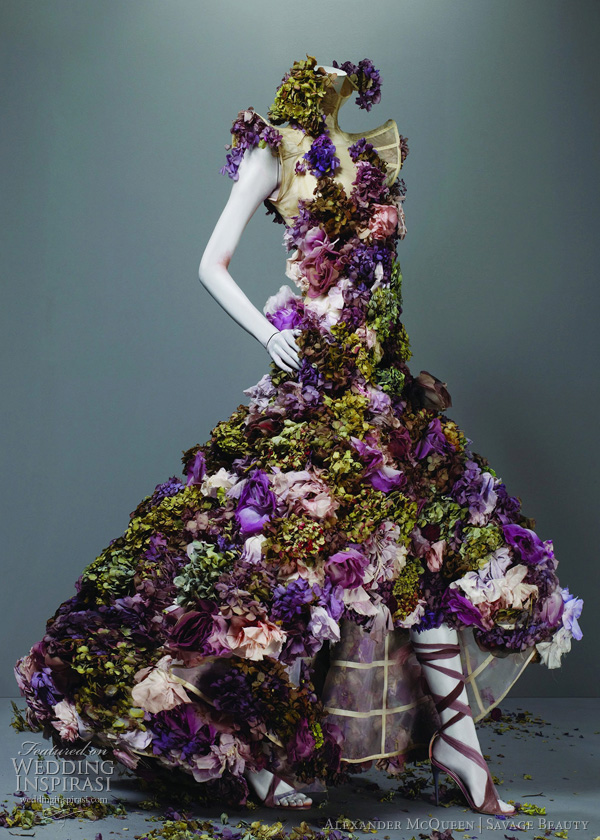 Nude synthetic net appliquéd with roundels in the shape of chrysanthemums embroidered with red, gold, and black silk thread with black ostrich feathers, VOSS, Spring/Summer 2001.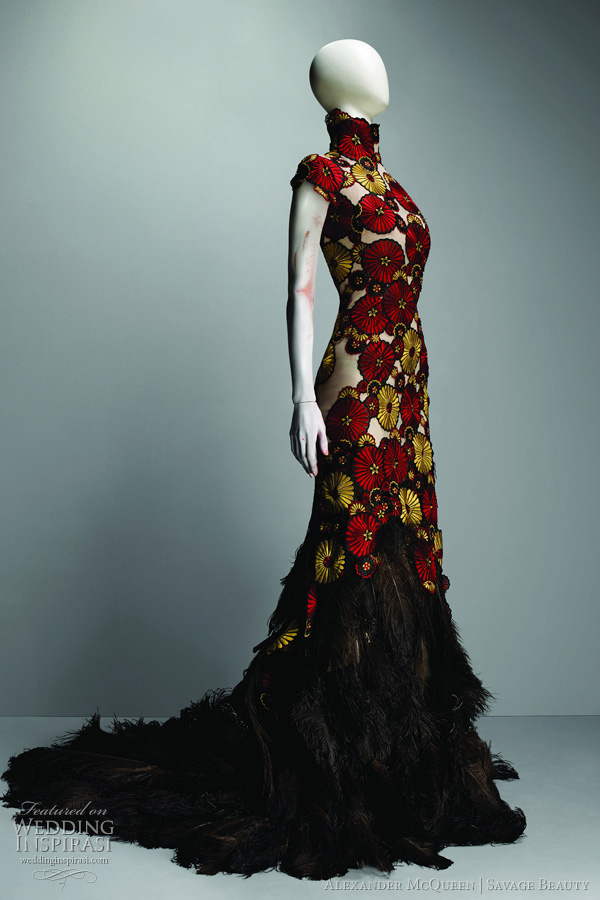 Green and bronze cotton/synthetic torn lace gown,"Highland Rape", Autumn/Winter 1995-1996.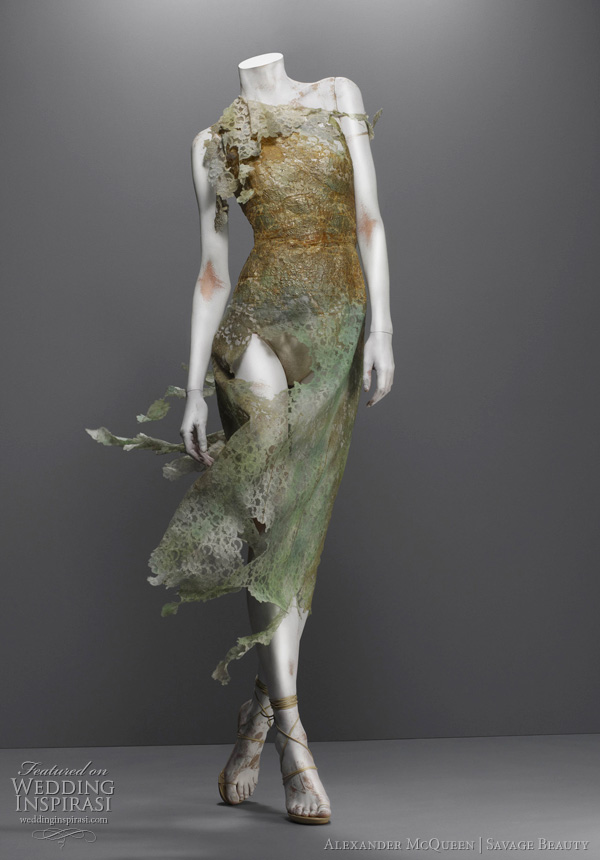 Jacket of red silk velvet embroidered with gold bullion and trimmed with white shearling worn with ivory silk tulle dress,
"The Girl Who Lived in the Tree", Autumn 2008. "[In this collection, the image of a woman I had in mind] was a feral creature living in the tree. When she decided to descend to earth, she transformed into a princess."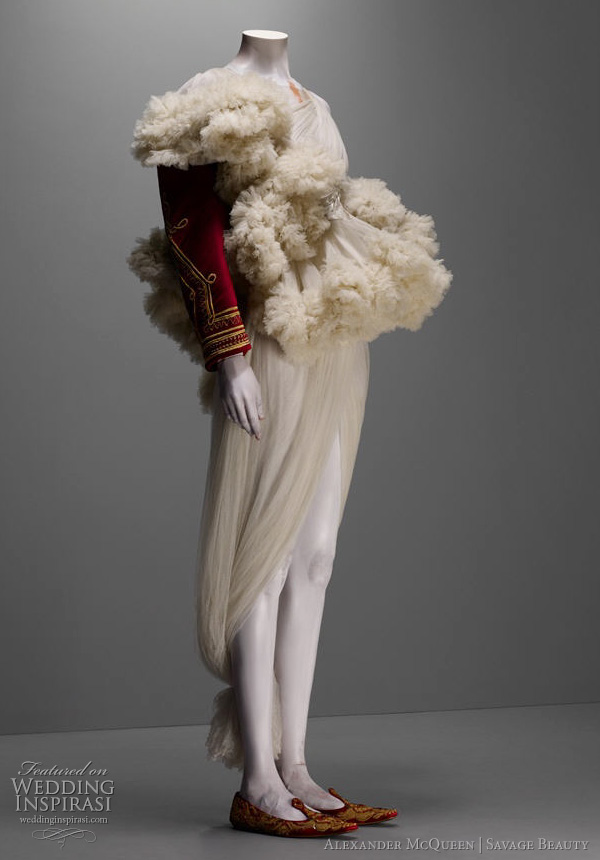 Cream silk satin and organza dress appliquéd with black degrade silk lace and embroidered in clear beads and sequins, "Sarabande", Spring 2007.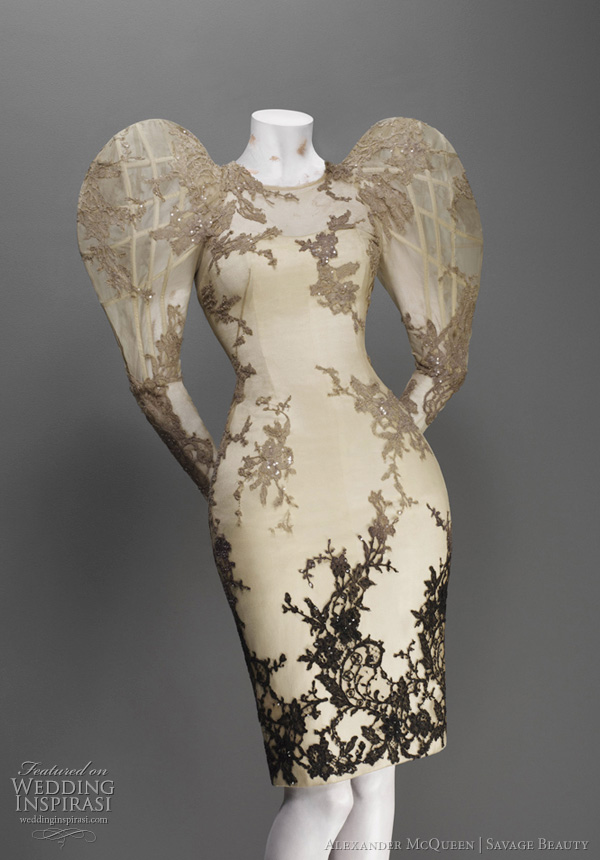 Dress made out of black duck feathers "The Horn of Plenty", Autumn 2009. We remembered this dress vividly on images from the runway -- the exaggerated makeup the model had and that extreme silhouette -- nipped waist, huge shoulders and hip -- that was said to be inspired by haute couture in the 1950s.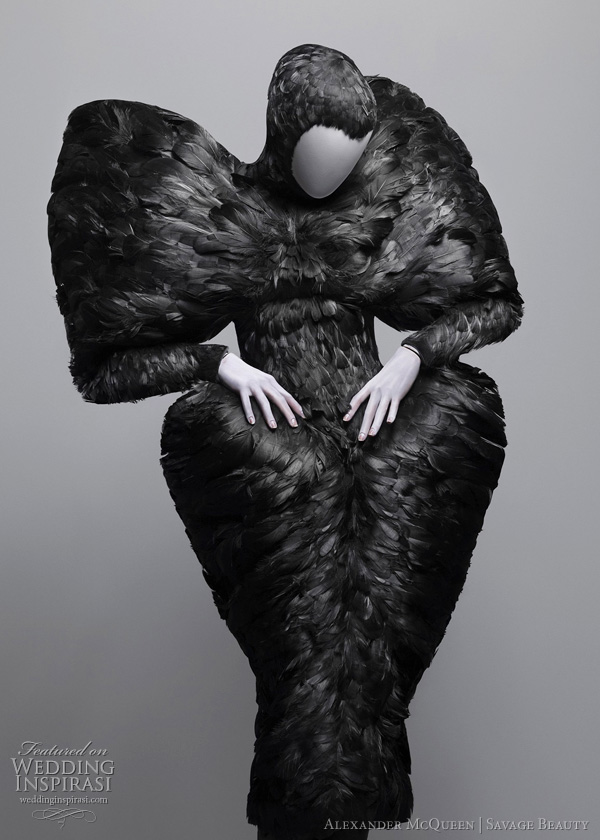 Kimono collar dress and obi-style sash of lilac and silver brocade; lilac silk faille embroidered with silk thread jacket; nude synthetic net embroidered with silk thread top; "It's Only a Game", Spring 2005. 18th century western silhouette -- the full  skirt ala Marie Antoinette -- juxtaposed with eastern elements -- the undershirt is embroidered to look like Japanese tattoos.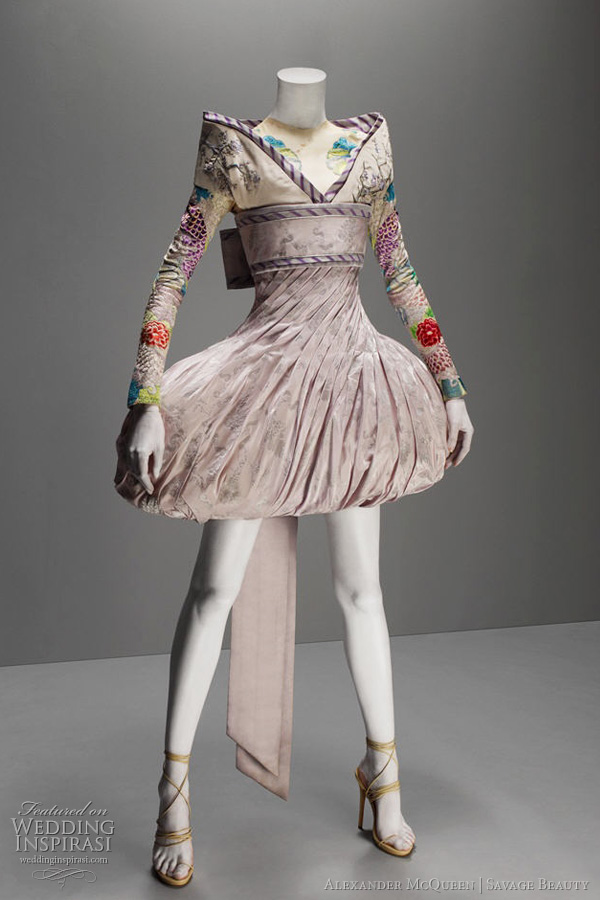 Jacket of pink and gray wool bird's-eye embroidered with silk thread; pink and gray wool bird's-eye trousers;  hat of pink and gray wool bird's-eye embroidered with silk thread and decorated with Amaranthus, "VOSS", Spring 2001. Royalty inspired fashion -- the headdress from this outfit looks like it could have been inspired by the headdress worn by Empress Dowager Cixi of the Qing Dynasty, no?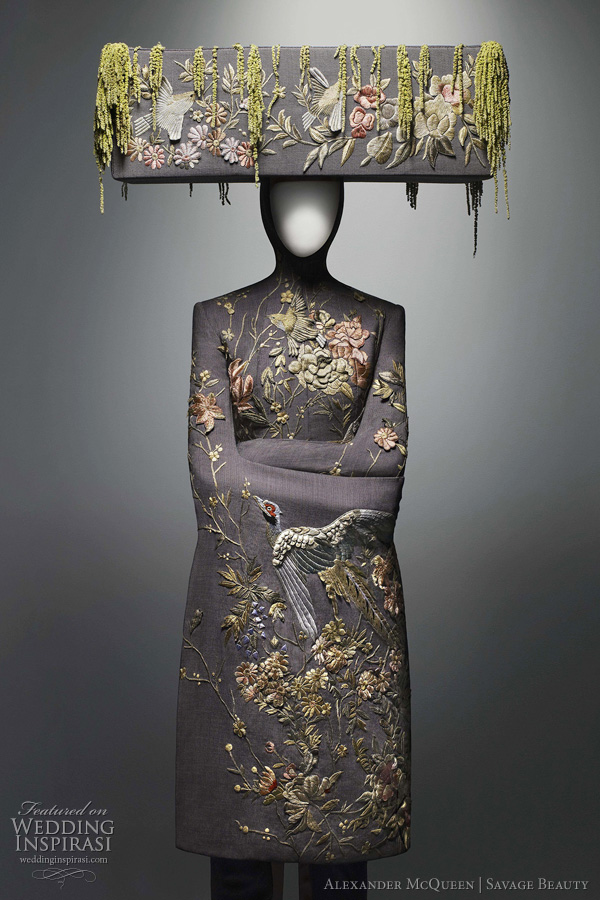 It's hard for us to talk about Alexander McQueen without being a tad emotional and melodratic but we tried! "You've got to know the rules to break them. That's what I'm here for, to demolish the rules but to keep the tradition."—Alexander McQueen
The exhibition will run from 4th May 2011 until the 31st July 2011. For more information, click here.