As the Royal Wedding date draws ever so near, Wedding Inspirasi's Nina decides to join in the fun with her top picks for the title of "Designer of Kate Middleton's Wedding Dress".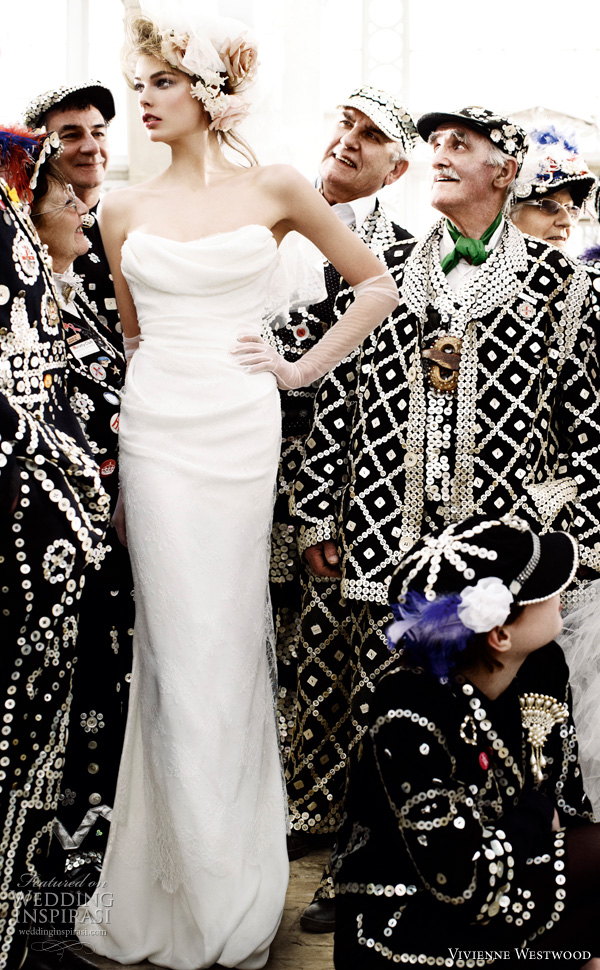 Miss Catherine Middleton does not strike me as someone who would go for something loud with frou-frou detailing in her choice of clothing. Elegant, classy gown will be the royal order, and nothing too top over-the-top for the princess-to-be. As demonstrated by another modern-day princess , Victoria of Sweden, who married her personal trainer last year — the days of bouffant excesses has made way for a cleaner, sleeker style. Middleton's dress would be a similar reflection of our times. I imagine Kate's wedding dress to be in a slim silhouette — fit and flare, bias-cut sheath or slim A-line styles  — definitely with sleeves and a modest neckline, something along the lines of Grace Kelly's or Nicole Richie's wedding gowns, but with a less voluminous skirt.
Kate Middleton's Wedding Dress Designer (Nina's Edition)
Vivienne Westwood
For a wedding dress that would define bridal fashion for decades to come we'll a visionary designer with a creative vision ahead of her time. A wedding dress with style and a definitive edge. Sarah Burton is a hot favorite but Dame Vivienne Westwood fits the bill perfectly too. After all it was a Westwood creation that Sex and the City's Carrie Bradshaw wore for her wedding.  Kate Middleton in a Vivienne Westwood silk and lace column wedding gown (main picture) would be a resplendent vision of beauty.
Jenny Packham
Fact: I love Jenny Packham Spring 2011bridal collection. The vintage-inspired dress below, Eden, is one I can particularly picture Kate wearing on her wedding. It has the right amount of glitz and would work well for her tall, slender figure. Jenny Packham's clientele includes Keira Knightley, Beyonce and Jennifer Lopez.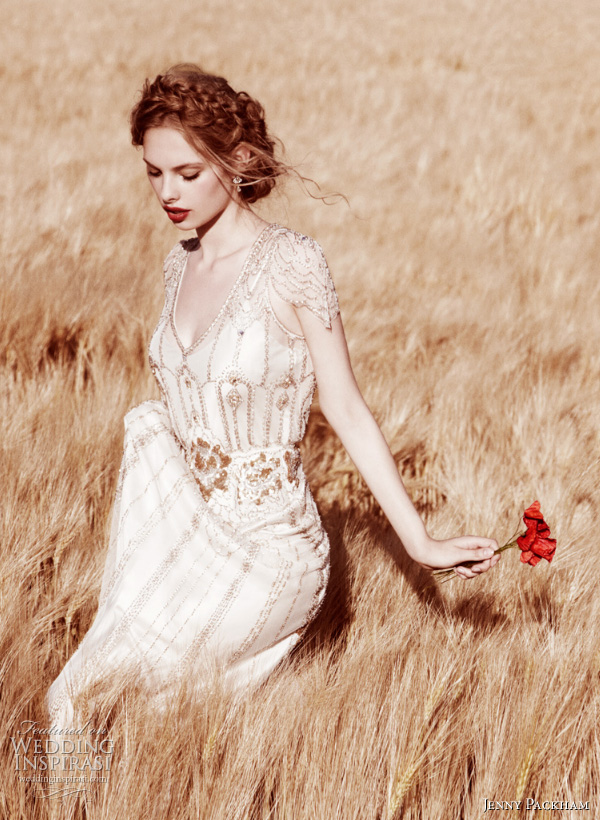 Marchesa
When I saw the blush gown with 3/4 sleeves from Marchesa Fall 2011 collection on the left I went: "That's it. That's Kate Middleton's wedding dress." Granted I've said this line a couple of times the past few months but Georgina Chapman's creation is one of the more memorable ones. Leighton Meester, Blake Lively, Rihanna, Eva Longoria, Taylor Swift, Miley Cyrus, Olivia Wilde, Kristen Stewart are some of Marchesa's red carpet clients.
Ian Stuart
Come on, a bridal collection called "Revolution Rocks!"? Isn't that an allusion to the royal wedding right there? Multi award winning Ian Stuart (UK bridal designer of the year 2010, 2004-2007) 2011 collection may be evocative of the "decadence of the 18th century" but I think the dress, Lucrezia, below looks quite fitting for a 21st century princess.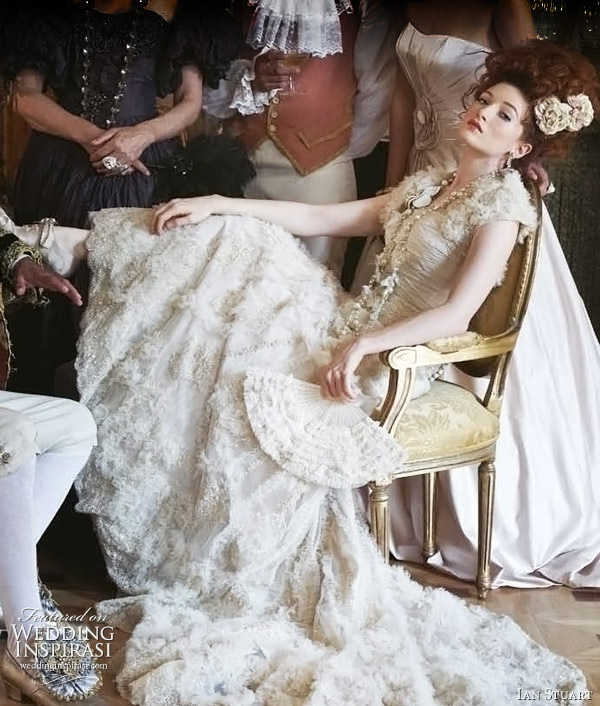 Claire Pettibone
Claire Pettibone is known for her pretty, feminine gown with a vintage, bohemian vibe. It would be a dream to see Middleton in one of her unique and very romantic, flowy gowns, like these two wedding dresses Sparrow and Flora from Claire Pettibone's 2011 Spirit of the Night collection below.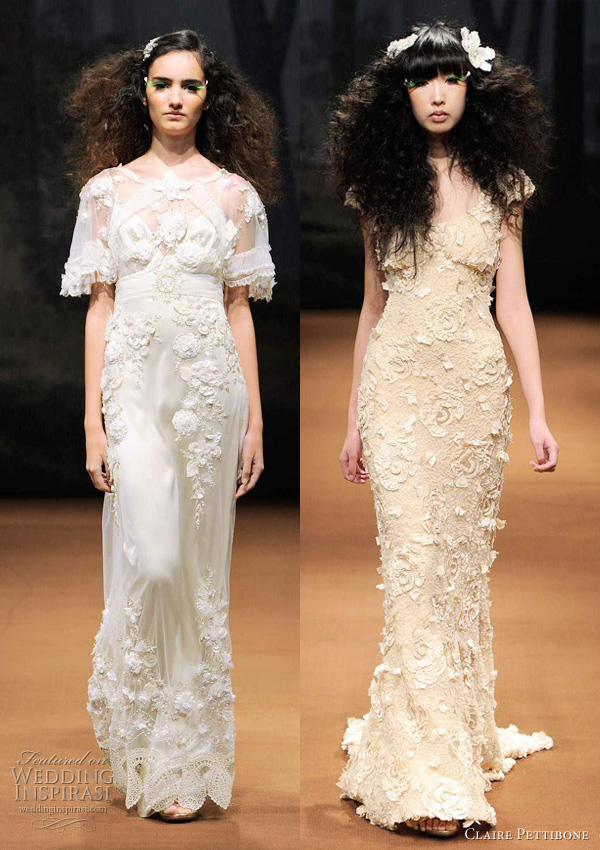 Amanda Wakeley
Amanda Wakeley name is no stranger to celebrities and royalty. Her clients include stars such as Scarlett Johansson, Dita Von Teese and Charlize Theron and members of Royal families, notably the late Diana, Princess of Wales and Queen Rania of Jordan. Winner of several awards including three British Fashion Awards for Glamour, she is known for her elegant, stylish gowns in luxurious fabrics. I particularly love this draped tulle gown.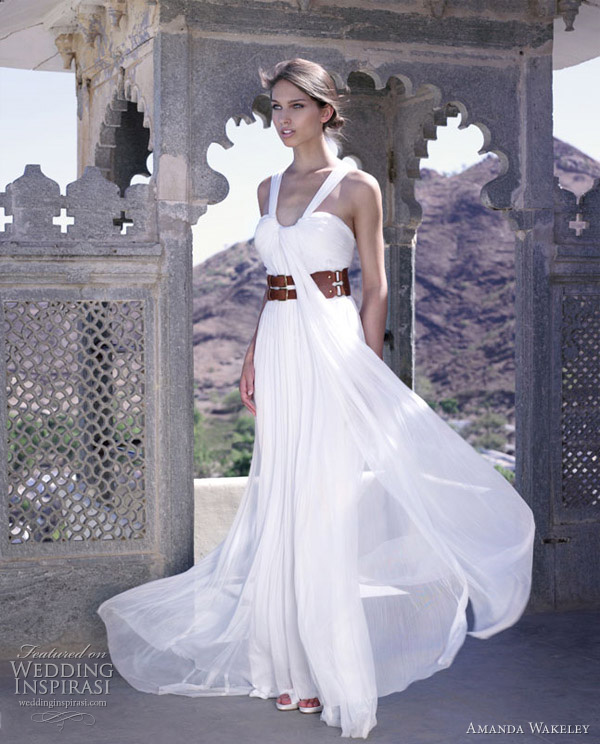 Phoebe Philo (Céline)
British designer of the Year 2010 Phoebe Philo may be an unexpected addition to this list but I really like her work at Céline the past few seasons. The newly hailed "Queen of the New Minimalism" may have something crisp and modern to offer the new princess. Black and white gowns from Céline Spring 2011 collection.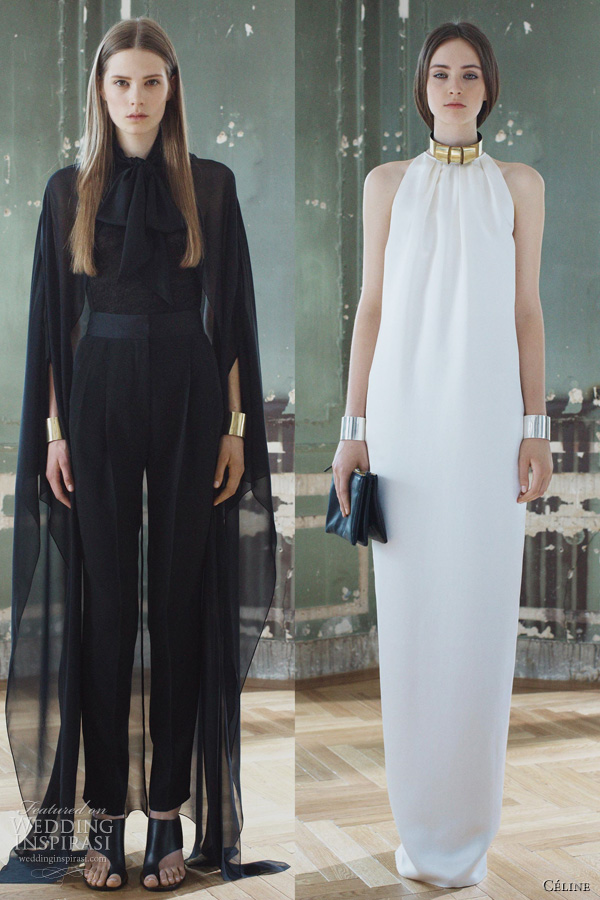 Victoria Beckham
We know that Victoria Beckham will most likely be present at the royal wedding (she made the guest list, along with her husband David). There's also a lot of buzz about what the 6-month pregnant Beckham will be wearing to the wedding. The chances of seeing La Middleton in a Victoria Beckham wedding dress may be slim but we've heard that Kate may be gifted a boxful of Beckham's hand designed dresses for her honeymoon. That said, I adore the construction of the pink panel dress. A version in white, with sleeves would make for a cool, modern wedding gown.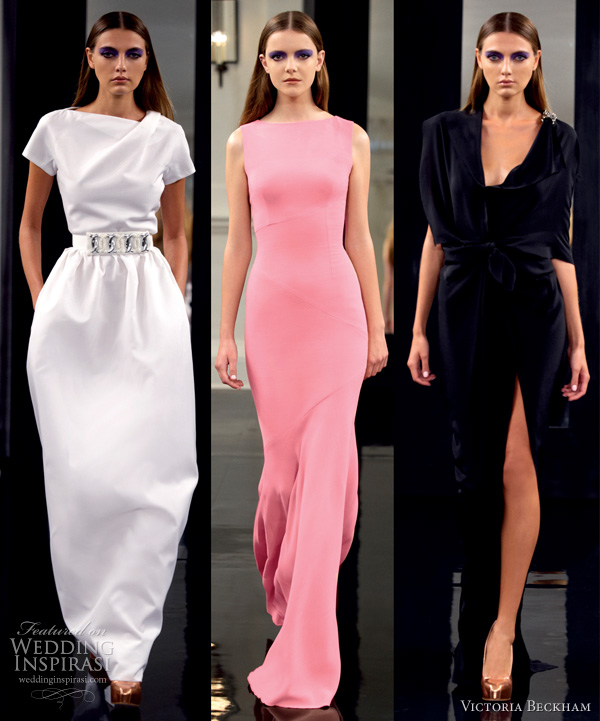 Phillipa Lepley
A more obvious choice for title of royal wedding dress designer is Phillipa Lepley. I adore Phillipa Lepley's wedding dresses. Pretty, romantic, sweet, classy, elegant -- all the good qualities that a royal wedding dress (or any wedding dress for that matter) should have.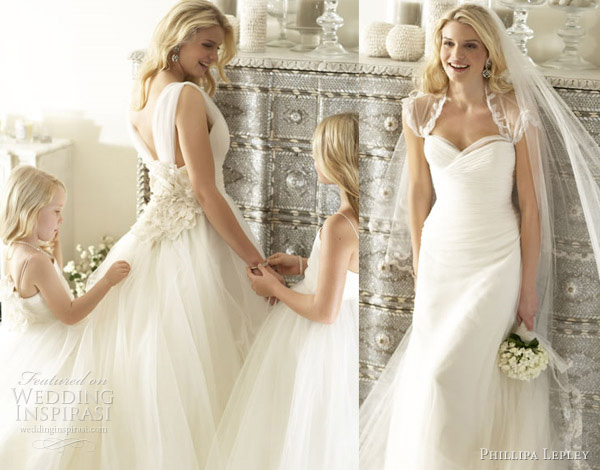 Lee McQueen (Vintage Alexander McQueen)
From an obvious choice to pure fantasy in the form of the departed genius behind the Alexander McQueen label. Sure, Sarah Burton's amazing designs have segued nicely from Lee McQueen's haunting gothic beauties but for me, it would be nice to have a Lee McQueen wedding dress for the future Queen. I imagine whatever lied underneath this ostentatious gold feather coat would be the perfect dress for a princess. Dress from McQueen's final collection (Fall 2010).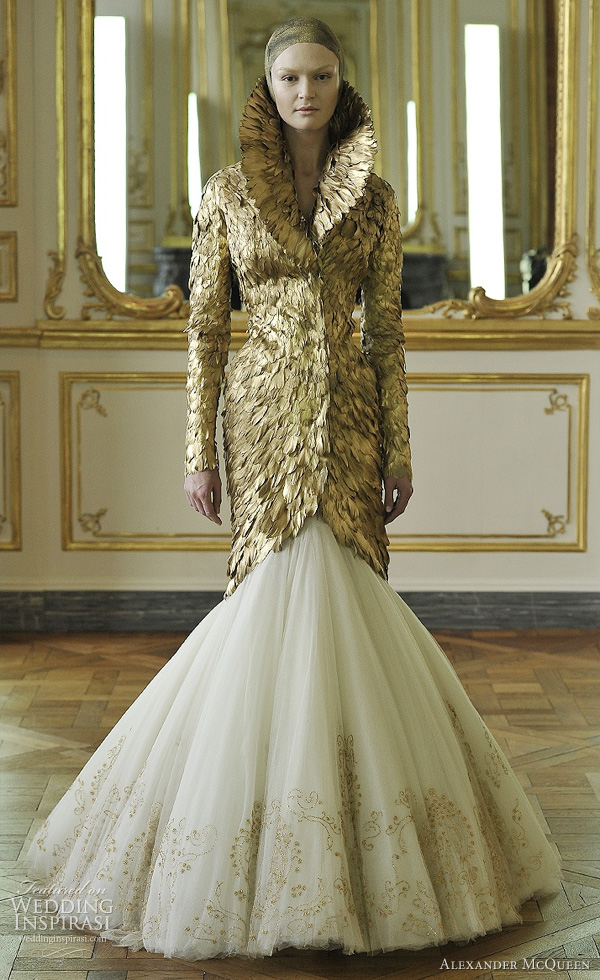 Sarah Burton (Alexander McQueen)
In all seriousness, Sarah Burton is likely to be the designer of Kate Middleton's wedding dress. I'm hoping to be pleasantly surprised and inspired by Middleton's choice of bridal attire on her wedding day and Sarah Burton's designs have the ability to do just that.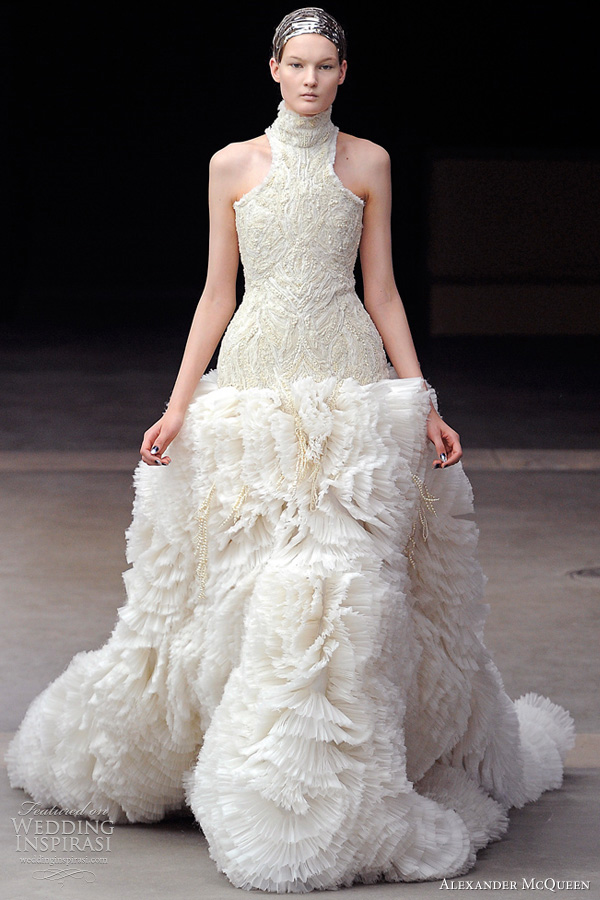 Who's on your list?
Related: Royal Wedding Dress Watch - Bookies' Choice for Designer of Kate Middleton's Wedding Gown