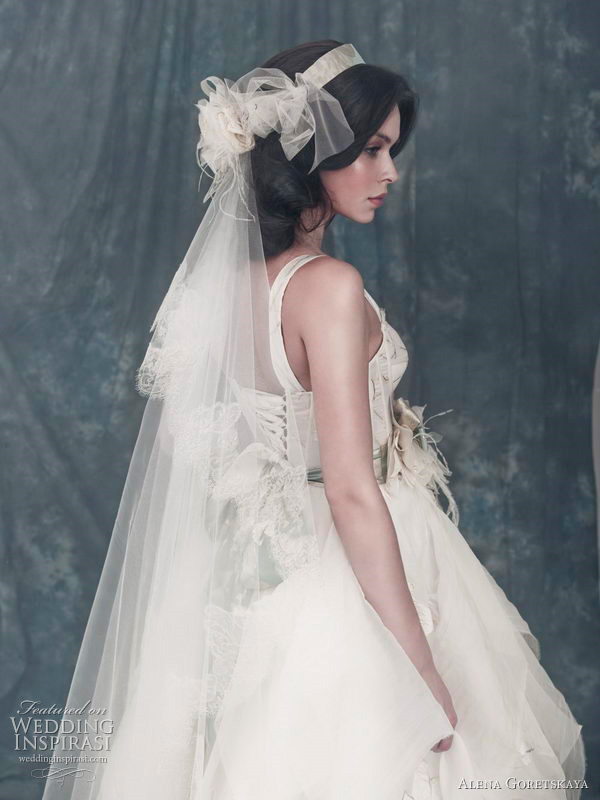 Gorgeous wedding dreses with lovely, feminine touches from Alena Goretskaya 2011 bridal collection. Above and below, Alexander silk organza corset gown with unusual skirt of silk scarves, gray-blue silk taffeta ribbon belt adorned with gold blue flowers. You can be sure team Wedding Inspirasi is drooling right now! Well, just look at this!
Angelica gown with lace bodice draped in silk organza, layered skirt, waist adorned with pastel rose.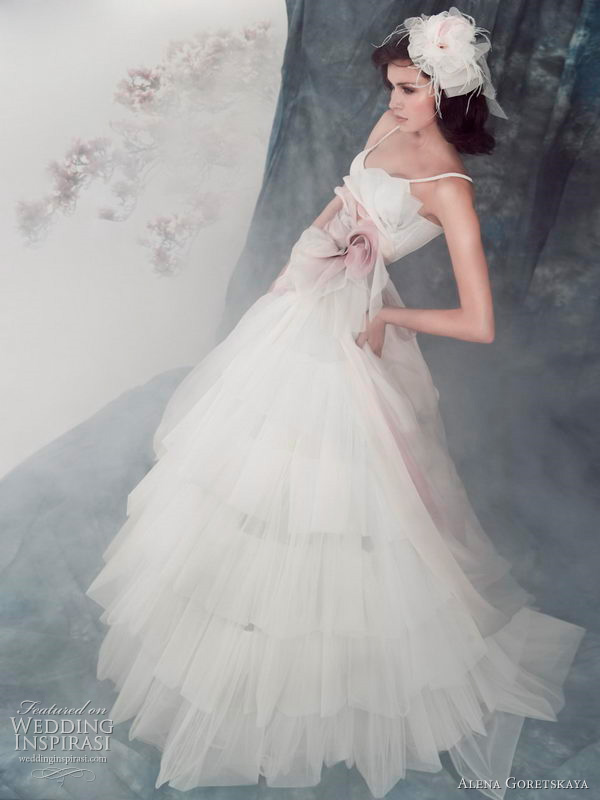 Anastasia dress with multi-layered mesh skirt covered with pale peach flowers. The bodice is draped and decorated with delicate feathers and beads.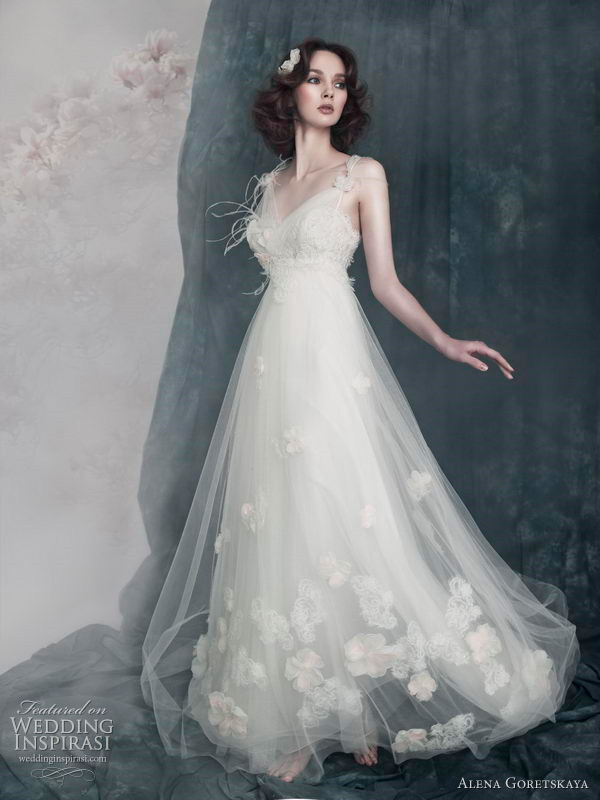 Aurina tulle gown dotted with crystals worn with belt,  buckle also adorned with crystals.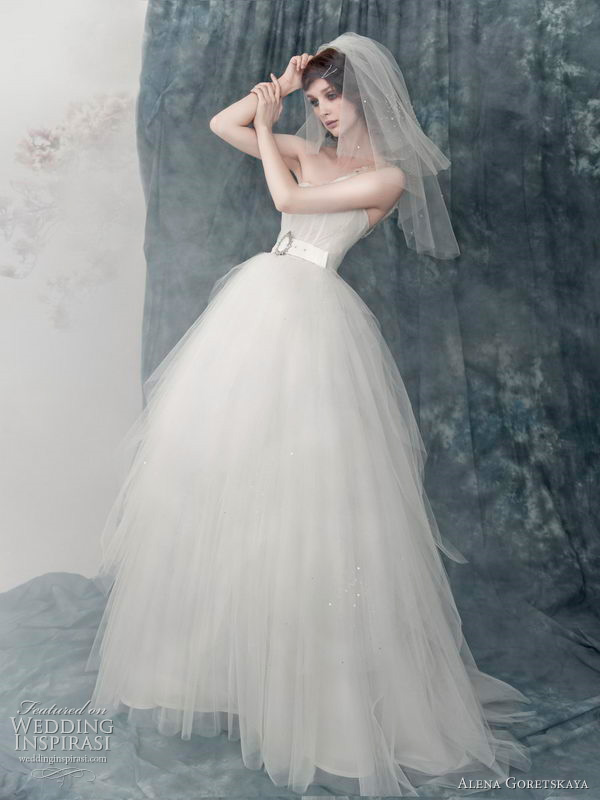 Alicja, elegant Grecian style draped gown made with more than 100 chiffon strips sewn together.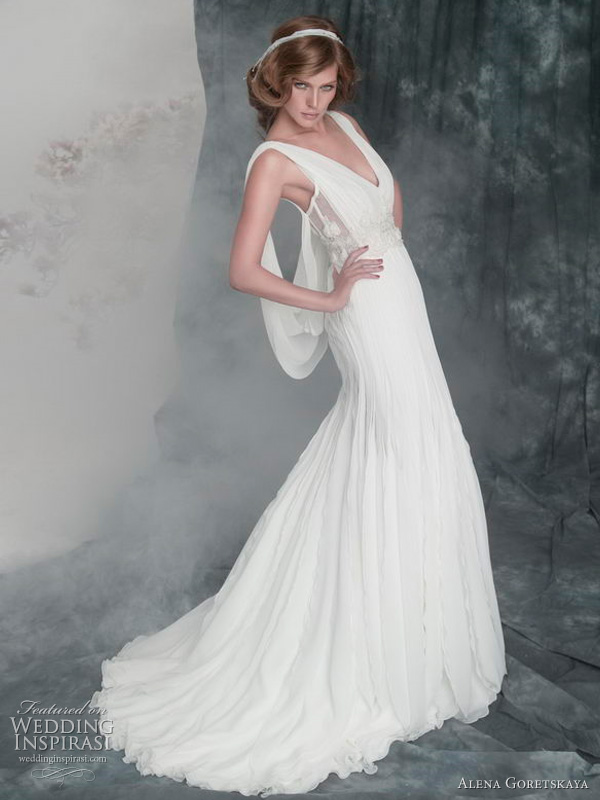 Many more beautiful wedding gowns after the jump. Click Read More to continue.
Amelia wedding dress made with vertical strips of organza sewn together to create this stunning gown which takes more than 100 man-hours and 25 meters of fabric to make. The bodice is decorated with delicate flowers of the mesh and crystal rhinestones.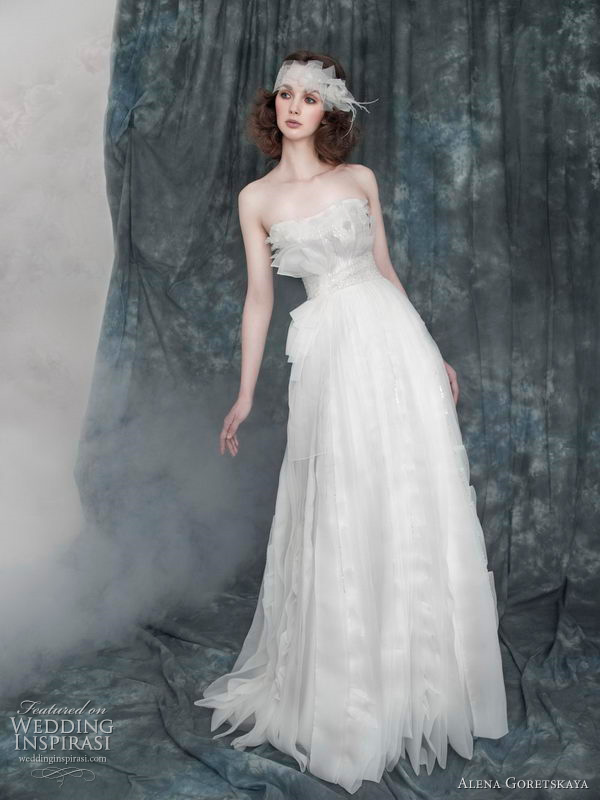 Artemia, embroidered corset bodice with airy skirt of silk organza.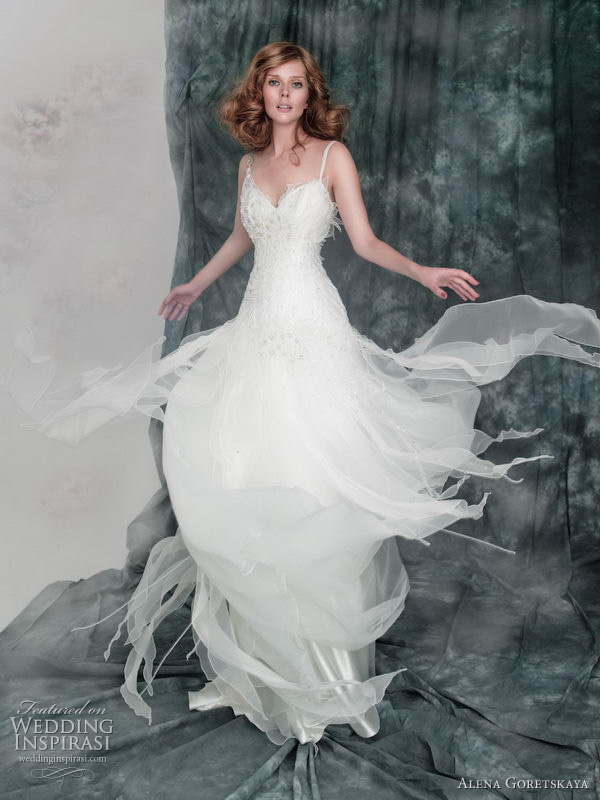 Astrid, short strapless mini dress embroidered with beads worn with full length delicate organza overlay decorated with flowers.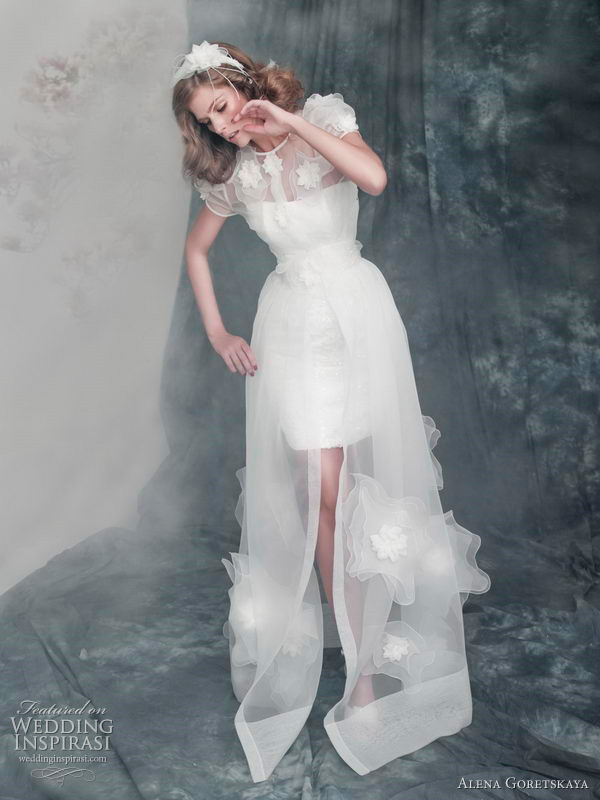 Anna lace dress with adorned with pearls and beads, worn with lace bolero decorated with flowers.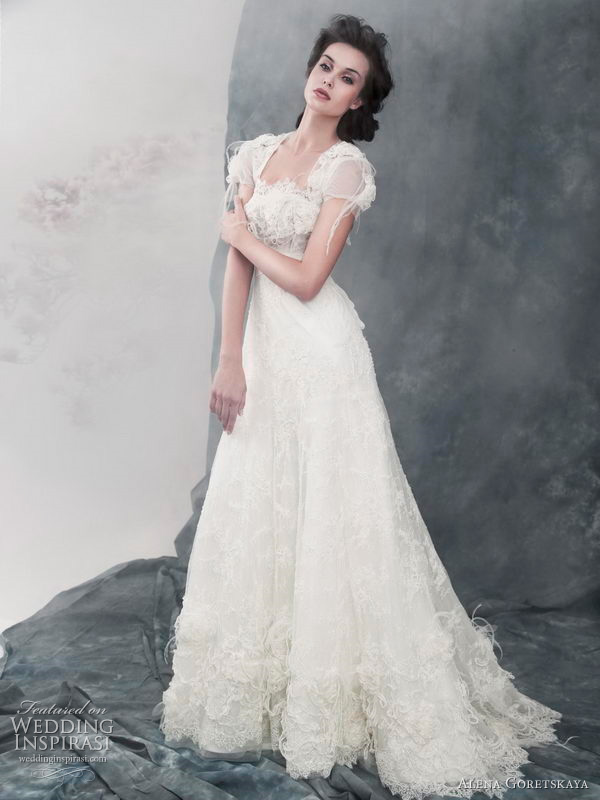 Adele, Chantilly lace bodice embroidered with bugle bead with silk ribbon skirt. Silk bow with crystal brooch accents the waist. Love the cape sleeves on this one.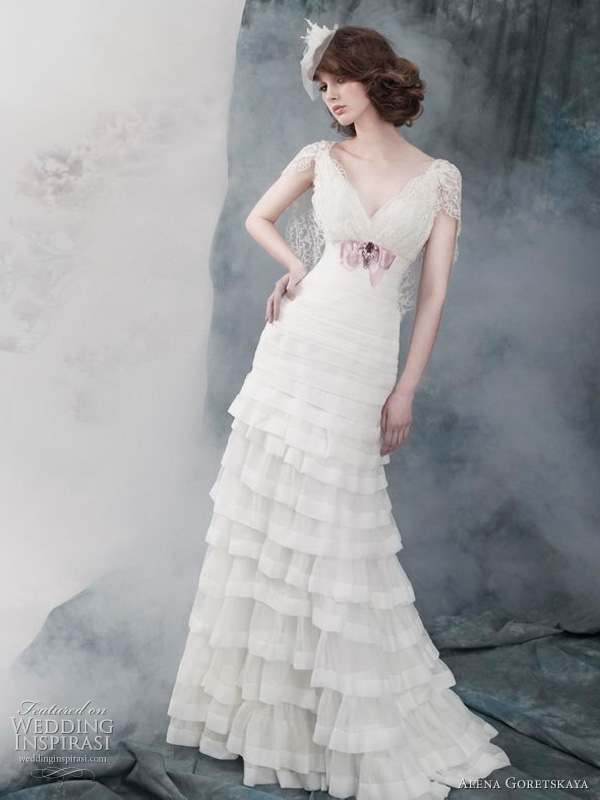 Alberta empire chiffon dress with fine bead-work at the bodice.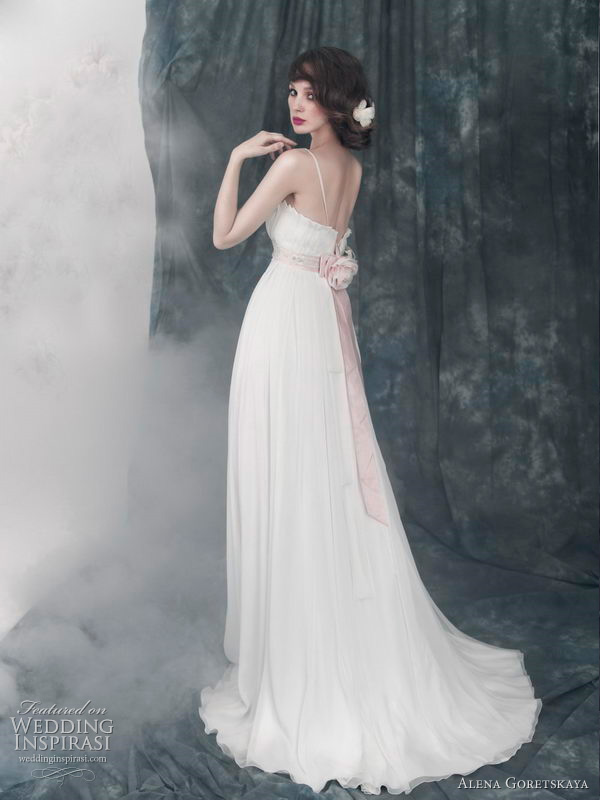 August, organza gown with romantic flounced skirt, bodice embroidered with beads sequins and flowers; Arcadia beaded corset dress with a richly decorated voluminous skirt.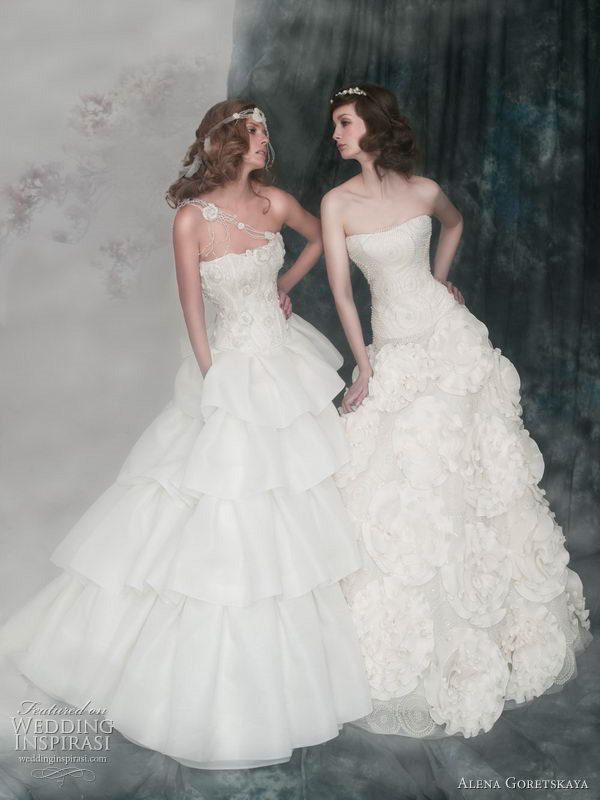 For more wedding gowns from this collection, click here (site in Russian).