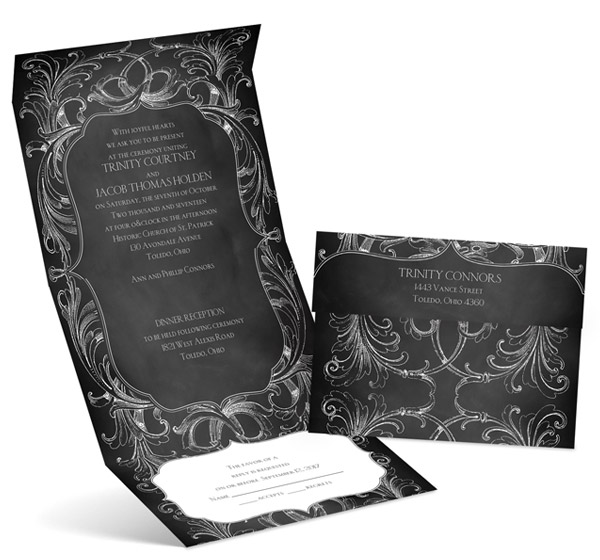 We love vintage-style anything and that goes for bridal stationery. So when the good people at Ann's Bridal Bargains presented their collection of affordable vintage themed wedding invitations, it got us really excited. Before we proceed further, can we please draw your attention to how pretty these chalkboard style invites are?
Okay, let's face it: weddings can be really expensive affairs and finding good ways to save, especially when it means that you don't have to compromise on style is a win-win situation for both your pocket and bridal vision (we all have a specific look in mind for our wedding, don't we?) If you're looking for a great way to keep to your wedding budget AND bridal theme, why not consider these fabulous finds from Ann's Bridal Bargains?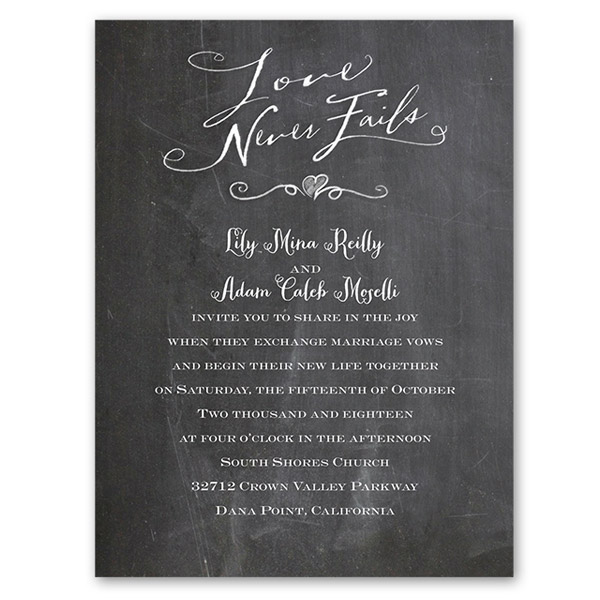 Chalkboard style wedding invitations, from above: Chalkboard Flourish, Love Never Fails.
Why Ann's Bridal Bargains?
Ann's Bridal Bargains specializes in discount wedding invitations and wedding accessories that do more than just meet couple's needs — they fit their style and vision for the perfect wedding day.
Understanding how easily wedding expenses can add up, they are dedicated to helping couples express their style and personality through their wedding, without breaking the bank: "we don't think couples should compromise their style to save a few bucks!"
A trusted name in quality, Ann's Bridal Bargains works hard to exceed expectations of couples by offering quality wedding invitations at an affordable price, while providing reliable and friendly customer service. Being "good enough" or "just getting by" is just not how they do their business.
You'll also love that, apart from the price, there is nothing cheap about their selection of budget-conscious wedding invitations. Beautiful paper stock and high quality print, they got it covered. Free samples are also offered so you can see the cards before purchasing.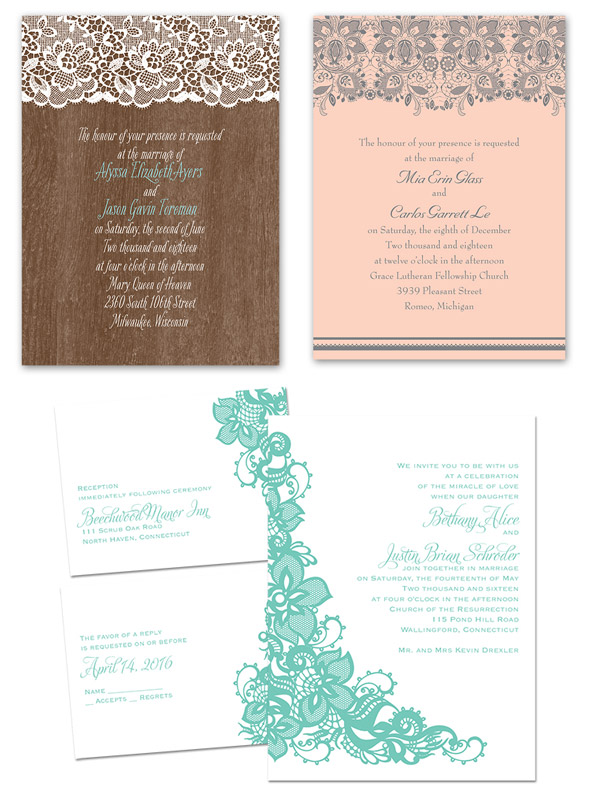 Vintage lace wedding invitation designs, from top-left: Woodgrain Lace, Lacey Romance, Lovely Lace.
Vintage-Themed Wedding Invitations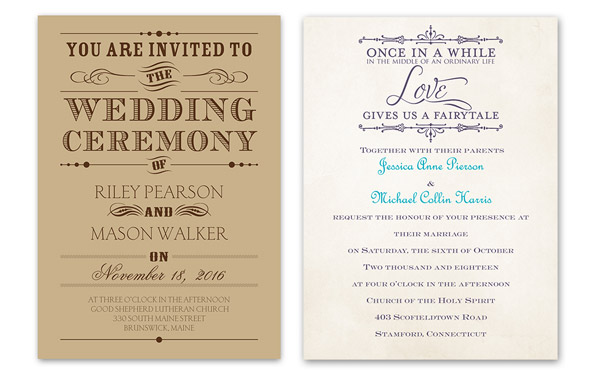 Typography wedding invitation styles, from left: Typography on Craft, Charmed.
Ann's Bridal Bargains has a large variety of bridal stationery styles to choose from, and the most popular this season, hands-down, is Vintage. Whether you're going for something rustic or vintage with a modern touch, you can choose from their wide selection of designs which include:
Delicate lace details (choose a wood grain combo for a rustic feel)
Chalkboard – vintage, yet modern!
Typography layouts – fonts can take an invite from modern to rustic to vintage and we LOVE typography layouts!
Remember, each design is customizable online! Choose your color and create your own unique wording. You can even add a photo to several designs.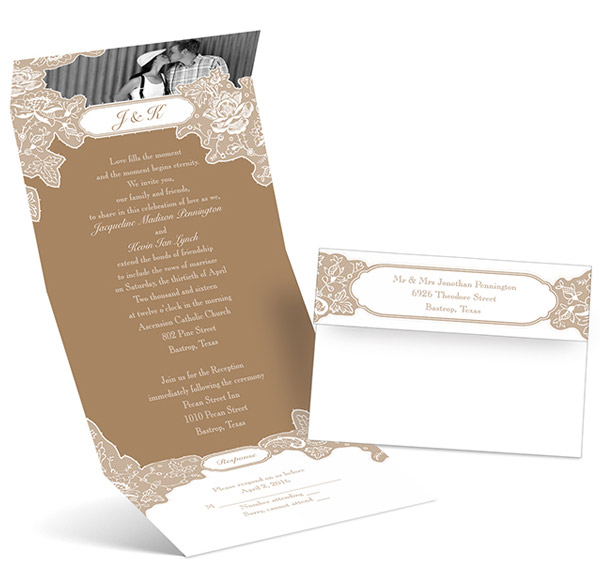 Seal and Send bridal stationery: above, Romantic Details photo invitation; below, Wedding Playbill.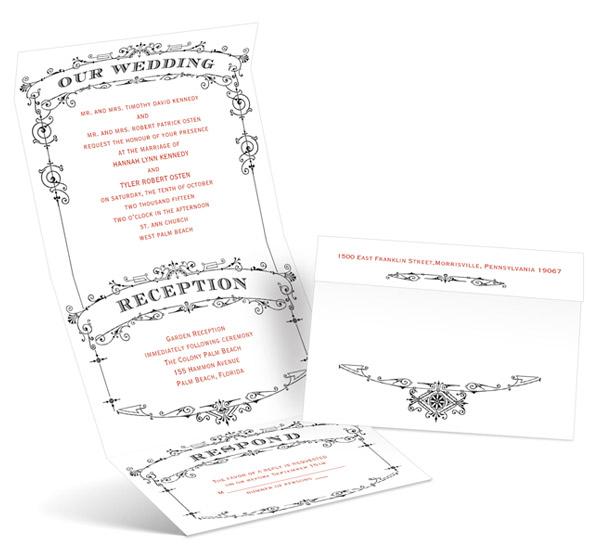 Here's a little something extra to sweeten the deal
Wedding Inspirasi readers get an extra 15% discount on your wedding invitation order with code INSP15. That's a deal on top of a bargain! Offer valid through 6/30/2014. Head on over to Ann's Bridal Bargains today!
Posted on:
April 18th, 2014
In:
BCImgzine
,
Sponsors
,
Wedding Stationery
Tags:
bridal stationery
,
discount
,
discount code
,
invitation cards
,
label: Ann's Bridal Bargains
,
promo code
,
sponsor
,
vintage
,
wedding invitation
Comments:
Add your comment