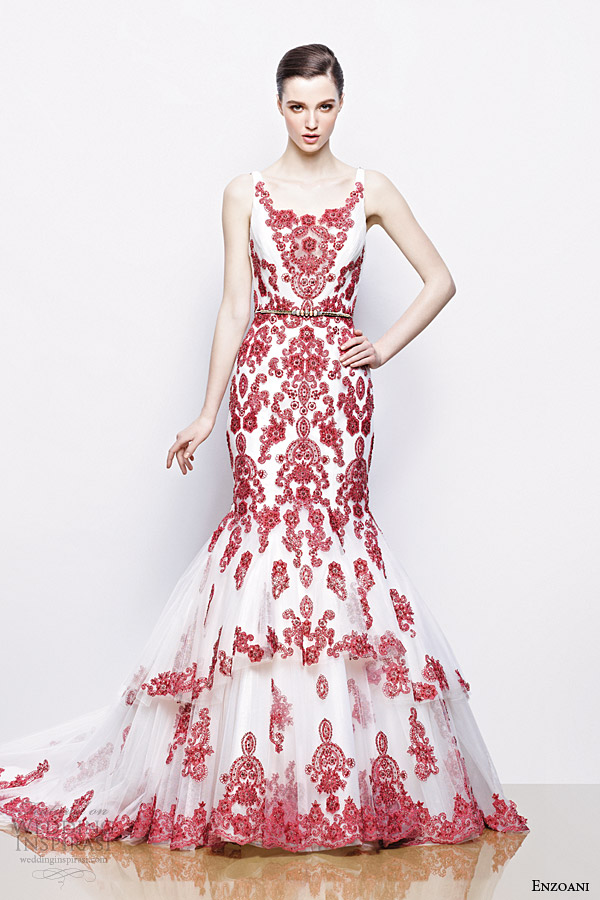 Get ready to be inspired! Today we have four outstanding collections by Enzoani which are guaranteed to dazzle and delight any bride. Trailblazing through the bridal fashion world with the best trends inspired by vintage style and European designs, Enzoani is off to a spectacular start with their 2014 collections: Enzoani, Blue by Enzoani, Beautiful, and Love by Enzoani.
Enzoani 2014 Bridal Collection
Every so often, a bridal collection manages to blow us away with the perfect combination of style and sophistication. One of those collections is the Enzoani's 2014 collection.
The 2014 Enzoani collection focuses on the merging of contemporary and traditional European designs with a high level of attention to details that Enzoani is known for. The light and delicate lace patterns offer a vintage touch while the beading adds an exquisite and modern twist. The collection offers sleek, clean lines that are specifically tailored to present a classic, timeless feel. Key fabrics include Chantilly lace, silk satin, chiffon and tulle.
Our favorites include "Ilyssa" (pictured above), an unforgettable ivory and red wedding dress. This statement-making gown showcases the emerging trend of bridal gowns in bolder, unconventional colors for 2014.
"Inara", a sleeveless soft charmeuse and chiffon gown with cowl neckline, features another trend that we love — wedding dresses with gold accents.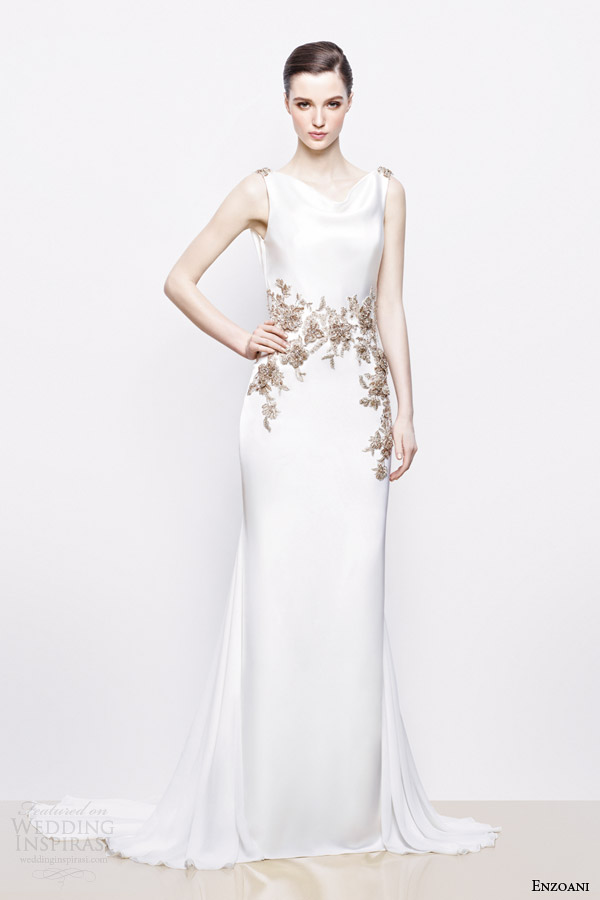 If you're looking for gowns with contemporary detailing such as illusion necklines and sleeves and portrait backs, you'll be spoiled for choice! Here are a few more gowns to tempt you:
"Indira" cap sleeve tulle gown with illusion neckline.
"Ingrid" soft charmeuse and chiffon illusion halter neck gown with portrait back.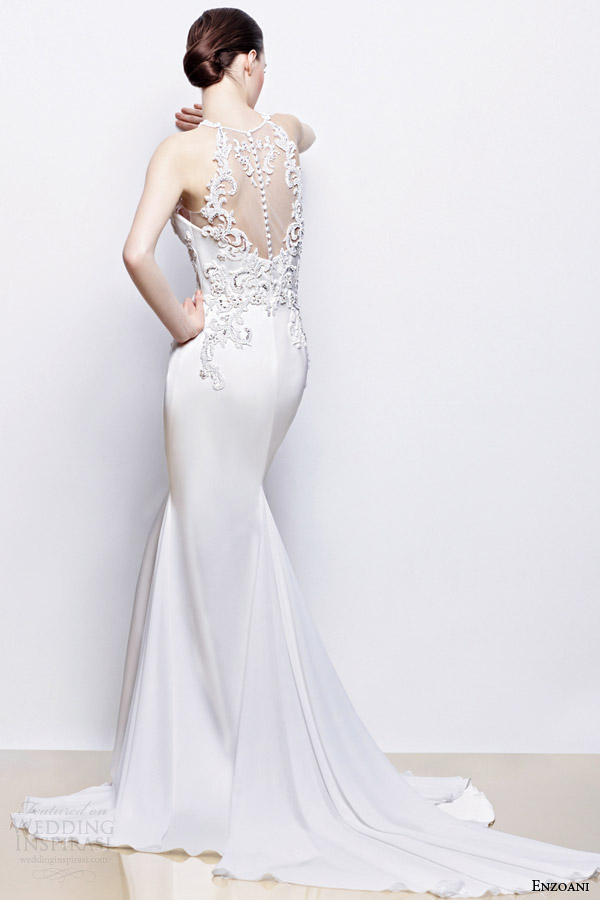 Blue by Enzoani 2014 Bridal Collection
As with the flagship collection, the Blue by Enzoani 2014 collection is designed by creative director, Kang Chun Lin. This collection features similar styling and attention to detail as Enzoani, but at a more accessible price point.
The 2014 Blue by Enzoani collection is inspired by vintage Dior's high-end sophistication with gilded detailing and crisp ivory. While the gold creates a luxurious feel, the collection plays with short gowns as a charming complement to the entire collection as a whole.
Short styles such as "Gage", a sleeveless dress in Mikado with gold accents, would look great on spunkier, fashion-forward brides.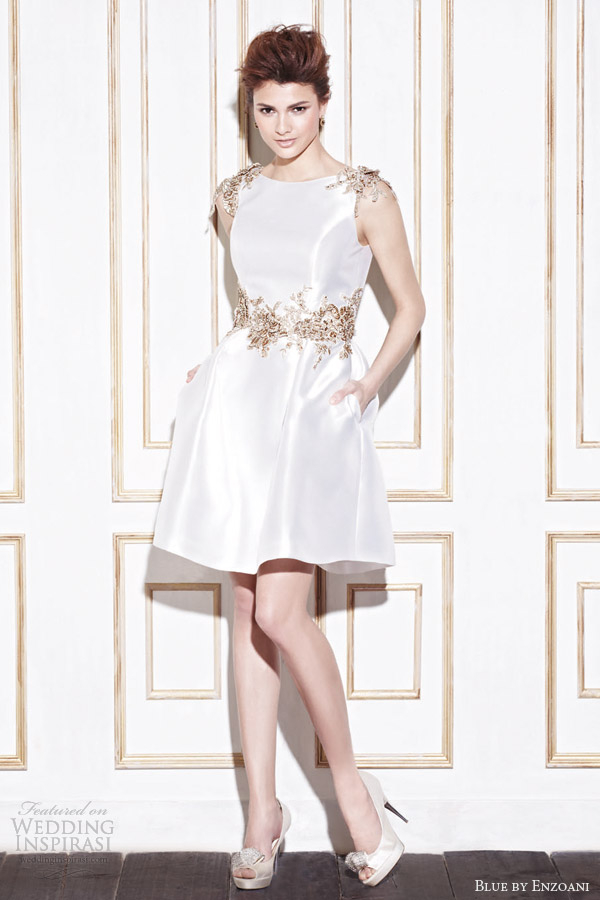 If you're going for a look of full-on glamour, try these gowns with Antique Gold or Pewter accents:
"Gainesville" taffeta satin gown.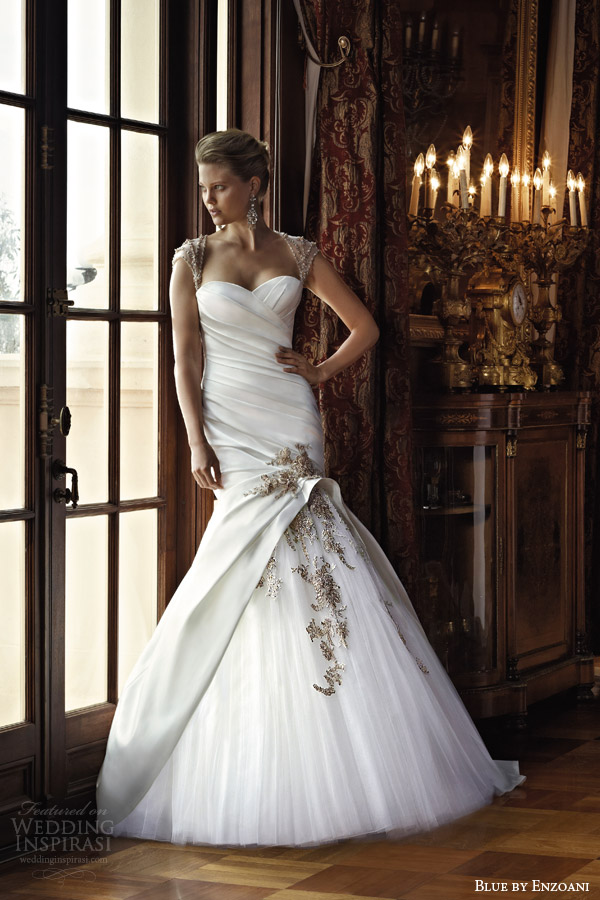 "Galea" strapless tulle gown.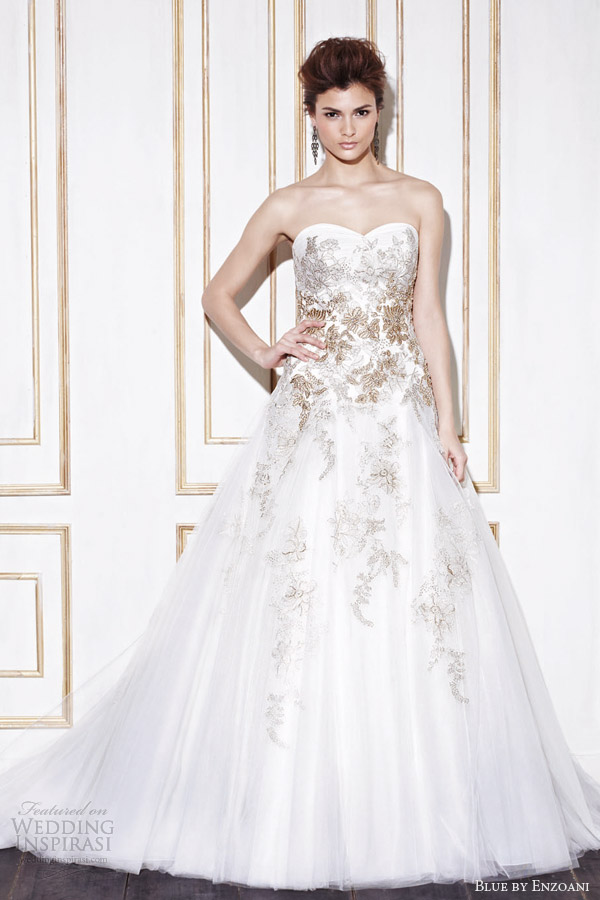 "Ghimbi" sleeveless gown with illusion straps.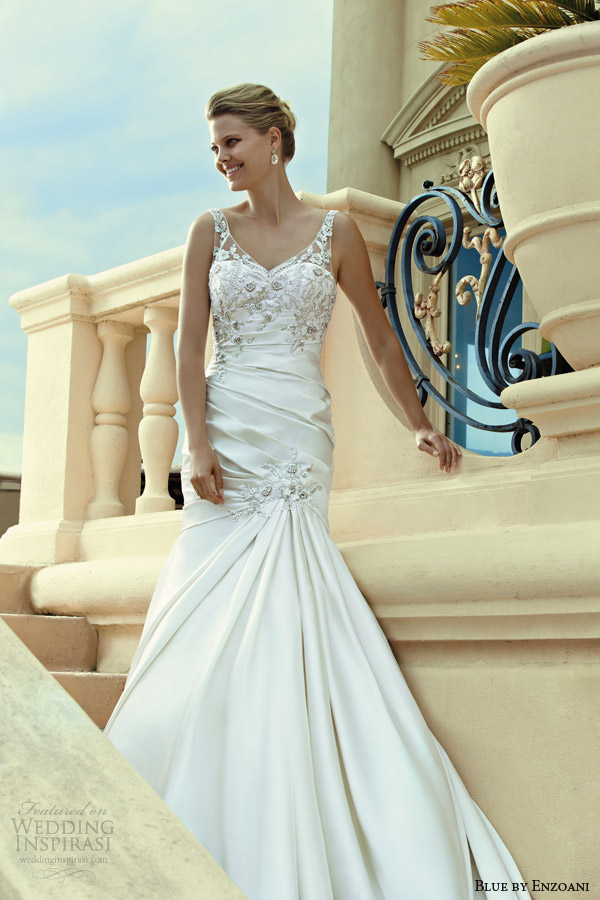 Are you a budget-conscious bride? Perhaps you are looking for something to wear to a cocktail reception? On the next page, we highlight two collections that may of interest to you: Beautiful by Enzoani and Love by Enzoani.

Posted on:
November 25th, 2013
In:
News and Trends
,
Sponsors
,
Wedding Dresses
Tags:
cap sleeve
,
color
,
designer: Kang Chun Lin
,
designer: Yuchiang Hu
,
fit and flare
,
gold
,
halter
,
illusion
,
illusion cap sleeves
,
illusion neckline
,
illusion straps
,
label: Beautiful by Enzoani
,
label: Blue by Enzoani
,
label: Enzoani
,
label: Love by Enzoani
,
mermaid
,
one-shoulder
,
red
,
sheath
,
short
,
sleeveless
,
straps
Comments:
Add your comment