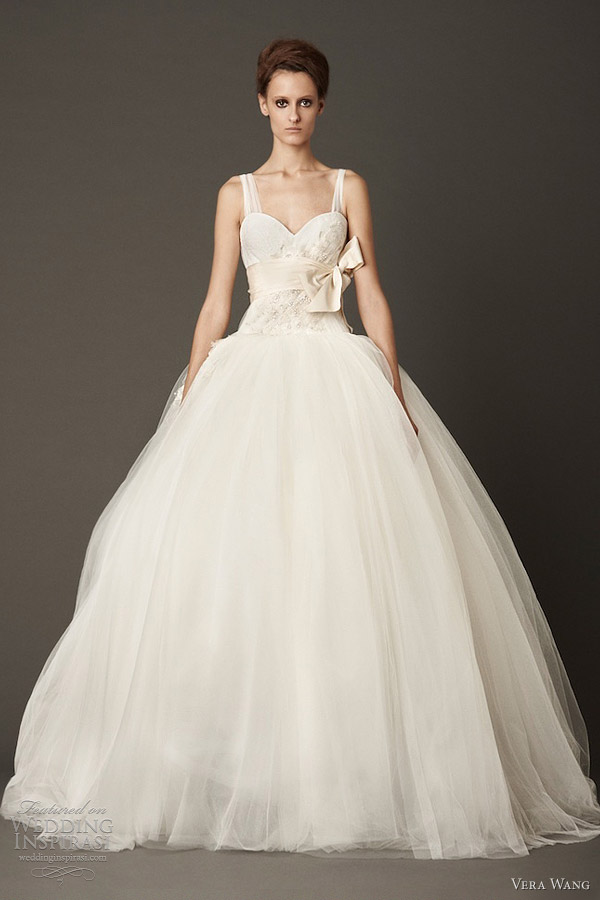 "The 2013 Fall Bridal Collection reflects an exploration of laces all handwrought, pieced, appliquèd and tossed onto an assortment­­ of light, airy confections with a casual nonchalance. This study in femininity and romance celebrates the wedding gown in a new take on classicism and ornamentation." Above, draped tulle and Chantilly lace bodice ball gown with crystal and organza embroidery details. Below, strapless modified ball gown with micro flange bodice, silk organza, mixed lace wave flange skirt and blossoming hand rolled organza petal corsage at waist.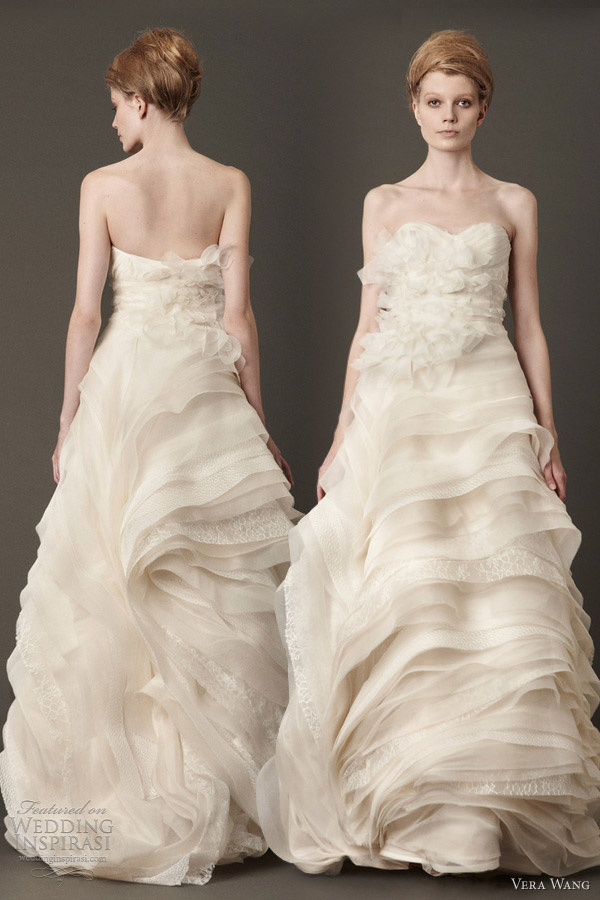 Tulip Chantilly lace mermaid gown with hand pieced circular flange train, mum garden hemline and silk organza mum and tulle corsage at neck.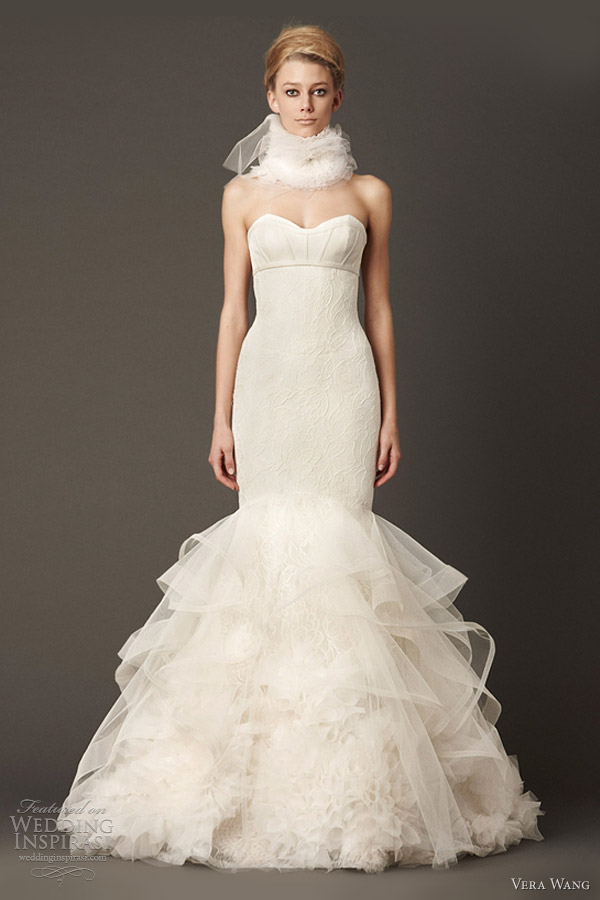 Strapless modified ball gown with ribbon embroidered bodice, textured organza skirt over honeycomb crinoline and silk organza hand rolled petal collar at the neck.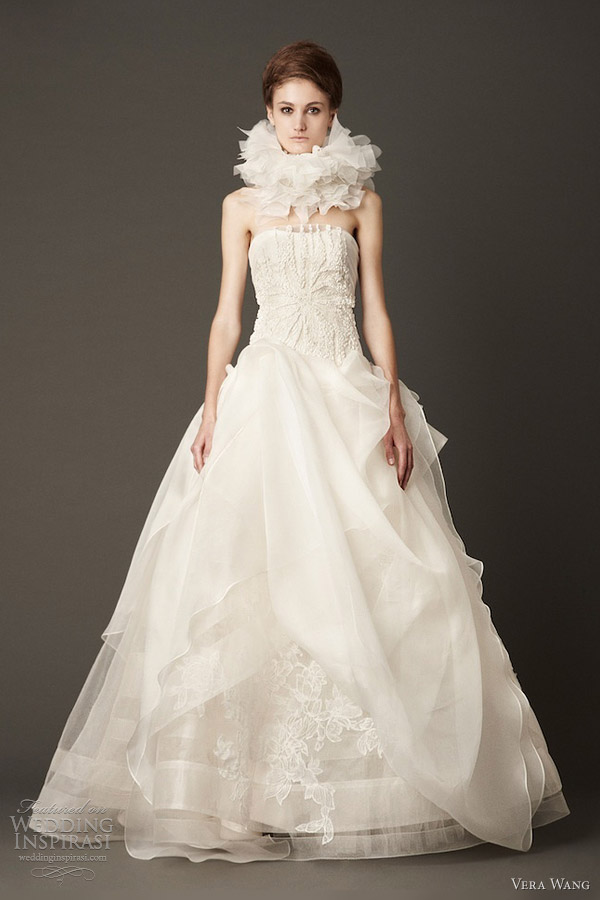 Floating corded leaf and embroidered circular lace strapless mermaid gown with bias organza and lace flange detail accented by crystal and pearl cluster embroidery at hip. Basketweave silk gazaar corselette under bust.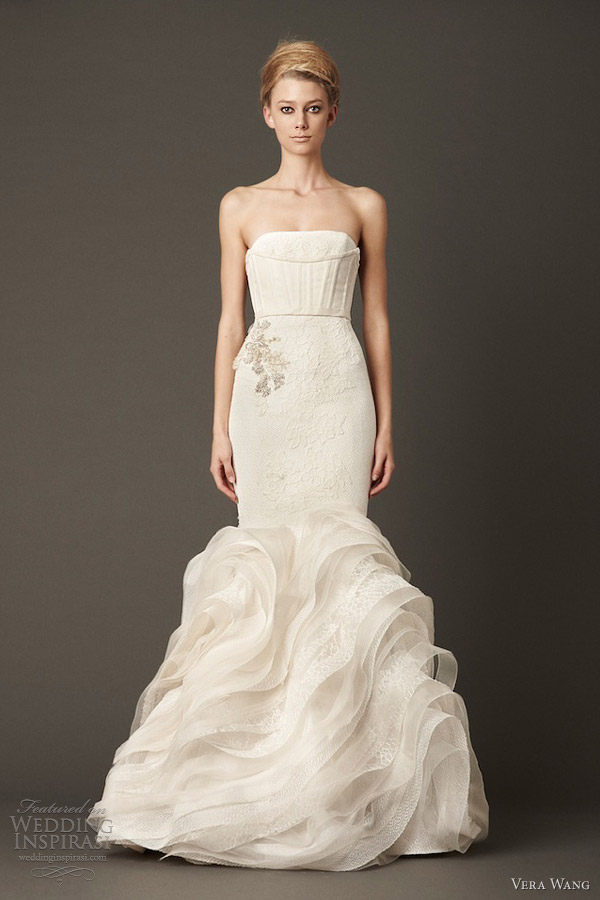 Strapless drop waist modified ball gown with corded leaf lace bodice and swirling bias cut table pleat flange skirt. Silk zibeline corselette at waist.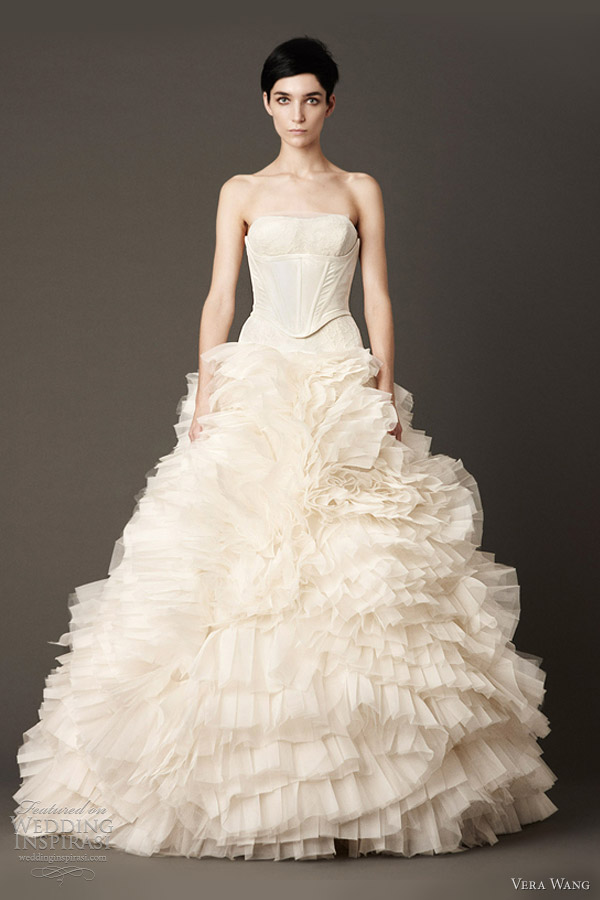 Floating Chantilly lace ball gown with bias organza and tulle wave flange detail. Basketweave gazaar bralette with classic lingerie details.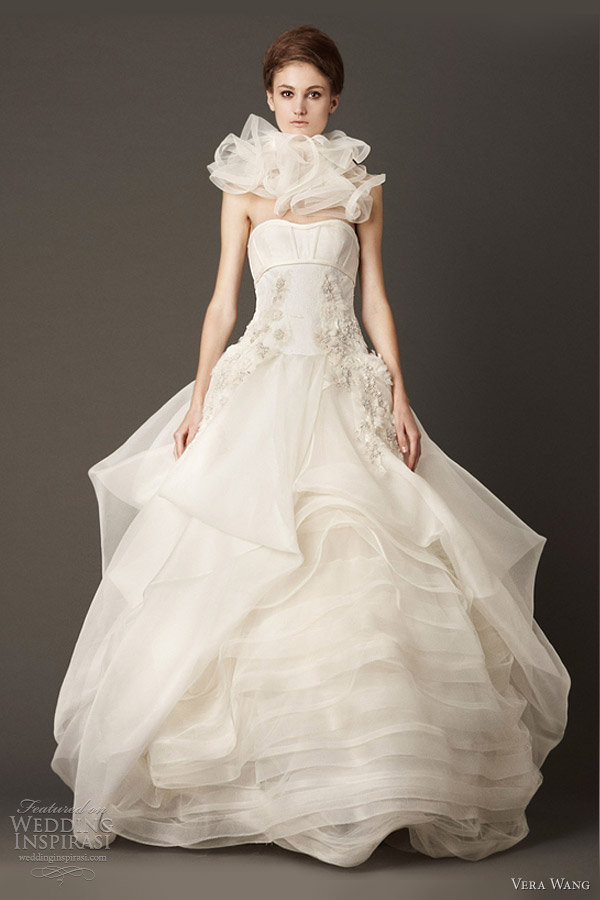 Strapless mermaid floating lace gown over web lace with horsehair and tulle shrug.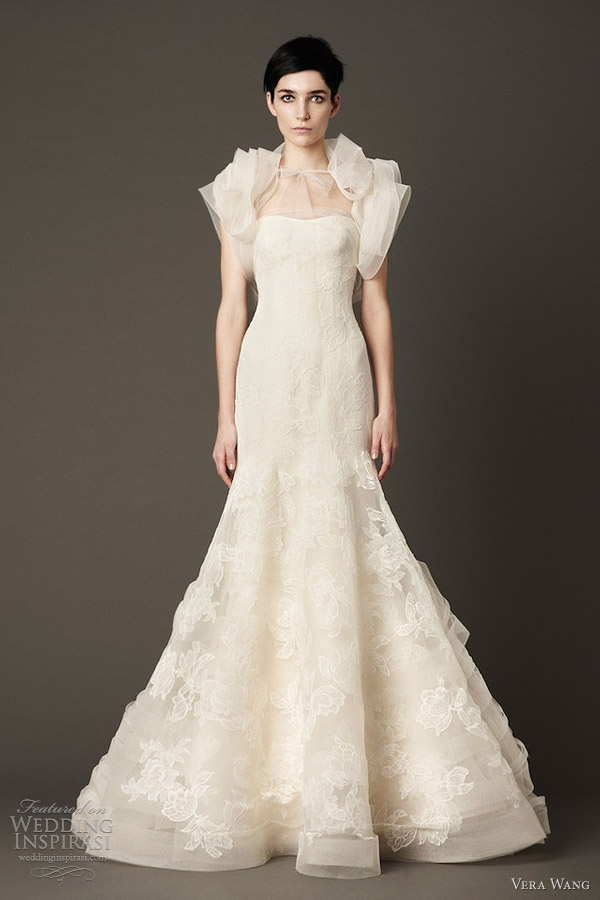 Strapless corded bodice ball gown with lace and organza wave flange skirt and floral corsage at hip.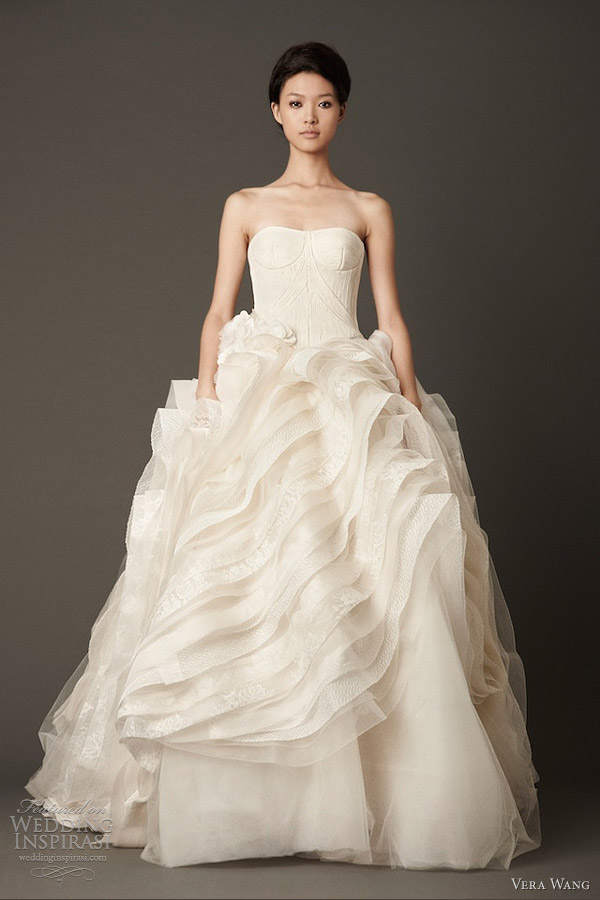 Strapless draped tulle bodice ball gown with crystal embroidery accented by floating pleated detail at the hip.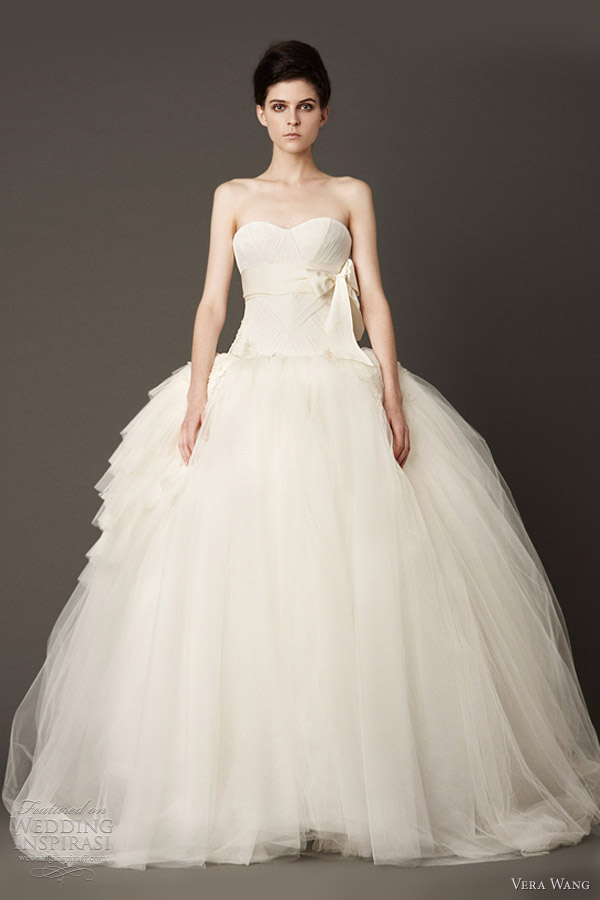 Strapless modified ball gown with Chantilly lace bodice accented by organza petal and pearl embroidery with hand draped textured organza skirt over English tulle wave flange detail. English tulle and horsehair ruffled collar at neck.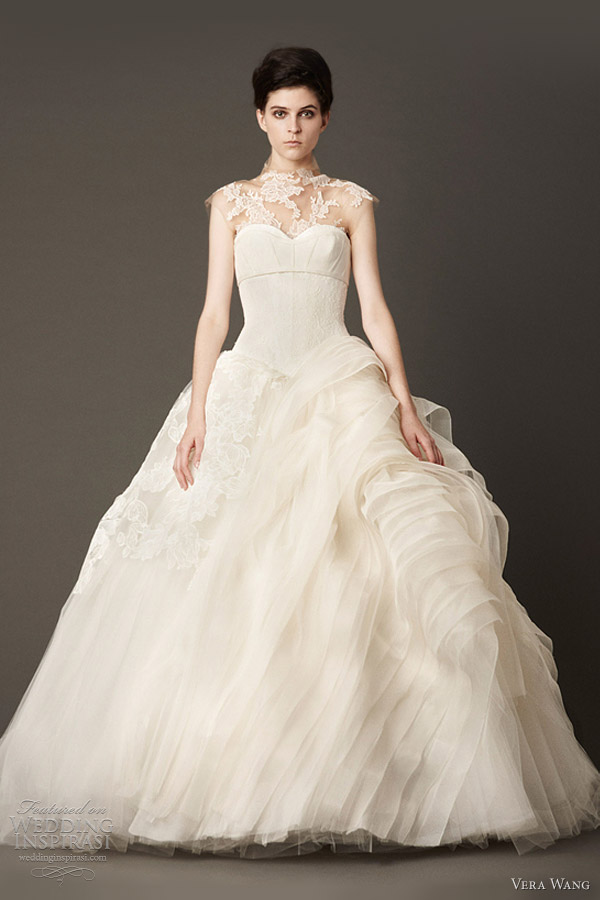 For details, availability and prices, visit Vera Wang.