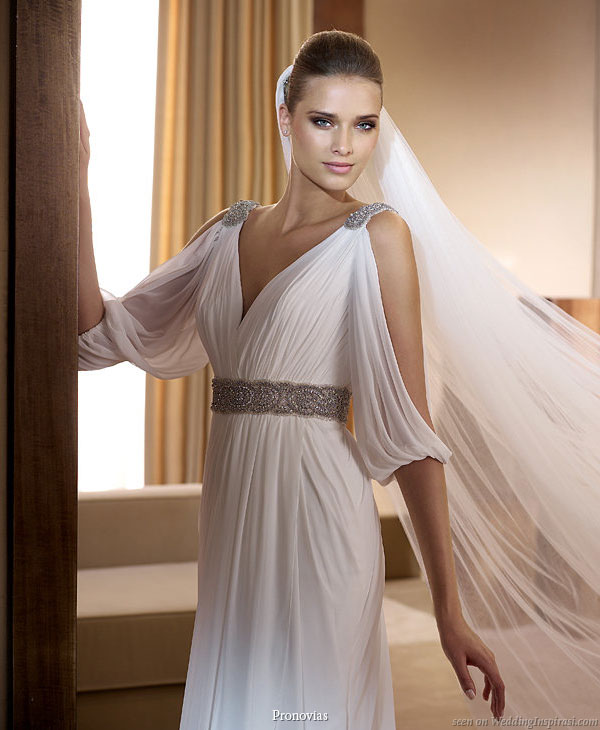 Beautiful. One word to sum up Pronovias 2011 collection. Above, Famosa, from the Fashion Collection, a dazzling grecian inspired gown featuring draped sleves and accented with a beaded belt and shoulders. Below, Farnes, from the Fashion Collection, a sweet wedding dress with dramatic one shoulder strap and unique accent around hem.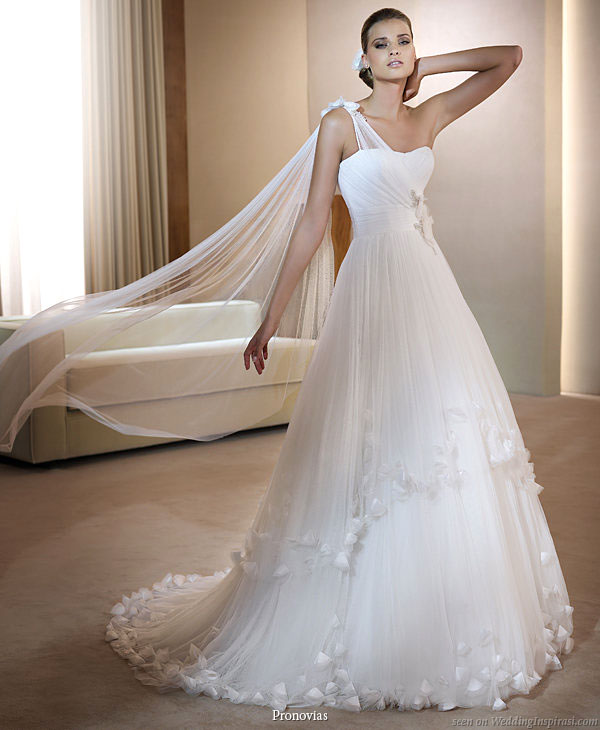 Italico – a smart cap sleeve gown with minimal embellishment save for the textured highlight around the armhole that extends to the back of the dress, providing a nice base for the train.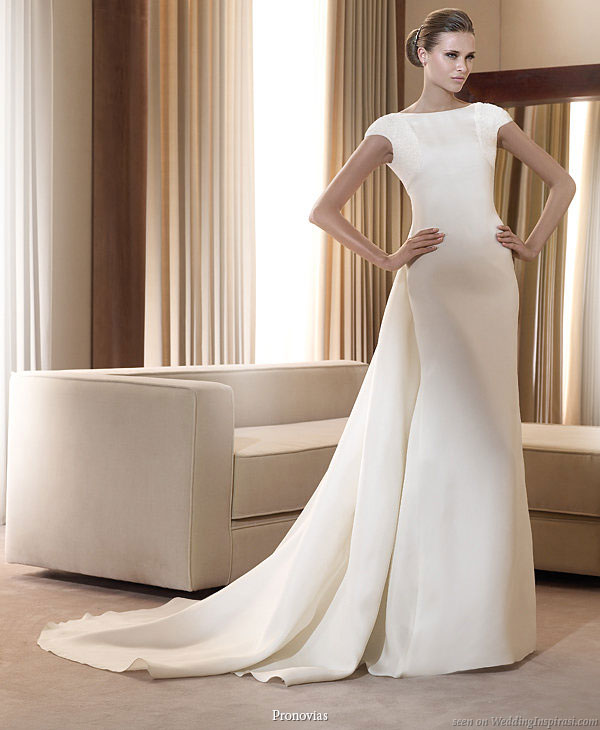 Feria – strapless ballgown with puffy double tier skirt and a draped bodice.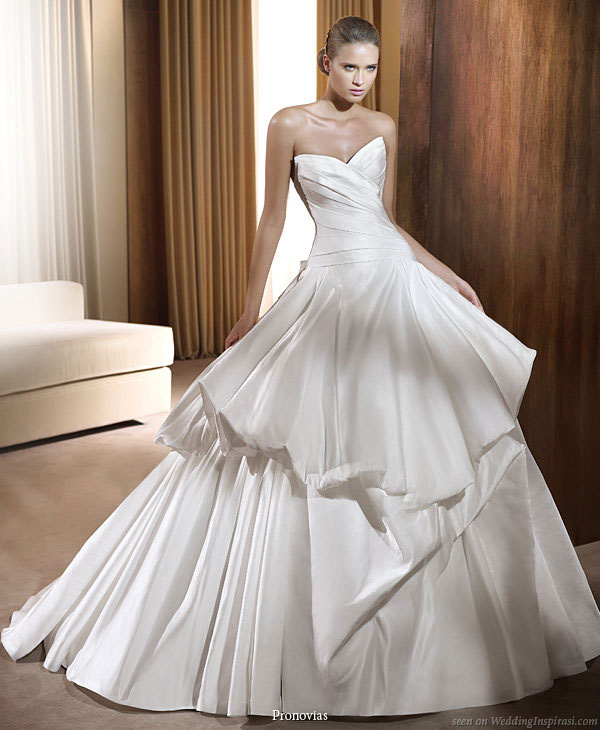 12 more beautiful bridal gowns from Pronovias 2011 collection. Click on to view the rest of the dresses.

Formentera, from the Fantasia Collection – fitted bodice  with a skirt that dramatically fans out, adorned with ruffle flowers.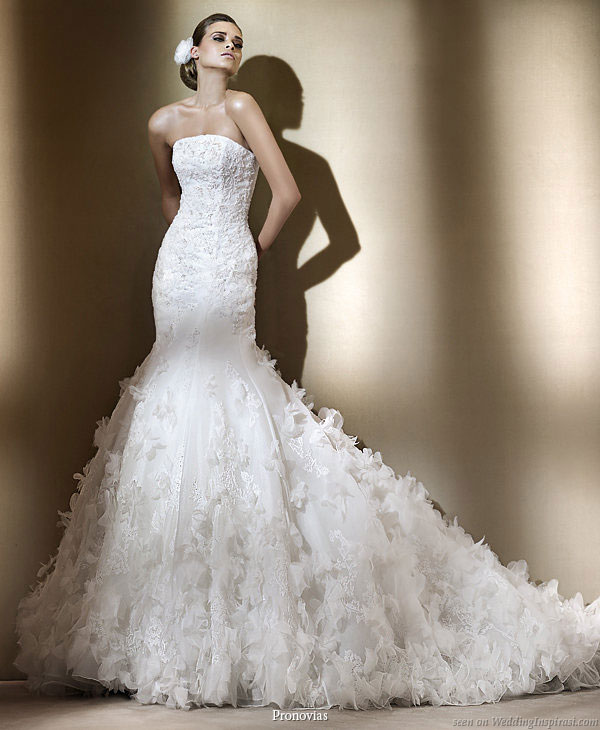 Fresno -- an elegant strapless dress with satin sash and a beautiful classic A-line silhouette.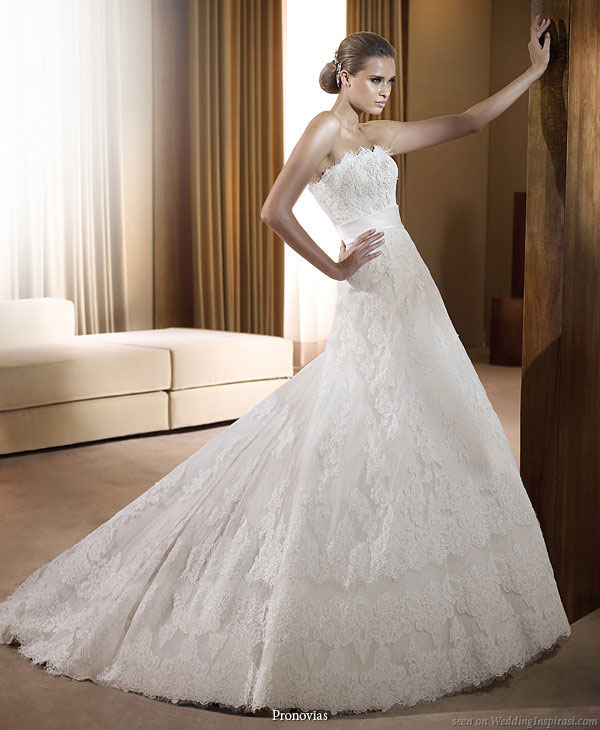 Fantastica -- a bit of spanish flamenco flair with this romantic ruffle heavy strapless bridal gown.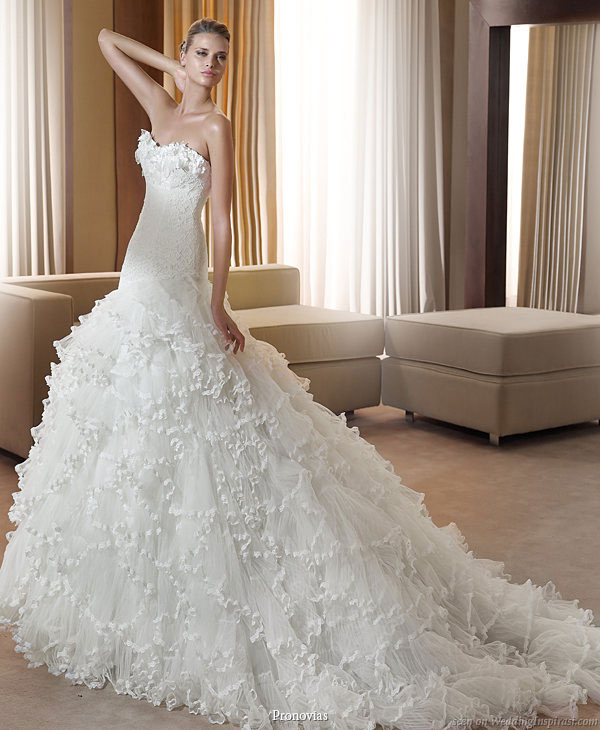 Farandula, from the Dreams Collection -  a long chapel or catheral length veil is all the accessory you need for this dramatic, feathery strapless number.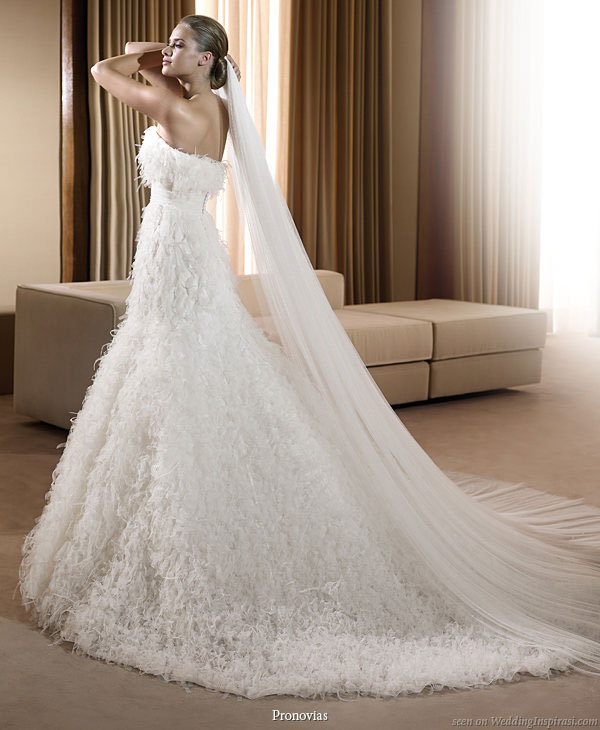 Fayette -- shirt collar gown with mandarin frog buttons running along the front part of the dress which comes with a matching embroidered belt. Very unique style.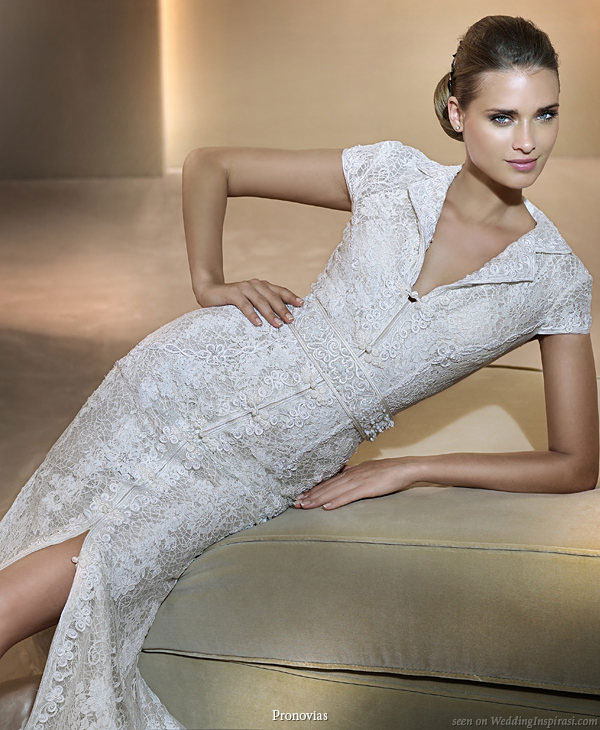 Filipinas -- beautiful embroidery around the split jewel neck, arm holes and slit pockets. This gown is from the Style Collection.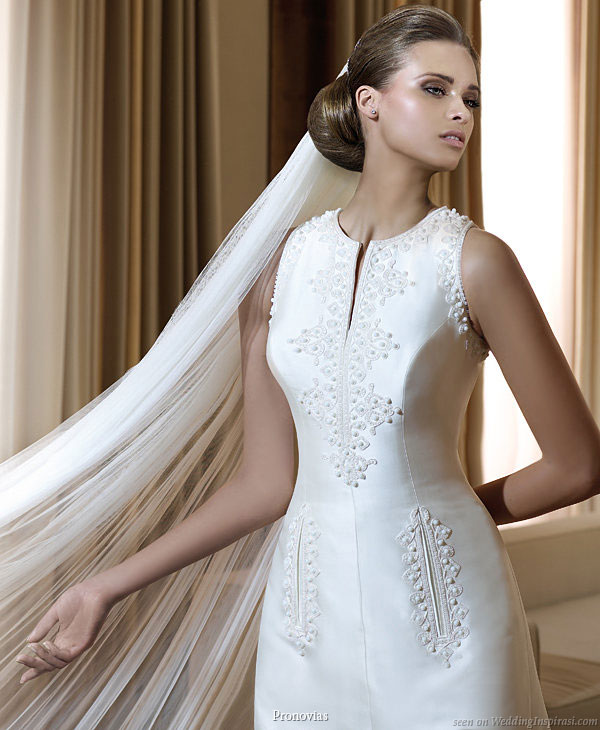 Icono -- a beautifully romantic and feminine lace tier gown from the Costura Collection.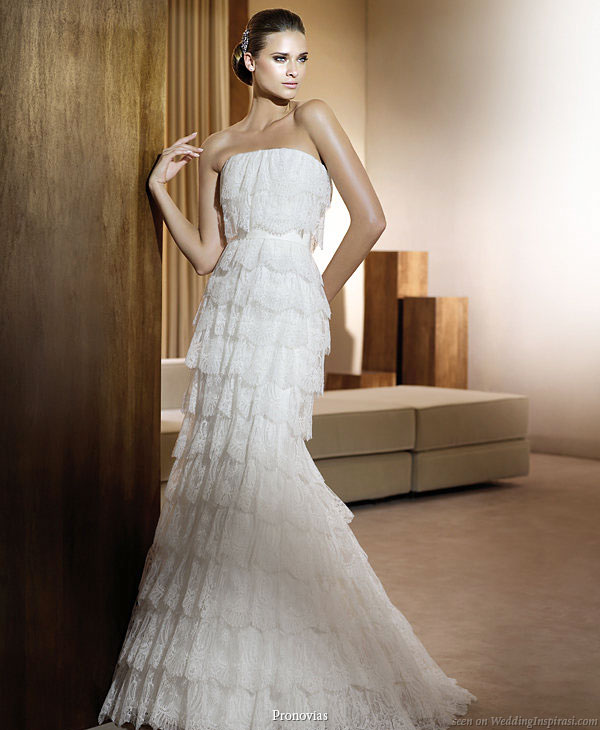 Fortuna from the Glamour Collection -- beautiful pointed strapless neckline produced by clever draping and criss-crossing of multiple layers of soft, airy fabric.
Impacto - two styles with one dress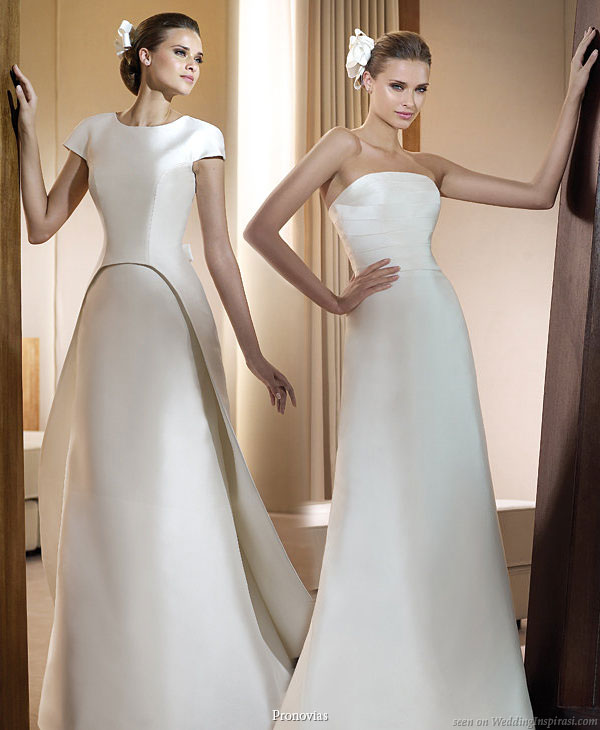 Finisterre - gorgeous two layered skirt on this sweetheart strapless gown with ruched bust. The top layer is a translucent sheer fabric with lace hem, gently revealing the more form-fitting mermaid silhouette underneath.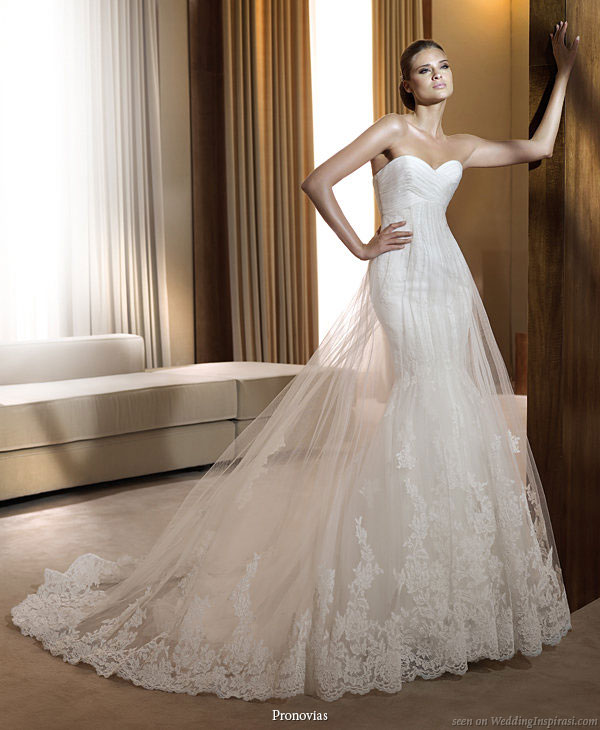 Icaro - smart, sculptured wedding dress with bateau neckline.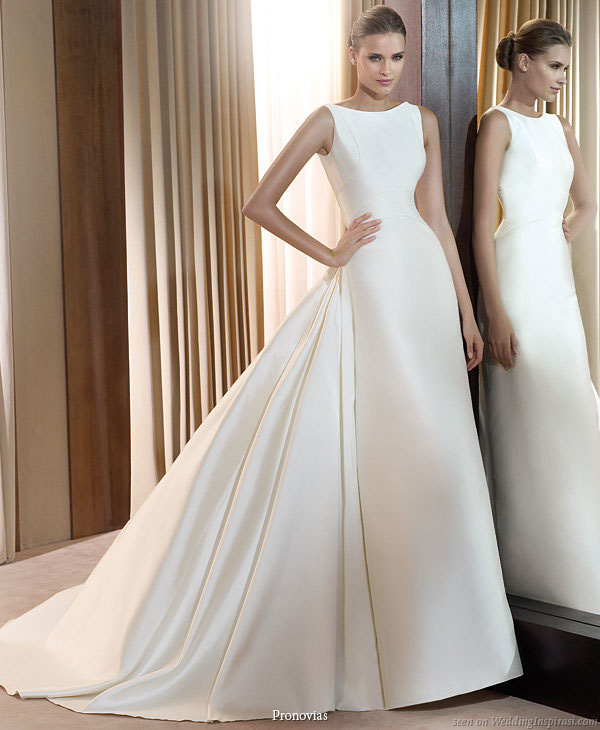 Idilio strapless lace dress with beautiful scallope hem and wide sash.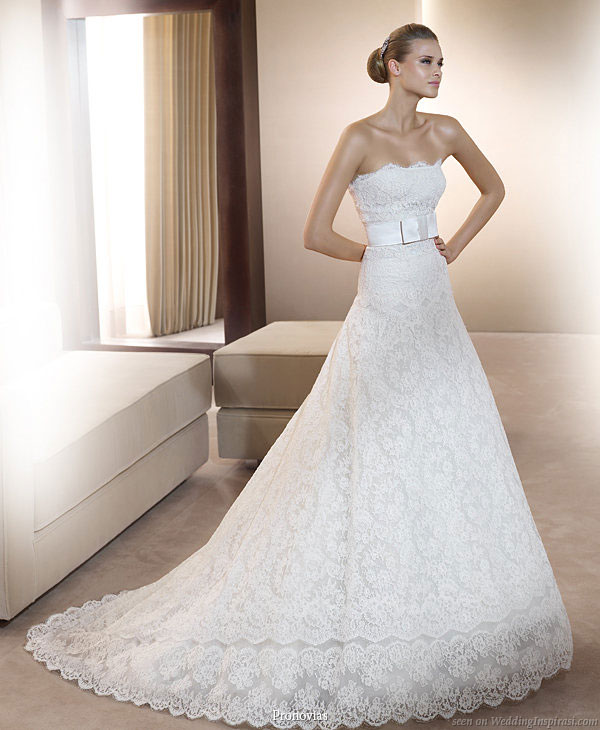 For buying information and to see the entire collection please visit the website.