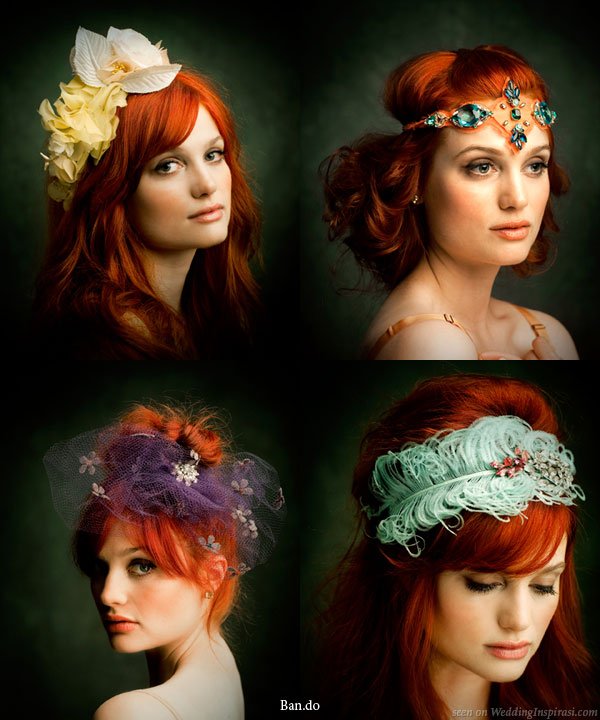 Beautiful hair accessories from Ban.do Black Label couture hair accessories collection. From top LR: Nouveau Bride – white, cream and yellow vintage millinery flowers; Old Hollywood Glamour – turquoise and clear crystal earrings and gold studs hand sewn onto a peachy orange chiffon; Fancy Flower Power – purple netting that is embellished with fabric flowers; Let Them Eat Cake – blue ostrich feather is adorned with rhinestone earrings and brooches and hand sewn onto a pink ribbon wrapped halo.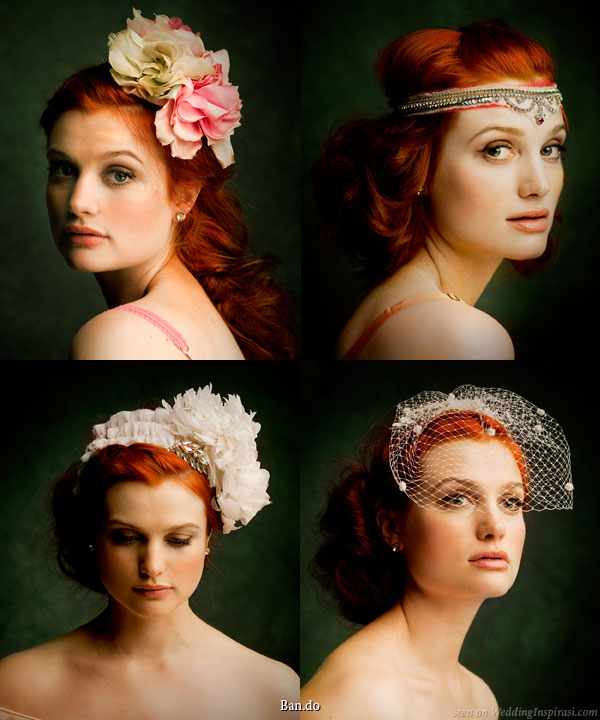 Elegant hair accessories for the blushing bride: Subtle Beauty – soft blue, soft pink and vibrant pink + ivory flowers; Casablanca – pink rhinestone on clear rhinestone necklace and stitched onto layers of nude and raspberry chiffon; She Loves – headband covered with a band of layered chiffon and adorned with white and off white flowers and large vintage opalescent rhinestone brooch; Marital Bliss – cream colored birdcage veil is accented with chenille dots and embellished with a band of small vintage cream flower.
More dramatic picks for the bride: Tres Chic – brown netting embellished with rows of gold sequins, My Fair Lady – pink and red flowers with a large yellow satin bow , She Reads Keats – garland of steel blue berries, velvet and satin leaves and gold velvet baby's breath , In The Mix – feathers adorned with a rhinestone brooch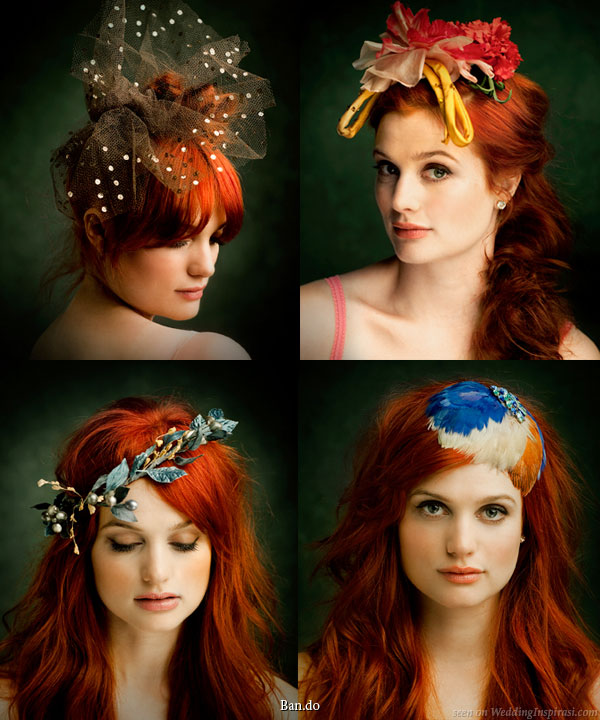 Floral Sorbet – yellow, pink and orange vintage flowers attached to a wire comb; Faboosh – floppy satin bow in navy blue decorated with crystals and studs; Hollywoodland – a spray of peachy pink vintage feathers with a slight blue tint adorned with a pink and baby blue brooch; She Lives a Fairy Tale – garland of pink berries, cream and pink satin leaves wotj gold velvet baby's breath.
According to the website's description, the big blue bow was ripped off a discarded 80s prom dress, so if you have one hanging in your mum's closet…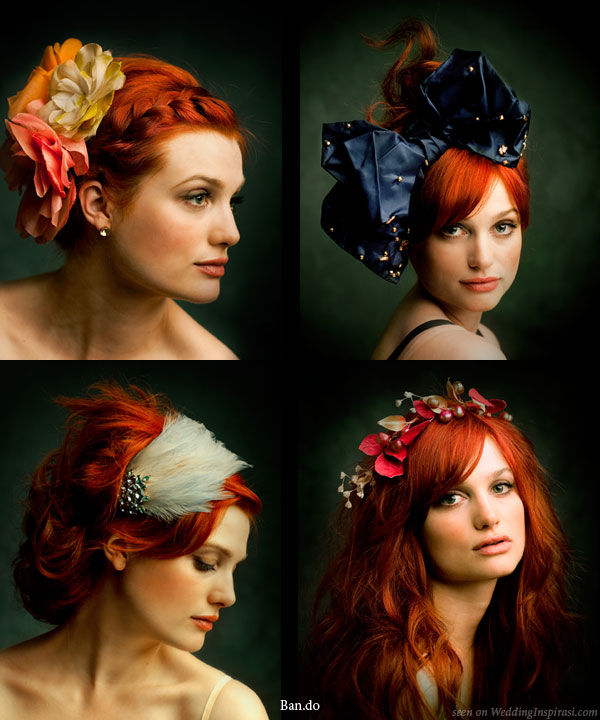 Love the pastel green color of the bottom right one in the first picture, but the actual color is more of a light blue so do check out the actual colors over at their website as some of these do vary greatly from the moody concept shoot photos above.